Sports
North Dakota State goes after encore upset against San Diego State
Sat., March 22, 2014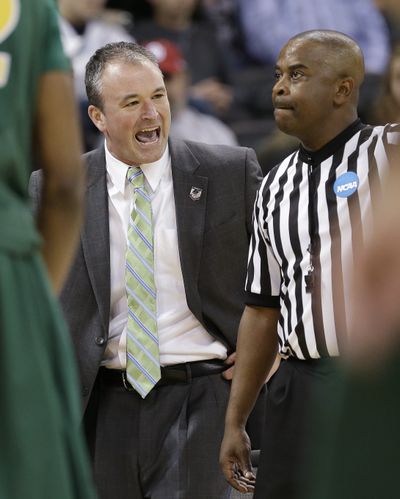 North Dakota State coach Saul Phillips chews gum, not glass. He'd rather throw a party than a chair, and when he asks to speak to his players they expect a joke, not a tongue-lashing.
"You've got to coach to your personality and I'm a happy guy, I am. I've been happy since birth. I just came out with a smile on my face," Phillips said. "I can't change that. I could try to be ornery and negative and that would be fake."
Phillips has plenty to smile about these days as his 12th-seeded Bison prepare to take on fourth-seeded San Diego State after upsetting fifth-seeded Oklahoma on Thursday.
To keep those good vibes rolling the Bison (26-6) will have to take down a talented San Diego State team that is on guard against the upset. SDSU (30-4) bowed out of last year's NCAA tournament in the third round after losing to 15th-seeded Florida Gulf Coast.
On Thursday, they nearly suffered another upset, needing overtime to finish off No. 13 seed New Mexico State.
"In my eyes it's last year all over again," SDSU forward Winston Shepard said. "We beat a good team in the first round, had a tough game, and we are playing a team that not a lot of people have heard of. But if you look at the stats, they're a great team."
The Bison emulate their coach's levity, but the happy bunch says they are focused on the game ahead. In truth, the demanding schedule of an NCAA tournament team hasn't left the NDSU players with much time for merrymaking, or even celebration.
"Honestly, after the game we were all extremely excited and just enjoying the moment," guard Taylor Braun said. "Then you get to do the whole press conference thing for an hour, hour-and-a-half. Cameras in your face forever."
With the excitement sucked out of their first victory, the Bison began working on earning another.
In the Aztecs, the Bison may have finally found a foil for their offense, which leads the country by shooting 51 percent from the field. SDSU has the nation's No. 2 scoring defense, led by lock-down point guard Xavier Thames. And the potential for a loss can wipe the smile from even Phillips' face. Almost.
"I can promise you this: North Dakota State is not overlooking San Diego State," Phillips joked.
Local journalism is essential.
Give directly to The Spokesman-Review's Northwest Passages community forums series -- which helps to offset the costs of several reporter and editor positions at the newspaper -- by using the easy options below. Gifts processed in this system are not tax deductible, but are predominately used to help meet the local financial requirements needed to receive national matching-grant funds.
Subscribe to the sports newsletter
Get the day's top sports headlines and breaking news delivered to your inbox by subscribing here.
---
Subscribe and log in to the Spokesman-Review to read and comment on this story