News > Obituaries
Obituary: Schlieman, Laura Jean
Age 85
Sun., March 23, 2014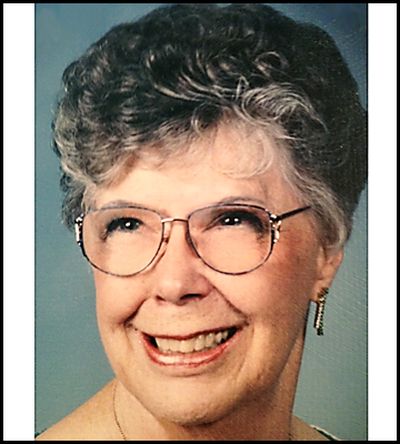 SCHLIEMAN, Laura Jean Laura passed away Tuesday, March 18 to join her loved ones in heaven with Our Lord.
She is survived by her husband of 67 years, Wm "Howard" Schlieman; son Craig (Tammy) Schlieman, of Phoenix, AZ; daughter Linda (Rick) Bacon of Spokane; sister Marci French of Lewistown, MT, and brother Lyle (Beryl) Larson, of Great Falls, MT.
Her youngest daughter, Paula (Carlo) Ferrari passed away six years ago.
She was grandmother to 12 grandchildren and has seven great-grandchildren.
Laura was born August 2, 1928 to Martha and Rudy Larson in Lewistown, MT.
She grew up in the small ranching community of Windham, MT.
After graduation, she went to journalism school for a year in Bozeman, MT, did clerical work, and in 1947 married Howard, who was a petroleum engineer; so most of her married life was spent travelling and setting up homes in foreign countries, mostly in the Middle East and Indonesia.
They retired in Spokane 24 years ago.
She was a devout Catholic, a lay Fransiscan, and member of the St. Elizabeth Guild.
She was also a member of the Sons of Norway, and enjoyed those lutefisk dinners!
Mom was a shy, gentle, and loving soul with a healthy stubborn streak to balance her out.
The family wishes to thank the good people of Horizon Hospice for their excellent care, and also a very heartfelt thanks to Kaye Sheridan for her loving and tender care of Laura.
In lieu of flowers, please make a contribution in Laura's name to St. Thomas More Catholic School.
A Rosary Vigil Service is scheduled for Friday, March 28 at 7:00 P.M. A funeral Mass will be celebrated on Saturday, March 29 at 10:00 A.M. with a luncheon following in the Parish Hall.
St. Thomas More Catholic Church, 505 W. St. Thomas More Way, Spokane, 99208.
Ph.# 466-3811
Local journalism is essential.
Give directly to The Spokesman-Review's Northwest Passages community forums series -- which helps to offset the costs of several reporter and editor positions at the newspaper -- by using the easy options below. Gifts processed in this system are not tax deductible, but are predominately used to help meet the local financial requirements needed to receive national matching-grant funds.
Subscribe to the Coronavirus newsletter
Get the day's latest Coronavirus news delivered to your inbox by subscribing to our newsletter.
---