News > Spokane
Police: Boy, 14, says he planned double killing
Wed., March 26, 2014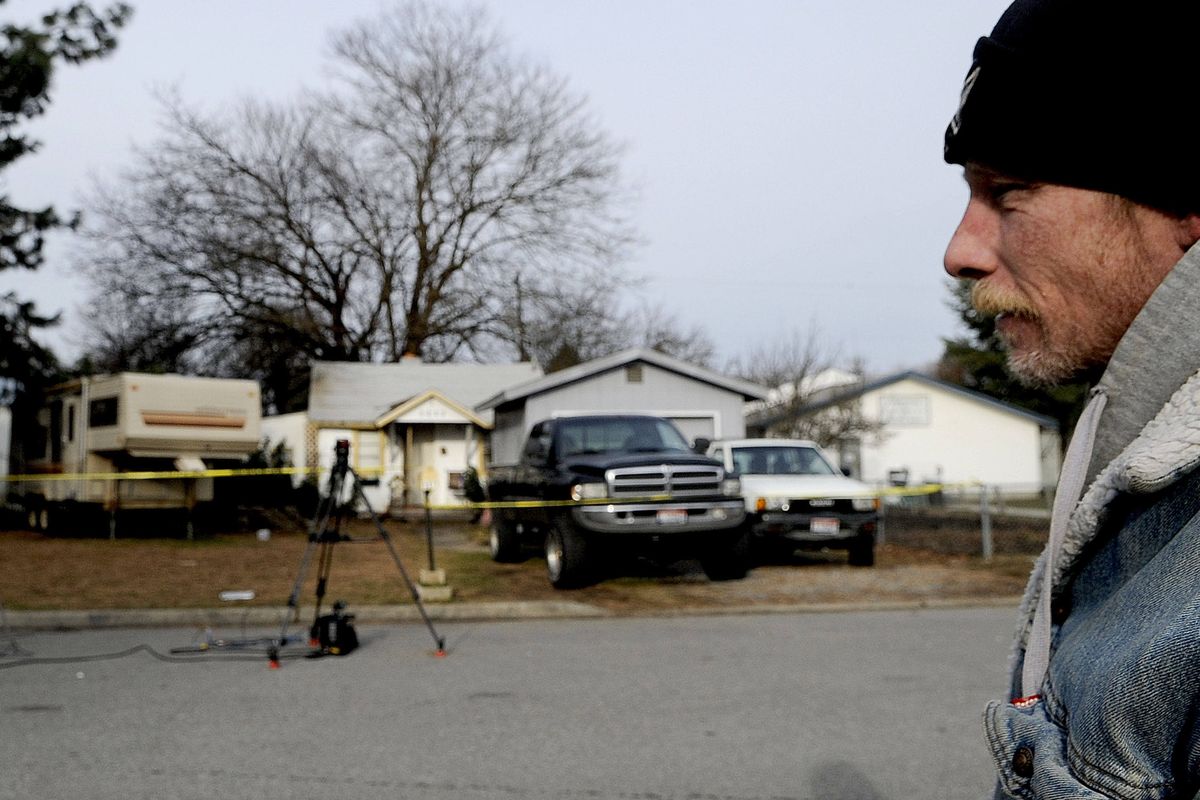 "This is such a tight-knit group," said Dan Morgan on Tuesday in front of the St. Vincent de Paul housing unit. Morgan, who lives in Plummer, Idaho, was in town for a doctor's appointment. He said he lived in emergency housing last year while homeless. (Kathy Plonka)
A 14-year-old boy accused of killing his father and younger brother Monday night in Coeur d'Alene showed no remorse in an interview with investigators and told them he had contemplated and prepared for the brutal killings for months.
Eldon G. Samuel III is charged with two counts of first-degree murder in the deaths of his father, Eldon Samuel Jr., 46, and his brother, Jonathan Samuel, 13, inside an emergency housing unit owned by St. Vincent de Paul North Idaho.
His bail was set Tuesday at $1 million.
The elder Samuel was shot once in the stomach and three times in the head with a .45-caliber pistol, according to a Coeur d'Alene Police Department report. Jonathan Samuel was shot with a shotgun, stabbed with a knife and hacked with a machete, the report stated.
The 14-year-old Samuel called police to report the shootings, and when officers arrived they found him at the front door, his pants and arms stained with blood.
Samuel told investigators he hated his brother and blamed him for his anger and frustration. He also talked about playing "Grand Theft Auto V," a popular video game. He told investigators he likes the game character Trevor, saying Trevor has anger issues and likes to shoot people. Samuel said he thinks Trevor is "kinda cool," investigators said.
Samuel claimed his dad often beat him and had been taking medication and talking about zombies. He said his father fired the pistol outside the house Monday night, then came inside, where a dispute arose between the two. Samuel said his father pushed him twice in the chest, after which Samuel took the gun and shot his father in the stomach.
He described his father crawling toward his brother's room and told investigators he was worried about his father "coming after him." He described shooting his father twice more in the cheek and once in the temple.
Samuel (pictured, right) said he then used a shotgun, knife and machete to kill his brother, who was hiding under his bed. Jonathan Samuel had cuts and wounds on his skull, arm, hand and leg, the police report stated.
"Eldon physically demonstrated the manner in which he held and used the machete," investigators wrote. "The demonstration showed a violent and 'severe' action used on his brother."
When police entered the house, they found the elder Samuel propped against a wall, and the younger boy lying face down across his father's legs. Both were dead.
Eldon Samuel III was charged as an adult and made his first appearance Tuesday afternoon in First District Court in Kootenai County before Senior Judge Robert Burton. Appearing for court via video connection to the Kootenai County Jail, the dark-haired boy wore a dark blue prison jumpsuit and was in handcuffs and restraints.
Samuel sat quietly, speaking only to say he understood his rights and the charges against him. He was appointed a public defender.
Police took a shotgun, two pistols, several knives and a machete from the scene and placed them in evidence.
"We are surprised to learn of the weapons that were used in this crime as they are prohibited in all of our programs," St. Vincent de Paul officials said in a statement. "We, like the rest of our community, wait for more information so we can begin to understand why this happened."
The Samuels moved to Coeur d'Alene from California last year. The three had lived in the small house at 1311 N. First St. for about three months and were getting ready to move to permanent housing, said Jeff Conroy, executive director of St. Vincent de Paul North Idaho.
"I always found Jonathan to be kind of a funny kid," Conroy said Tuesday. "I didn't really know the oldest son. He was really very quiet. And the dad was just doing the best he could with what he had."
In 68 years of operation, Conroy said, the social services agency has never experienced anything like this in one of its units, he said. St. Vincent de Paul had grief counselors available to meet with members of its staff and those in its programs.
The brothers were registered in the Coeur d'Alene School District on Sept. 1. Eldon Samuel attended Lakes Magnet Middle School, and Jonathan Samuel attended Canfield Middle School.
School officials were bracing for how students and staff would react to the crime.
"The death of a child is very painful and personal and can bring up feelings and emotions in many different ways," Canfield Principal Nick Lilyquist told parents in a note Tuesday. "Your son or daughter may hear information about this tragedy through social media, friends or by other means so we wanted you to know so that you can contact the school should you have any questions or concerns about your own child as they process the news about one of their classmates."
Lakes Principal Jeff Bengtson sent a similar note to parents of students at that school.
The district mobilized its crisis assistance team and has school counselors and administrators available to meet with students and staff this week.
Local journalism is essential.
Give directly to The Spokesman-Review's Northwest Passages community forums series -- which helps to offset the costs of several reporter and editor positions at the newspaper -- by using the easy options below. Gifts processed in this system are not tax deductible, but are predominately used to help meet the local financial requirements needed to receive national matching-grant funds.
Subscribe now to get breaking news alerts in your email inbox
Get breaking news delivered to your inbox as it happens.
---