Sports
Dayton defeats Stanford 82-72 to advance to Elite Eight
Fri., March 28, 2014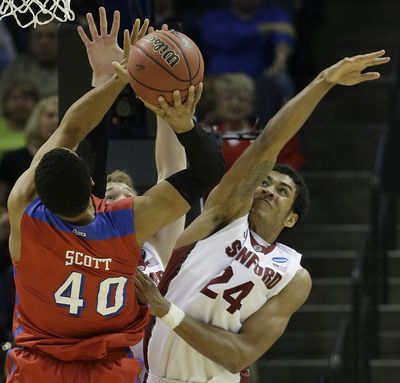 MEMPHIS, Tenn. – Like a red and blue blur, the Dayton Flyers were pressing and passing, shooting and scoring. The waves never seemed to stop coming, with 10, 11 and then 12 players giving them quality minutes.
An exhausted and foul-plagued Stanford simply couldn't keep up.
The underdog Flyers — an 11 seed in this South Region — are now in the Elite Eight for the first time since 1984 after an emphatic 82-72 victory over Stanford on Thursday night.
"We had 11 guys score in the game and from top to bottom, we kept coming and coming," Dayton coach Archie Miller said. "The way they shared the ball and moved the ball … it was a true team effort. It's nice that on the biggest stage, we acted like ourselves."
Jordan Sibert scored 18 points and freshman Kendall Pollard added a season-high 12, as Dayton (26-10) made sure this one wasn't particularly close after slipping by in the first two rounds. The 6-foot-4 Sibert was spectacular, slashing to the basket and draining 3-pointers, to help the Flyers lead for almost the entire night.
Dayton showed its depth early, using a dozen players in the first half to wear down Stanford.
"They were relentless," Stanford coach Johnny Dawkins said. "That's the best way I can put it."
No. 10 Stanford (23-13) had the superior post play, but it wasn't enough. Chasson Randle led the Cardinal with 21 points, but shot 5 of 21 from the field. Dwight Powell added 17 and Stefan Nastic had 15.
Dayton, the last remaining of the six Atlantic 10 teams in the field of 68, plays the winner of UCLA-Florida on Saturday for a trip to the Final Four.
Sibert finished 7 of 12 from the field, including 4 of 9 from 3-point range. He had plenty of help, including from Pollard, a 6-foot-6 guard who continually got to the basket and helped the Flyers stretch their lead in the first half.
"People have been doubting us and not giving us a lot of credit," Sibert said. "I know these guys. I know what coach wants. We all want to win. At the end of the day we all want to be considered winners."
The Flyers were good in just about every facet, shooting 48.3 percent (28 of 58) and dishing 19 assists on 28 field goals.
Local journalism is essential.
Give directly to The Spokesman-Review's Northwest Passages community forums series -- which helps to offset the costs of several reporter and editor positions at the newspaper -- by using the easy options below. Gifts processed in this system are not tax deductible, but are predominately used to help meet the local financial requirements needed to receive national matching-grant funds.
Subscribe to the sports newsletter
Get the day's top sports headlines and breaking news delivered to your inbox by subscribing here.
---