Sports
Dahl has his roommate's back on the field, too
Sun., March 30, 2014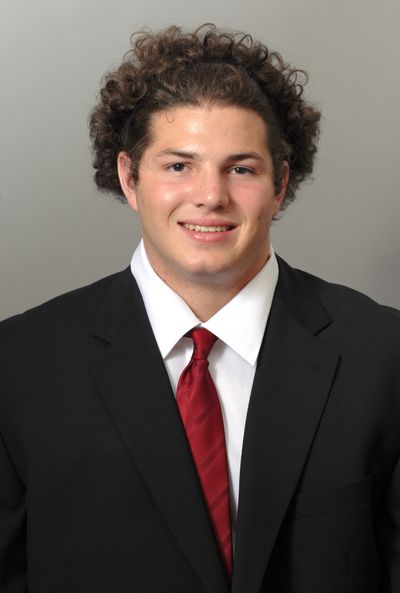 PULLMAN – Do the dishes, take out the trash, fold the laundry and don't forget to seal the edge against some of the biggest, meanest defensive ends in the country.
Offensive lineman Joe Dahl's list of chores is a little more demanding than most, but with Washington State quarterback Connor Halliday as a roommate he better not forget any, especially that last one.
"There's always been a little more responsibility for me because I've got to see him every night," Dahl said after practice on Tuesday. "But I take a lot of responsibility in keeping him safe because we're good friends and we're roommates."
There's even more responsibility this season for Dahl, who has lived with Halliday the past two years. That's because prior to WSU's bowl game against Colorado State he switched from left guard to left tackle, the spot tasked with protecting Halliday's blind side.
Gunnar Eklund, the previous left tackle, took Dahl's spot as the starting left guard.
"We're just trying to get our best guys out there, and our most athletic guys on the edge," offensive line coach Clay McGuire said. "Gunnar's done a great job for us there for two years. He's been a pretty good player there, we just think he might fit better on the inside and it might fit Joe better on the outside."
Though the two are learning new positions, they're the old men on a young line. The two juniors are the only returning starters on WSU's offensive line, and junior Jacob Seydel is the only other upperclassman in the two-deeps.
The rest of the line is composed of sophomores and freshmen, who are climbing over each other to get a shot at one of the starting positions. Sam Flor was the starting center on the first day of spring practice. By the second, Riley Sorenson had taken his place.
Last year the offensive line gave up just 32 sacks in 780 drop-backs despite starting three different players who began their careers at WSU as walk-ons.
While this year's group doesn't have the experience of their predecessors, their coaches say that their size and raw athletic ability is superior. But that superior speed doesn't matter if the players aren't comfortable enough yet in their pads to use it.
"We're a little hesitant out there, trying to do everything right as opposed to just playing fast and not worrying about making mistakes," McGuire said. "That's the biggest thing we've got to get corrected is these kids have got to play fast."
The reluctance to go full speed belies the group's inexperience, not only on the field but with each other.
And ultimately, that's what they need to improve upon this spring. The two holdovers and the underclassmen have to form a cohesive unit whether it be on the field, in the film room or at the bowling alley, where they bonded the night before Saturday's practice.
"We try and do as much stuff off the field after class or on the weekends as possible together. We understand the group that was here before us worked together for two years and we're new," Flor said. "We're not exactly on the same page yet, but we'll get there and we're working to get there."
Noted
WSU took a look at some new players with the first unit on Saturday, starting converted safety Mitch Peterson at the "Sam" linebacker position along with Sorenson at center.
Local journalism is essential.
Give directly to The Spokesman-Review's Northwest Passages community forums series -- which helps to offset the costs of several reporter and editor positions at the newspaper -- by using the easy options below. Gifts processed in this system are not tax deductible, but are predominately used to help meet the local financial requirements needed to receive national matching-grant funds.
Subscribe to the sports newsletter
Get the day's top sports headlines and breaking news delivered to your inbox by subscribing here.
---