Sports
Kentucky took the hard way to verge of Final Four
Sun., March 30, 2014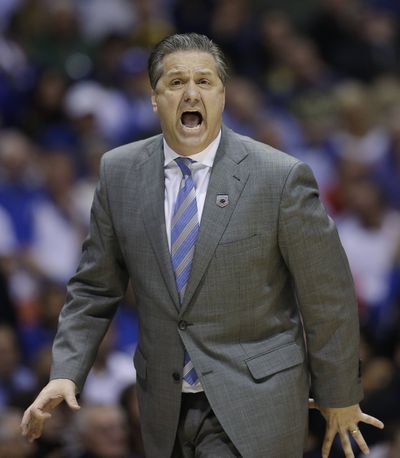 INDIANAPOLIS – If the crew of growing-on-the-job freshmen at Kentucky find themselves in Dallas next week, nobody can tell them they didn't take the toughest path possible.
Their journey through the ups-and-downs of college basketball has been rough. And their road to the Final Four this year has looked, well, very much like the actual Final Four last year.
Last week, the eighth-seeded Wildcats knocked off previously undefeated Wichita State. On Friday, they took down defending national champion Louisville. Next up, on Sunday in the final of the brutal Midwest Regional, it's Michigan.
Yes, that's three of last year's Final Four teams in the span of eight days – all for a team that, according to coach John Calipari, is only starting to play this game the way it was meant to be played.
"The only thing I can tell you is, we just keep moving on," Calipari said. "The best thing about this for me as a coach is, I've continued to coach like it's midseason."
In an attempt to get some positive response from his team, Calipari actually lengthened practices and made them more physical the last three or four weeks. He's been doing some tweaking with strategy – and will need to do more with the likely absence of 7-foot center Willie Cauley-Stein with a left ankle injury.
While Calipari keeps trying to figure out his Kentucky players, Michigan's John Beilein will take a crack at it, as well.
The second-seeded Wolverines are young, too. They start three sophomores and one freshman, along with the only senior on the roster, Jordan Morgan Jr.
Local journalism is essential.
Give directly to The Spokesman-Review's Northwest Passages community forums series -- which helps to offset the costs of several reporter and editor positions at the newspaper -- by using the easy options below. Gifts processed in this system are not tax deductible, but are predominately used to help meet the local financial requirements needed to receive national matching-grant funds.
Subscribe to the sports newsletter
Get the day's top sports headlines and breaking news delivered to your inbox by subscribing here.
---