Inslee picks Mary Yu for Washington Supreme Court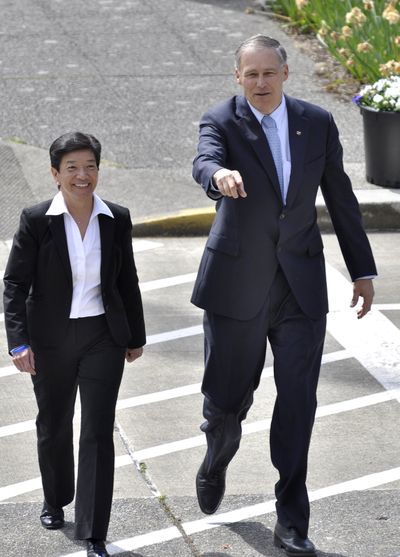 OLYMPIA – In his first appointment to the state Supreme Court, Gov. Jay Inslee replaced the high court's most conservative member with its first Asian-American, first Latina and first openly gay member.
Inslee named King County Superior Court Judge Mary Yu to the seat vacated by Justice Jim Johnson, who is stepping down in the middle of his term for health reasons. Yu, 56, will have to run to retain the seat in this year's election.
Making the announcement Thursday with Johnson and the other eight justices standing behind him, Inslee praised Yu as a judge with great intellect, dedication and compassion and said "her personal story adds a unique perspective that is important as our state's demographics continue to shift." 
 Her father emigrated from China at age 7; her mother from Mexico at 2. They met while working at a factory in Chicago. Mary Yu has a bachelor's degree in religious studies, a master's in theology and a degree from Notre Dame Law School. She worked for the Archdiocese of Chicago and later the Washington state Conference of Catholic Bishops before joining the King County prosecutor's office, where she once served as top deputy for County Prosecutor Norm Maleng. She was appointed to the Superior Court by then-Gov. Gary Locke in 2000.
After voters approved same-sex marriage in 2012, Yu performed the first gay wedding in King County at 12:01 a.m. on the day the law took effect. 
Johnson is a former assistant attorney general who handled many of the state's toughest cases, then had a private practice specializing in constitutional law where he was involved in several initiative campaigns. He wrote the initiative that gave the state its current top-two primary and successfully defended it before the U.S. Supreme Court. He won his seat in the 2004 election and was re-elected easily in 2010.
On the state Supreme Court, Johnson was a voice for a strict separation of powers and limited government. He was a dissenting voice on the landmark McCleary case that ordered the Legislature to do more to live up to its constitutional mandate that education of children is the state's paramount duty.
Asked where she would put herself on the liberal-to-conservative spectrum, Yu replied: "I can't really say … I've never been wedded to a particular view or philosophy." For a trial judge, she added, philosophy isn't as important as applying the law to everyday cases. 
She said she believes she and Johnson share more similarities than differences, including a commitment to the rule of law and resolving conflicts. 
---