Hits and misses in past drafts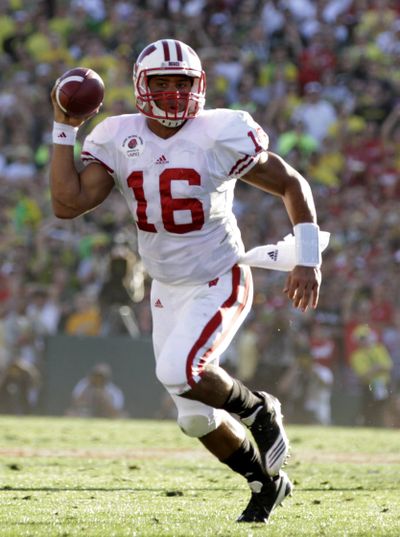 Even as NFL teams make a huge deal out of their discoveries from the hinterlands of college football, it's the big schools from the powerhouse conferences that dominate the draft. Based on rosters for the opening of the 2013 season, here's a look at the best and worst selections from each of the 27 schools that had at least 20 players in the NFL at that time. So no, JaMarcus Russell – who was out of the league – doesn't make the "cut" as the biggest flop from LSU.
Southern California (40)
Best: Pittsburgh S Troy Polamalu, a borderline Hall of Famer and big-time playmaker, taken 16th in '03.
Worst: Another safety, Cincinnati's Taylor Mays, whose lack of speed has made him a journeyman after being chosen 49th overall in 2010.
Louisiana State (39)
Best: Kyle Williams, Buffalo's versatile defensive lineman, was a fifth-round choice in 2006 and has made three Pro Bowls.
Worst: Chiefs DE Tyson Jackson, taken third overall in 2009, has had little impact and isn't even a key to the team's defense.
Miami (38)
Best: Beating a tremendous group of Hurricanes, safety Ed Reed, Baltimore's first-rounder in 2002, has a Super Bowl ring and a likely plaque in Canton, Ohio.
Worst: Taken 24th overall by New England, safety Brandon Meriweather, now with Washington, is best known for brutal and fine-worthy hits.
Georgia (36)
Best: The Saints' Champ Bailey is one of the most accomplished cornerbacks in NFL history, making his selection by Washington at No. 7 in 1999 look wise.
Worst: Only because there are no long-term flops from the Bulldogs, Chiefs DB Sanders Commings, a fifth-rounder last year, is the choice for being on injured reserve for much of his rookie season.
Florida State (31)
Best: The clutch catches, physicality and precise route running of San Francisco receiver Anquan Boldin, a second-rounder in 2003 by Arizona, makes this a clear choice.
Worst: Vikings QB Christian Ponder, the 12th overall pick in 2011, is now wondering if he has an NFL job.
Texas (31)
Best: Chiefs RB Jamaal Charles was the 73rd choice in 2008 and has become one of the league's most dangerous runners and receivers.
Worst: A seventh overall pick should not be a journeyman, but safety Michael Huff, late of Denver, has been that since Oakland took him in 2006.
Alabama (30)
Best: For all the big names from Alabama, less- heralded guard Evan Mathis, the 79th overall selection in 2005 by Carolina, now is an All-Pro with the Eagles.
Worst: Bengals T Andre Smith, taken sixth in 2009, has improved from bust to mediocre.
California (30)
Best: We'll get an argument here for Aaron Rodgers, but it's a surefire Hall of Famer, TE Tony Gonzalez, Kansas City's No. 1 (13th overall) in 1997.
Worst: Chosen 10th overall by Jacksonville in 2010, DT Tyson Alualu has been a disappointment.
Tennessee (30)
Best: Need we say more than Denver QB Peyton Manning, first overall by Indianapolis in 1998?
Worst: DT Dan Williams, a first-rounder in 2010 who barely has made a blip on the NFL's radar.
Ohio State (27)
Best: All Jets for the Buckeyes. Center Nick Mangold, 29th overall in 2006, is two-time All-Pro and five-time Pro Bowler.
Worst: WR Santonio Holmes, 26th in '06 draft – and despite a Super Bowl MVP award with Pittsburgh – has been disruptive with the Steelers and Jets.
Oregon (27)
Best: Massive Baltimore DT Haloti Ngata, 12th overall in 2006, is two-time All-Pro, five-time Pro Bowler.
Worst: Safety Patrick Chung, now back with Patriots, has been so-so for the 34th pick in 2009.
Florida (26)
Best: Browns CB Joe Haden, seventh overall in 2010, is a rare bright light in Cleveland.
Worst: WR Andre Caldwell, Cincinnati's third-rounder in 2008 and now with Denver, has averaged less than 25 catches a season.
Notre Dame (24)
Best: Taken 74th in 2005, DE Justin Tuck was a key to two Super Bowl wins with the Giants.
Worst: Cleveland's first-rounder in 2007, QB Brady Quinn basically has been a career backup.
Wisconsin (24)
Best: Naturally, Seattle QB Russell Wilson. A third- rounder in 2012, he's already a Super Bowl winner.
Worst: OL Gabe Carimi, No. 29 in 2011 by Chicago, has been a washout with Bears and Bucs.
Oklahoma (23)
Best: The NFL's best running back, 2,000-yarder Adrian Peterson, was the seventh pick by Minnesota in 2007. Brilliant selection.
Worst: Atlanta CB Dominique Franks, a fifth-rounder in 2010, has barely had a role for Falcons.
Penn State (23)
Best: San Francisco's NaVorro Bowman has gone from third-rounder in 2010 to All-Pro linebacker.
Worst: LB Dan Connor, a terrific college player, has had little impact since going 74th in '08.
South Carolina (23)
Best: John Abraham (13th overall in 2000) has been a pass-rush specialist for the Jets and two more teams.
Worst: Highly touted since Titans took him in 2009's third round, TE Jared Cook has achieved little.
Iowa (22)
Best: Three-time Pro Bowl guard Marshal Yanda was Baltimore's third-rounder in 2007, 86th overall.
Worst: Injuries have slowed OT Bryan Bulaga, 23rd overall pick by Green Bay in 2010, but he's struggled when healthy.
Clemson (21)
Best: Although he is yet to have a real breakout season, Buffalo RB C.J. Spiller (ninth overall in 2010) is a constant force.
Worst: DE Da'Quan Bowers, taken 51st in 2011, has been a nonfactor in Tampa Bay.
Illinois (21)
Best: Versatile OL David Diehl, now retired, went from a fifth-rounder to an 11-year mainstay with the Giants.
Worst: Not too soon to label 49ers' top pick of 2012 WR A.J. Jenkins, now with K.C., a bust.
Mississippi (21)
Best: Brother act: Peyton's QB brother Eli (top pick in '04) has two Super Bowls with Giants, edges 49ers super LB Patrick Willis.
Worst: Atlanta DT Peria Jerry has never proven worthy of being the 24th overall choice in 2009.
Rutgers (21)
Best: Do-everything RB Ray Rice of Baltimore was a steal in the second round in 2008.
Worst: Off-field issues have plagued WR Kenny Britt, who has been undependable on the field, too, since Tennessee took him 30th overall in 2009.
Virginia (21)
Best: The second pick in 2008, Rams DE Chris Long has 50 1/2 sacks and has been a force.
Worst: CB Chris Cook, Minnesota's pick at No. 34 overall in 2010, has had no interceptions, little impact.
Auburn (20)
Best: Yes, he's inconsistent, but Carolina QB Cam Newton (No. 1 overall in 2011), is the real deal.
Worst: Jaguars' 2008 second-round LB Quentin Groves has been with four teams already.
Michigan (20)
Best: The classic great pick: Patriots QB Tom Brady, No. 199 in 2000, now a three-time Super Bowl winner.
Worst: DE Brandon Graham has done little to justify Philadelphia taking him 13th overall in 2010.
Nebraska (20)
Best: Detroit got its money's worth from center Dominic Raiola, 50th overall in 2001 and still a starter.
Worst: The 19th overall selection in 2011, the Giants didn't get much from CB Prince Amukamara.
Stanford (20)
Best: No way to overlook Seattle's Richard Sherman, football's CB, and a fifth-rounder in 2011.
Worst: OL Jonathan Martin, now in San Francisco, was bullied and left the Dolphins in 2013, but the 2012 second-rounder struggled before that.
UCLA (20)
Best: RB Maurice Jones-Drew, annoyed he slipped to 60th overall in 2006, was a star for Jacksonville before joining Oakland this year.
Worst: Denver safety Rahim Moore, 45th overall in 2011, hasn't lived up to that spot.
---