Sports
NWC's Hustad aims to bring home State 2B softball title
Thu., May 8, 2014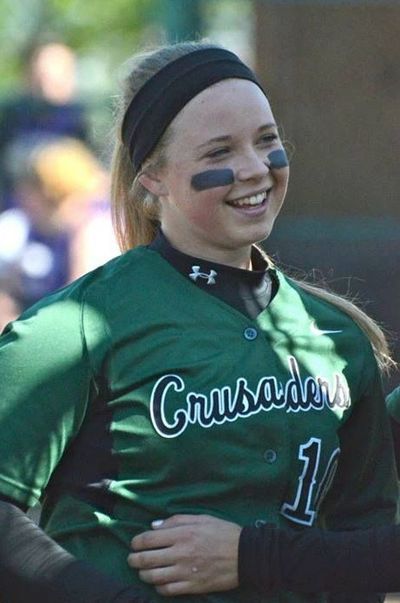 The State 2B softball tournament has been District 4's playground for the past decade-plus.
The last 11 championship games have featured 17 teams from the southwest portion of the state.
Non-District 4 teams Touchet (2003), Entiat (2006) and Concrete (2007) crashed the party during that streak, but six times the championship materialized into an all-southwest matchup.
Northwest Christian of the Northeast 2B has given the tournament a slightly different look the last two seasons, and Hannah Hustad is a big reason why. The senior pitched the Crusaders to the title game in 2013, a 3-2 setback to Toutle Lake, and in 2012, when Pe Ell won 6-2.
"Two straight years Hannah's taken us to the state title game," third-year NWC coach Jamie Stewart said. "It's always one of the realistic goals that we have, but it's the end goal, with a lot of goals along the way."
NWC reached its first goal, capping a 12-0 league season to earn the top seed to the District 7 tournament beginning Tuesday at NWC and second-seeded Colfax. The Crusaders (17-3) have only lost to 3A Shadle Park, 2A Colville and 1A Okanogan.
Hustad, the two-time league most valuable player, has a career record of 74-21 with 924 strikeouts, including 203 this season. She's hitting .694 this year with an on-base percentage of .814.
The 17-year-old, the youngest child of Rick and Julie Hustad, has attended NWC since preschool.
"I've been playing for as long as I can remember, about age 5 or 6," Hustad said. "My first couple of years were with teams where you pretty much have to play every position, but once I started playing club I wanted to pitch."
"A lot of pitchers get rattled, but Hannah doesn't get rattled very easily or at least show that," said Stewart, who has coached Hustad on and off since she was 7. "She brings a calmness to the team, but she also brings a fierce competitor who hates to lose more than she likes to win."
Hustad never struggled to find her place on NWC's team as a freshman.
"I practiced with all of those girls during my eighth-grade year, so I was pretty much part of the team when I joined," she said.
It helped that Hustad has at least seven pitches at her disposal.
"She can literally throw all of them for location," Stewart said. "That is one of her specialties, the ability to throw any pitch at any time. She'll throw a 3-0 change-up without hesitation."
"I like the curveball," Hustad said. "That was the first pitch I learned after the fastball and change-up."
Stewart credits Hustad with organizing winter workouts and getting teammates to play summer ball. She tutored math as a sophomore and junior and has instructed club players on pitching and hitting.
Hustad, a National Honor Society member, carries a grade-point average of 3.8.
She'll continue her education and softball playing at Briar Cliff University, an NAIA school in Sioux City, Iowa.
This summer, Hustad will play for the Spokane Diamonds and work for GreenPro Spray & Lawn Maintenance.
But first the Crusaders, led by four seniors, would like to become the first non-District 4 team to win the state title since 2007.
"We talk about 'senioring-up' a lot, and that's playing with no regrets in the last couple of weeks, regardless of the outcome," Stewart said. "It's finding that reason to not be done."
Local journalism is essential.
Give directly to The Spokesman-Review's Northwest Passages community forums series -- which helps to offset the costs of several reporter and editor positions at the newspaper -- by using the easy options below. Gifts processed in this system are not tax deductible, but are predominately used to help meet the local financial requirements needed to receive national matching-grant funds.
Subscribe to the sports newsletter
Get the day's top sports headlines and breaking news delivered to your inbox by subscribing here.
---
Subscribe and log in to the Spokesman-Review to read and comment on this story