Sports > Outdoors
Fishing the Colville Indian Reservation: more fish, less competition
Sun., May 11, 2014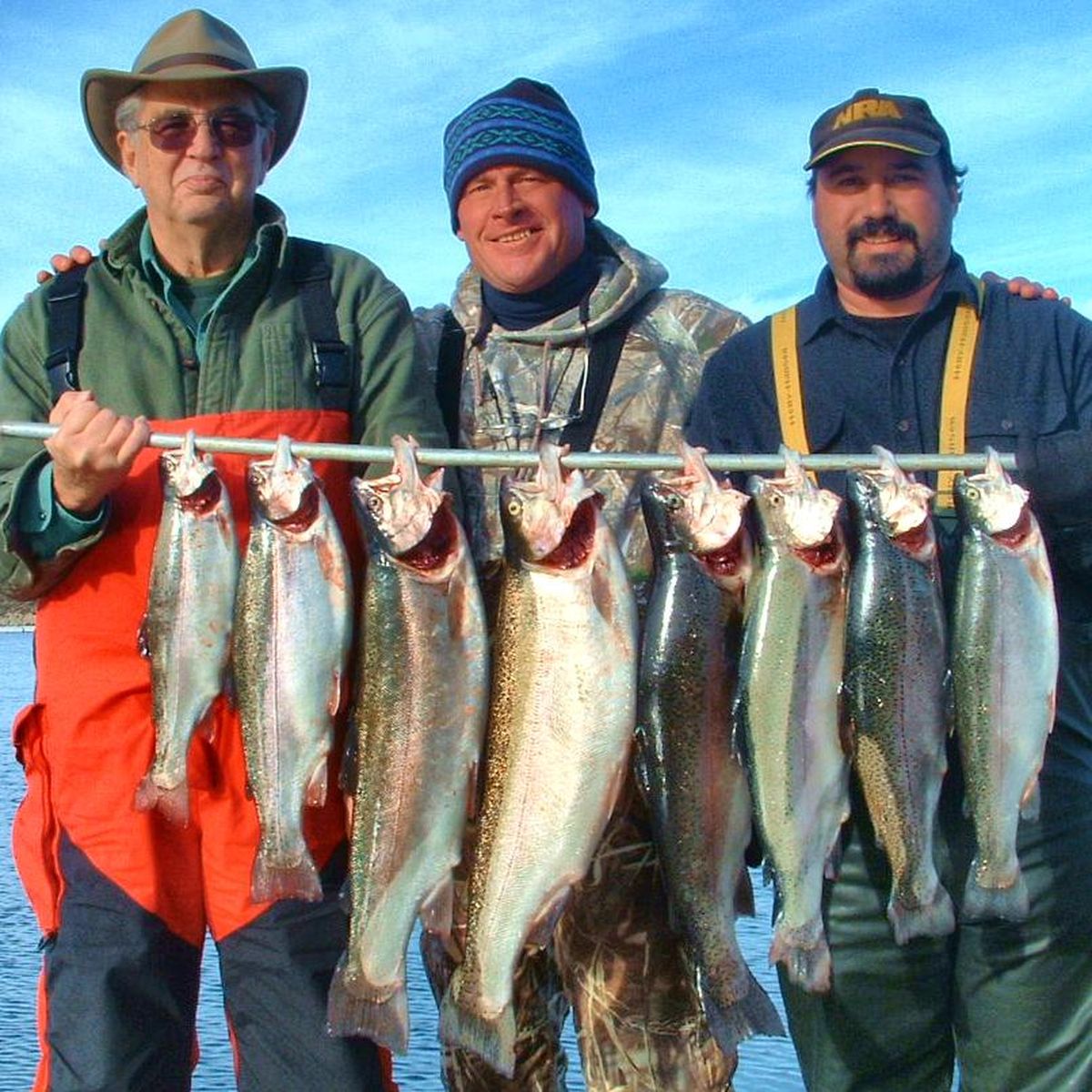 James Cato of Selah, Wash., fished with son Mike and guide Jeff Witkowski and one other angler on Nov. 13, 2011, to land this their 4 guy limit of Rainbows from Lake Rufus Woods. They had brought 38 to the boat by noon. The largest was 9.2 pounds. (Darrell & Dad's Family Guide Service)
The Colville Indian Reservation may be the best fishing destination in the state where most Washington anglers have never wet a line.
Scattered about the million-acre reservation, two dozen of about 35 fishable lakes are open to non-tribal anglers. A few of them range from good to outstanding. All of them are crowd-free.
This lack of pressure helps explain the excellent kokanee fishing at Buffalo Lake, the nice rainbows and trophy-size bass at Twin Lakes, the chance to catch 15-inch brook trout at McGinnis and perhaps the state's best fishery for 2-foot-long Lahontan cutthroats at Omak Lake.
"A lot of people don't know how much effort we put into our fisheries," said Bret Nine, tribal resident fish program manager in Nespelem.
"The tribe puts a ton of money into the fishery at Lake Rufus Woods," he said, referring to the Columbia River reservoir, stretching from Chief Joseph Dam upstream to Grand Coulee.
Rufus Woods is well known for the commercial trout-growing operations where many of the reservoir's free-roaming trout hang out and bulk up on feed that filters through the net pens.
While the commercial operators have cut down on the number of fish escaping the net pens in recent years, the tribe has been stocking the lake regularly. "We raise about 100,000 rainbows a year for release, with some going out every month the water temperatures aren't too high," Nine said.
Most of the fish weigh 1 pound when released, but some from the net pens are released at around 4 pounds, he said.
"To date we have released 69,996 triploid rainbows into Rufus Woods," he said Thursday. "Another release will occur next week or the week after. Our last release will typically occur in July because temperatures are too high to keep them in the pens."
The tribal fishing license requirement may deter some anglers from visiting the reservation. But Lake Rufus Woods is an exception. The tribe has an agreement with the Washington Department of Fish and Wildlife that allows anglers to fish with either a state fishing license or a tribal fishing license at designated areas along the reservoir shoreline.
Elsewhere on the reservation, non-tribal members must have a tribal fishing license. Costs are $10 for a one-day permit, $20 for three days, $30 for seven days or $40 for a season. Seniors get discounts.
Youths under age 16 can fish free in the company of an adult with a tribal license.
On Lake Roosevelt, anglers with a state fishing license can fish almost anywhere from a boat, but a tribal license is required for fishing from the reservation's shoreline.
Thousands of trout are raised at the Colville Tribal Resident Fish Hatchery downstream from Bridgeport to stock in other reservation lakes. So far this year, 98,000 rainbows, 7,700 brookies and 103,000 Lahontan cutts have been stocked.
Three lakes have resorts: Reynolds Resort on Buffalo Lake and Rainbow Beach and Log Cabin resorts at Twin Lakes.
Other lakes are sparsely developed with access sites and vault toilets. The only fishing waters with camping, other than the resorts, are Omak, Rufus Woods, the reservation side of Lake Roosevelt and the Sanpoil Arm.
A map is helpful in navigating to reservation lakes; signage is not consistent.
In addition to Rufus Woods, Nine highlighted several other lakes among the best fisheries on the reservation:
Buffalo Lake has rainbows, kokanee and largemouth bass. Rainbow stocking at Buffalo and the other lakes with resorts is beefier than at other lakes. Before the April 12 season opener, Buffalo was stocked with about 200 fish in the 4-pound range and 3,000 catchable-size rainbows. More rainbows will be stocked through the year.
"We've reduced the rainbow plants at Buffalo because it's such an excellent kokanee fishery," Nine said. While anglers catch mostly rainbows in spring, the kokanee fishery kicks in during summer. "It's a good winter kokanee fishery through the ice," he said.
Twin Lakes also are stocked with 148,000 rainbows plus brook trout for a good fishery that's open most of the year.
But there's more.
"I'm a bass angler," Nine said. "If I were to go anywhere looking for an 8-pound bass, it would be Twin Lakes. They're in there!"
McGinnis Lake is the top water for catching brook trout, Nine said.
Omak Lake, a story in itself, is an 8-mile-long special-regulations fishery that holds Lahontan cutthroats averaging 3-4 pounds with lunkers to at least 8.
On Wednesday, tribal fisheries staff measured a 36-inch male at the broodstock capture site in Mission Bay.
Lahontan cutthroats are the region's only sportfish that can survive in the lake's clear alkaline waters. The strain was stocked in 1968 and was opened to non-member fishing in 1975.
Omak produced the 18.04-pound Washington state record Lahontan in 1993.
Nine would neither agree nor disagree that a fish of that size could still be out there. Nevertheless, the lake remains a darling of fly fishers who can be content hooking 24-inch trout.
On Monday, I joined Walt Balek to visit Omak Lake's two public access points for shore fishing in the valley that ages ago was the Columbia River channel.
Boats offer access to a lifetime of rocky beaches and coves to explore in this 3,340-acre lake. But shore anglers have plenty of room to roam by parking at the north end at Nicholson Beach or at the south end at Cow Pie Beach, perhaps more appropriately called Horse Muffin Flats.
Camping at Omak Lake is allowed only at the Mission Bay campground on the northeast end, but fishermen must boat out of the bay, which is closed to fishing because it's a broodstock capture area.
Although the lake is 8 miles long, only one other angler was in sight as we cruised the shoreline sight-casting streamer patterns to fish that were moving in and out of the shallows.
Seeing trout ranging from 15-28 inches sneaking in and out of 8 inches of water will spike a fly angler's interest.
The lake is open year-round with a catch-and-release season March 1-May 31. Shoreline fishing picks up in February and peaks in May as large fish cruise the shorelines in futile attempts to find spawning areas.
Rules allow anglers to use artificial flies and lures only – no bait.
Fly fishermen do well with chironomid and bloodworm patterns under indicators during much of the year. Indeed, midges were hatching between rain showers on Monday. But this week also was prime time for fishing streamers.
The first fish I hooked was a silvery female longer than 24 inches. Balek then caught a big male that looked like a Las Vegas dancer beaming its red, olive, gold spawning colors.
We had better luck catching the fish in water 4- to 5-feet deep as opposed to the more obvious fish that shot in and out of the very shallow water. An intermediate line would have worked better in the deeper water, but we were catching fish on dry lines with long leaders and weighted flies.
A tip for streamer selection: We noticed black and white zebra-like sculpins in the shallow waters of the south end. Redside shiners are common on the north shore where the beaches drop off faster to deep water.
Wind can be an issue on any lake the size of Omak, and Monday was no exception.
In the course of a day, the wind came from the north, south and the east. But patience can pay off.
"At some point during the day, you could make a long cast in almost every direction," Balek said.
Local journalism is essential.
Give directly to The Spokesman-Review's Northwest Passages community forums series -- which helps to offset the costs of several reporter and editor positions at the newspaper -- by using the easy options below. Gifts processed in this system are not tax deductible, but are predominately used to help meet the local financial requirements needed to receive national matching-grant funds.
Subscribe to the sports newsletter
Get the day's top sports headlines and breaking news delivered to your inbox by subscribing here.
---