News > Idaho
Labrador decries 'good-old-boys network,' endorses Otter's GOP challenger
Mon., May 12, 2014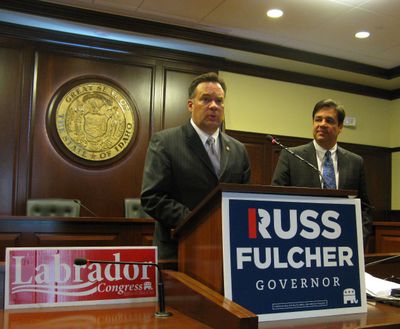 BOISE - First District GOP Congressman Raul Labrador endorsed Russ Fulcher for governor of Idaho Monday, over two-term GOP Gov. Butch Otter. "Butch Otter has done a lot of things to admire in office," Labrador said at a Statehouse news conference with Fulcher. "But after 40 years in government, he has lost his way. … Idahoans are looking for leaders with political courage and fresh ideas, and Russ Fulcher has both." Otter's campaign had no comment. Labrador, a tea party favorite who's facing only token opposition in his primary-election bid for a third term in Congress, said he believes Idaho "should actually be the Silicon Valley of the Intermountain Region," and said he thought Fulcher, a former high-tech executive, would steer the state to "high tech and high wages." "I think what we need is a new vision for Idaho," Labrador said. "We need strong leaders. … We should not go with the good-old-boys network." Labrador said, "Idaho's business climate is not competitive with other states, our citizens are hurting and our state is more dependent on the federal government. I believe that Butch Otter has failed to lead." Labrador has often clashed with Otter, who is one of Idaho's most-elected officials after serving 14 years as lieutenant governor and three terms in Congress before becoming governor. In Otter's first term, Labrador, then a state representative, led opposition to Otter's unsuccessful bid to raise gas taxes and registration fees to repair and upgrade the state's deteriorating roads and bridges. The two had reached something of an uneasy peace in the past couple of years, but that appeared to end Monday. Fulcher said, "This is not simple and this is not easy for Raul Labrador to do. I recognize that. There is a political cost any time you make a statement like that." He lauded Labrador for standing on principle, and said, "That is the approach that I intend to follow as the governor of the state." Labrador had previous endorsed Lawerence Denney in the four-way GOP race for Idaho Secretary of State, and Todd Hatfield in his challenge to GOP state Controller Brandon Woolf. Denney, Hatfield and Fulcher are part of a slate of candidates opposing current Idaho GOP officials in the primary including Otter; Lt. Gov. Brad Little, who is being challenged by Jim Chmelik; and Attorney General Lawrence Wasden, who is being challenged by C.T. "Chris" Troupis. Idaho's primary election is May 20.
Local journalism is essential.
Give directly to The Spokesman-Review's Northwest Passages community forums series -- which helps to offset the costs of several reporter and editor positions at the newspaper -- by using the easy options below. Gifts processed in this system are not tax deductible, but are predominately used to help meet the local financial requirements needed to receive national matching-grant funds.
Subscribe now to get breaking news alerts in your email inbox
Get breaking news delivered to your inbox as it happens.
---