Sports
Disc golf on course as fastest-growing sport
Thu., May 15, 2014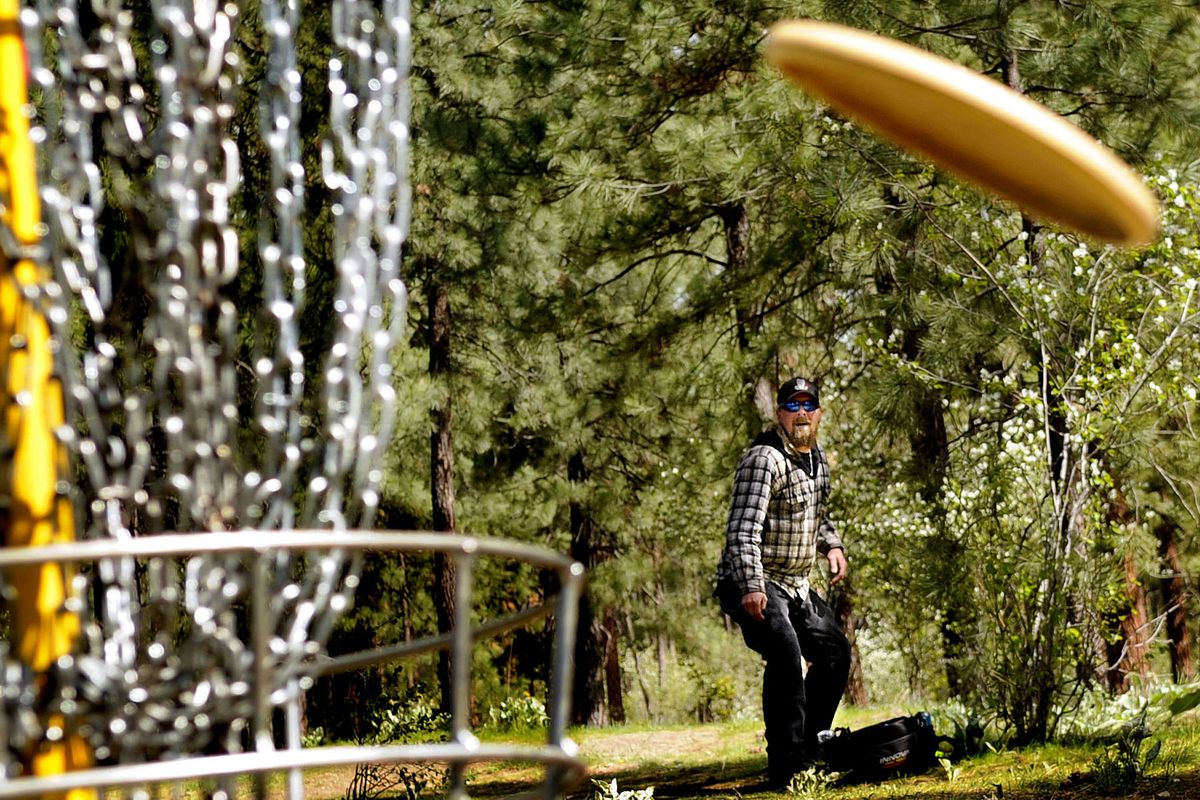 Camp Sekani's Jamboree course originally started as 27 holes, but now works as a full 18 with another 18 to play on upper course, which is under development. (KATHY PLONKA PHOTOS)
It has the sound of pure silver – a disc golfer's driver finding chains, holing out. Or it could be a putter. The farther it flies, the louder the sound.
It's a familiar clang down at High Bridge, Downriver Disc Golf Course, Sekani. There, under sunshine, the shimmering rustle of chains, followed by a report of cheers, echoes perpetually among the pines and stone ridges.
Disc golf. The rules can be inferred from its name, as it shares many similarities with the traditional game of golf. One major difference exists: It is the fastest-growing sport in the nation.
According to a survey put out by Infinite Discs in January, nearly 50 percent of the 1,421 disc golfers polled nationwide have been playing for two years or less (check out their research at infinitediscs.com/blog /the-state-of-disc-golf-growth/). The number of courses in the U.S. has doubled in the past eight years. Anyone who has tried the sport in Spokane can speak to the exponential attendance at local courses. Those who haven't, who might view the sport as simply a mash-up of rules employing a cheap toy from childhood, may want to reconsider.
In 1964, California-based toy company Wham-O patented a 119-gram plastic flying disc and named it, "Frisbee." Under the disc cover, below the copyright, read the phrase: "Play catch. Invent games. To fly, flip away backhand. Flat flip flies straight. Tilted flip curves. Experiment!"
Disc golf was inevitable.
Gordy Crafts, current treasurer of the Spokane Disc Golf Association and owner of Gordy's Sichuan Café, started playing target or "object" golf with his high school friends in Santa Cruz, California, in 1971. They followed Wham-O's maxim and invented new games, throwing discs at wooden posts with high and low marks that defined the target area.
But they weren't the only ones with ideas.
"By 1978 some friends of friends were announcing a Frisbee golf tournament up in the hills above Corolitas," Gordy said. "A little town east of Watsonville, California. … The first thing we realized was that the other players were throwing these smaller and far denser discs than we were and were already at the next dimension in disc golf in terms of technology."
In 1983, Dave Dunipace sought to meet the developing equipment needs of players. He founded Innova Discs and created "the Eagle," what Innova calls the world's first disc designed specifically for the sport of disc golf. The Eagle still serves as a favorite among disc golfers today.
Gordy and his wife, Jaymie, moved to Spokane in 1994.
"We couldn't find any disc golf or frolf (Frisbee golf) anywhere in town," he said. "… You couldn't (even) find someone who wanted to go throw discs at trees."
He and his wife would take their kids for a walk down by the river below the golf course at Downriver, toss discs around among themselves.
"It wasn't too long before we had a 'bucket' course going down by the river which included one standard Disc Golf Association basket chained to a tree, the 'Tennis Court' hole," Gordy said. "People began leaving notes there asking how we could all hook up and play. That's how we met Jason Denver and John Dierdorff, who were both instrumental in helping move our concept forward and eventually approach the parks department about formalizing the course with the city."
They called themselves the Spokane Disc Golf Association, to help be taken more seriously. They received permission to outfit the course with baskets, and in 2001, disc golf had officially arrived in Spokane.
"Wobbly" Bob Perrewe, membership secretary of SDGA, organizes tournaments for the Spokane area, including weekly and professional contests (for more information, visit: nwdiscgolfnews.com/forum/forum/
disc-golf-events/washington-events). He is the also the first person most beginner players meet when deciding which disc is best. For tournaments and events, he carts around bins of discs in the bed of his truck. He unloads and sets up shop at a table, fielding questions from veteran and novice players.
"The more snap they have, the more advanced disc they can use," Perrewe said.
"Snap" is the last fulcrum in a disc golfer's throw, similar to the break in a baseball pitcher's wrist right before releasing the ball. Snap, among other techniques, gives a disc golfer's throw distance and speed.
Disc golf engineers employ a complex set of equations, which would appear like hieroglyphics to most of us, to determine the speed, accuracy and flight path of a particular disc. Too fast a disc in amateur hands will fade severely, without distance, right off the tee, while other discs with a lower speed and higher glide will travel farther, straighter.
Most novice players gravitate toward Innova's Valkyrie or Sidewinder for a driver, then a Roc or Discraft's Buzz for midrange. Choosing a putter comes down to simply deciding what feels best.
Discs, depending on the quality of plastic ("Champion" plastic is a good starting point), vary between $16-22 apiece and can be found easily at The General Store, Sunset Grocery on Sunset Boulevard, Stimpi Ridge Disc Golf Course and Pro Shop, and from Perrewe.
There are no green fees at public courses, and most private courses ask only for a minimal fiscal contribution, often per car (private courses such as Four Mound and Stimpi's Ridge). A great online resource is www.dgcoursereview.com, where you can search for courses nationwide by zip code and read reviews, as well as get all the info you need per directions and tee times.
Aside from tournaments, the SDGA hosts fundraisers for such causes as "Baskets for Babies," and food drives in the form of tournaments, including the annual "Spokane Chili Ice Bowl," which requires a $25 entry fee and a donation of 10 cans of food and is held in February at varying locations.
SDGA offers membership at $20. Benefits include a 10-percent discount at Gordy's Sichuan Cafe, the SDGA store, the Inland North West Series Store, Jack's Rapid Fire Plastic in Post Falls and Stimpi Ridge Disc Golf.
The easiest way to join SDGA is to connect with Perrewe over the phone (509) 991-1807, or through email ( bobperrewe@hotmail.com) or show up to one of the SDGA weekly events at Downriver or Highbridge at 5 p.m. on Tuesdays and Fridays.
Jeff "Papa" Crum, director of Disc Golf Uprising and co-designer of the Camp Sekani Jamboree course, spent 50 hours simply walking the terrain of Sekani and establishing an idea for a 27-hole course.
"You have to memorize it, map it, lay it out," Crum said. "It's quite the process."
Disc Golf Uprising is working with the city of Spokane Valley and the city's master plan to establish another course in the valley.
For more information on Disc Golf Uprising and the cool things they're innovating, including expanding Camp Sekani's picturesque course, look for them on Facebook.
Like their page for weekly updates and swag videos.
Disc golf brings people out for different reasons. All players should remember the aspects of the sport that make it unique from any other, including the environment in which it resides.
SDGA, Disc Golf Uprising, and disc golf players abound strive to remember simple etiquette, such practices as keeping groups at five players or less, or if playing within a larger group, to allow smaller groups to play through. Treat the park like you would any wild area. Respect all nature. And most important, "Pack your trash!"
Crum's favorite part about disc golf is something that transcends the sport.
"You can always learn to do better," he said. "At the next hole, there's always hope, to do better."
In disc golf, after a hole is done and you've picked up your discs, tallied your throws, a new tee box awaits, and past it, a labyrinth of trees, bushes of rocky mountain junipers. A dirt path winds between them.
A new goal sits blurred in the distance, a silver lining hemmed in yellow steel. Chains wait to ignite and kindle hope.
Local journalism is essential.
Give directly to The Spokesman-Review's Northwest Passages community forums series -- which helps to offset the costs of several reporter and editor positions at the newspaper -- by using the easy options below. Gifts processed in this system are not tax deductible, but are predominately used to help meet the local financial requirements needed to receive national matching-grant funds.
Subscribe to the sports newsletter
Get the day's top sports headlines and breaking news delivered to your inbox by subscribing here.
---