News > Washington Voices
Fundraiser in Spokane Valley goes for woman's wheelchair
Thu., May 15, 2014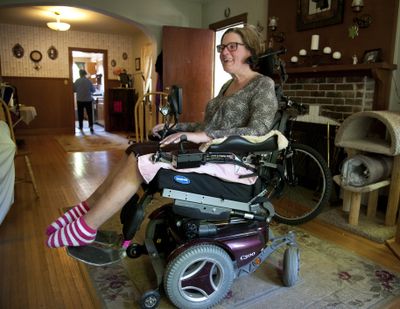 Jenny Hoff's wheelchair has taken her a lot of places in the past five and a half years.
Hoff, 55, was diagnosed with amyotrophic lateral sclerosis, also known as Lou Gehrig's disease, in 2006. Since then, she has held fundraisers for ALS Service Organization, a local nonprofit, and once traveled 37 miles in her wheelchair on the Centennial Trail – from Nine Mile Falls to the state line – to raise awareness about ALS.
"My chair is really important to me," she said.
But the wheelchair is showing its age. It has parts held together with duct tape. It leans to the right. In the past year, she's had to have someone come to her house eight times to fix it.
After many conversations with her doctor and her insurance provider, she's getting a new chair, but insurance won't pay for certain amenities her old one has.
There is a lock down feature on the bottom, which keeps the chair from rolling down hills. She said her insurance doesn't usually pay for amenities that take patients outside.
"I believe in quality of life for all of us," she said.
There is also a hydraulic lift to help caregivers get her in and out of her chair.
In all, she needs $5,564 to pay for the extras for her new chair.
To help, some of her friends and the West Valley High School cheerleaders are hosting a fundraiser Sunday at Aracelia's Mexican Restaurant, 7905 E. Trent Ave., from noon to 7 p.m.
"It's really a group effort by friends of Jenny," she said. "They're all people from my past, all come together."
When she was first diagnosed, her doctors gave her two to four years to live. It's been eight years. She speaks with effort and has recently been able to lift her feet off of her chair, something she couldn't do a year ago. She's been trying a new topical cream which helps with inflammation, and has increased her strength. She's hoping to start doing aqua therapy soon to help build her strength.
"I'm doing great," she said. "All these people have come together to encourage me to live, not to die," she said. "When anyone is given a death sentence, what do you do? You die. I chose not to."
Before she was diagnosed, she worked at Aracelia's and owned her own catering company and sandwich shop. She played the guitar and she sang.
"I miss that," she said of the music.
But she still has friends who remember her from her musical past. Several of them will perform Sunday.
"I'm surrounded by good people and motivational people," she said.
She's planning on a future, one where she and her friends create her own foundation to help fund research and local patients with ALS.
Hoff has advice for anyone who has been given what she calls a "so-called terminal" illness.
"Don't believe it," she said. "Find the joy in life. Find good people."
Local journalism is essential.
Give directly to The Spokesman-Review's Northwest Passages community forums series -- which helps to offset the costs of several reporter and editor positions at the newspaper -- by using the easy options below. Gifts processed in this system are not tax deductible, but are predominately used to help meet the local financial requirements needed to receive national matching-grant funds.
Subscribe to the Coronavirus newsletter
Get the day's latest Coronavirus news delivered to your inbox by subscribing to our newsletter.
---