Sports
Oregon wins titles; WSU's Allen takes men's 400 hurdles
Mon., May 19, 2014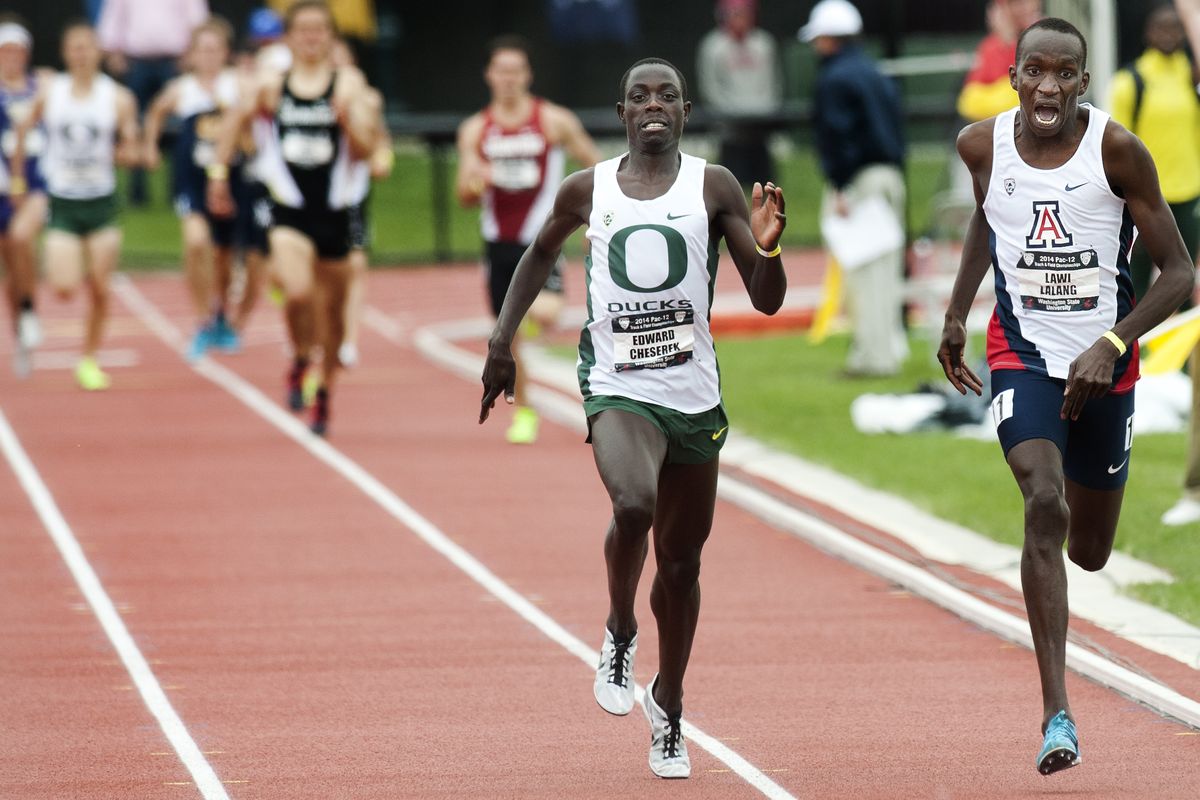 Arizona's Lawi Lalang, right, edges Oregon's Edward Cheserek in the thrilling finish to the men's 1,500-meter race on Sunday. (Tyler Tjomsland)
PULLMAN – Oregon may have dominated the scoreboard, but it was a pair of Arizona seniors that dazzled spectators at the Pac-12 Track and Field Championships on Sunday.
An enraptured crowd of 1,117 at WSU's Mooberry Track and Field Complex rhythmically clapped to keep time while Arizona senior Nick Ross cleared 2.28 meters (7 feet, 5 3/4 inches) to win the high jump, a height that makes him an early contender to medal in the 2016 Olympic Games.
Although the event was predictable from a competitive standpoint, Ross entertained fans with a series of yells, fist pumps and post-jump celebrations and gesticulations.
But it was his teammate, distance runner Lawi Lalang who provided the day's biggest thrill. A seven-time NCAA champion, Lalang holds the collegiate record for the fastest time ever recorded in the 5,000 meters and rarely receives a challenge at the NCAA level.
But Oregon freshman Edward Cheserek, a fellow Kenyan, gave Lalang all he could handle in the 1,500 on Sunday.
Cheserek, who won the indoor 3,000 and 5,000 races in the winter, closely shadowed Lalang throughout the race, drafting off the taller Lalang to avoid strong winds.
"Sometimes you have to do other things even though somebody doesn't want to help or anything like that," Lalang grudgingly said afterward.
As the runners entered the home straight, Cheserek whipped around Lalang to pull even and then take the lead. But Lalang pulled ahead at the finish line for the win.
"I saw Edward was struggling and thought it was time we kicked together," Lalang said. "If he can kick, I can kick, so why not try? Without Edward I could not have done that so I really appreciate having him over there."
His time of 3 minutes, 36.34 seconds was a personal record and both runners beat his previous meet record of 3:38.53, set last year. Lalang won the 5,000 later with a time of 13:41.44.
But though the Arizona duo had the day's best individual marks, the Ducks went home with the team hardware. The Oregon men and women each won with scores of 176 and 163.25 points, respectively.
The USC men (145) and women (99) came in second place.
The hometown Cougars picked up one conference title courtesy of freshman CJ Allen in the men's 400 hurdles. Allen raced in lane four and came out of the blocks hot, making up the stagger by the first turn.
He appeared to tire in the stretch but held off Oregon's Devon Allen, who plays wide receiver in football , and win by five-hundredths of a second.
His time of 51.14 seconds led the event, which consisted solely of underclassmen, throwing down the gauntlet in what could become a conference-wide rivalry.
"Just with a competitive edge with this group of guys coming in," Allen said. "We're pretty much all freshman … to know that those guys are going to be there for the next three years, it's awesome."
Jesse Jorgensen finished fourth for the Cougars in the 800, but was unhappy with his performance after placing second last year. Jorgensen fell behind early in the race, and was boxed in by a pack of runners.
"I was just trying to get out but not much was opening," Jorgensen said. "With 250 (meters) to go there was almost an opening but I could never get out, it was really frustrating because I had a lot more energy but I couldn't do anything with it."
The Cougars also received a bonus from Charlotte Muschamp, who placed second in the women's triple jump a day after winning the high jump.
The Cougar women finished in eighth place with 46.50 points; the men finished ninth out of 10 teams with 66.50.
Local journalism is essential.
Give directly to The Spokesman-Review's Northwest Passages community forums series -- which helps to offset the costs of several reporter and editor positions at the newspaper -- by using the easy options below. Gifts processed in this system are not tax deductible, but are predominately used to help meet the local financial requirements needed to receive national matching-grant funds.
Subscribe to the sports newsletter
Get the day's top sports headlines and breaking news delivered to your inbox by subscribing here.
---