News > Washington Voices
Business: Spokane Valley's Focused Fitness fills mix of roles
Sat., May 31, 2014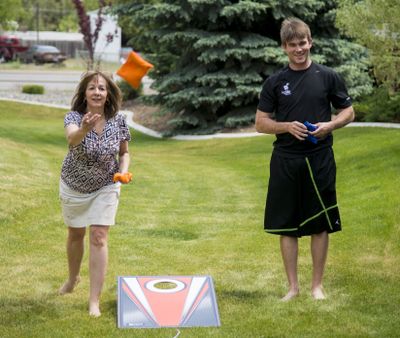 Nestled under the Dishman Hills, business mixes with fitness at Focused Fitness Community Center.
The facility includes a gym, weight room, fitness studio and showers as well as conference room, classroom and office space.
But it isn't a health club. It also isn't an office building with amenities exclusive to the company that owns it.
It's an attempt to meet both business and community needs, a hybrid created by Focused Fitness, a K-12 P.E. curriculum development company founded in 2000 by educators Karen Cowan and Ron Malm.
While the company uses the space and the equipment to teach the curriculum to educators and trainers, they also offer low-cost classes to the community and rent space and equipment on an hourly or ongoing basis.
"It was necessary for us," said Cowan of the decision to build the fitness facility. "We need to be able to train our folks and get a hands-on experience."
The gym has basketball hoops, a rock-climbing wall and a cupboard full of sports equipment. The building also houses a fully stocked fitness studio ideal for pilates, yoga, dance, aerobics and boot camp classes, as well as an exercise room with weights and aerobic training machines.
While the company sends trainers around the country to teach its curriculum and methods, some educators come to Spokane, and locally the business works with Mead School District and ESD 101.
"We have all the equipment. We can show real life," Cowan said. The business grew from a desire to provide fitness education in a way that incorporates what it's trying to teach.
"We were looking for resources. They were all sit down. We wanted our kids learning while they moved. We couldn't find them," Cowan said.
But when they weren't training P.E. teachers, the pair wanted to optimize the facility and make it available to the community.
"We've wanted to give back and provide a place. It's not full," Cowan said. "At this building, people can come learn and participate in activities that make them healthier."
With a nonprofit foundation in the works, they plan to provide low or no-cost holistic wellness education and fitness opportunities for all ages, including CPR, babysitting and technology classes as well as a range of fitness programs and regular free open gym nights.
"We're looking at the whole person, not just being more fit but offering resources to fill gaps in their lives," Cowan said. Their long-term goal is to offer classes that support the physical, emotional, intellectual, social and spiritual health of the community.
They host baby sitter training classes, for example, in the classroom. It's equipped with Wi-Fi, a smart board, surround-sound audio and enough tables and chairs to seat 30.
In the fall and winter, they host yoga classes that cost $32 for eight sessions in the fitness studio.
"We want to be here for the community and be easy on the pocket," said Chris Sands, community health program manager.
This summer the company is running three half-day kids' summer camps. The Early Learning Fitness camp, for example, mixes reading, writing and math with nutrition education and physical activity so K-2 students can develop balance, coordination and motor skills along with literacy and other early learning.
The program is similar to the Lit Fit curriculum the company developed, which is used in Spokane Public Schools. It's also an opportunity for educators to observe how the curriculum works in action.
Additionally, Focused Fitness partners with other providers to offer specialized fitness services, including Hoopster Tots, cancer rehabilitation training, and Fit for Retirement classes.
All areas of the facility are available for rent. The gym is $40 per hour, the fitness studio rents for $20 per hour and the conference room and classroom for $30 per hour each.
"It's a long-term endeavor to get people to understand what we can do for them," Cowan said. "It's for folks in this community who don't have a lot of resources. … We have the ability to mold ourselves. We have two personal trainers. We're here for them."
Local journalism is essential.
Give directly to The Spokesman-Review's Northwest Passages community forums series -- which helps to offset the costs of several reporter and editor positions at the newspaper -- by using the easy options below. Gifts processed in this system are not tax deductible, but are predominately used to help meet the local financial requirements needed to receive national matching-grant funds.
Subscribe now to get breaking news alerts in your email inbox
Get breaking news delivered to your inbox as it happens.
---