News > Spokane
County seeking to take over troublesome Mead property
Neighbors say site has been source of drugs, thefts and more for decades
Sat., Nov. 1, 2014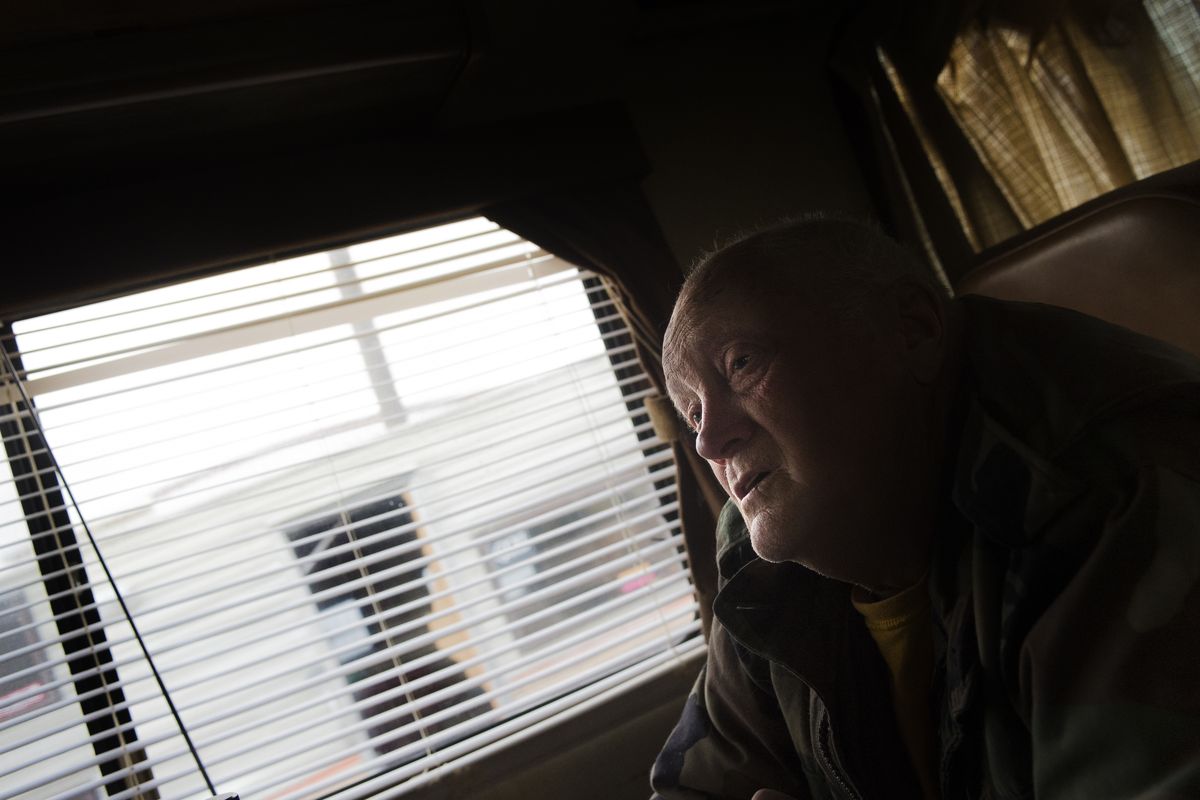 Jerry McDowell talks with the media Wednesday while relaxing in a trailer he says he bought for $500 before parking it on his property in Mead. The county is moving to seize the property, where authorities busted meth labs in 2009 and 2011. (Tyler Tjomsland)
Editor's note: A previous version of this story incorrectly described the procedure the county was taking to clean up Jerry McDowell's property. This story has been updated to clarify the abatement proceedings.
The first complaint about Jerry McDowell's property came during the Ronald Reagan administration.
In the decades that followed sheriff's deputies have busted meth labs and fielded countless calls from neighbors reporting theft, drug dealing, small fires and other problems. There's even been a criminal conviction for code violation.
This week, county officials sought permission to clean McDowell's property, which sits across the street from the Boys & Girls Club in Mead, after allegations that he failed to clean junk cars, unsafe mobile homes and other garbage by a court-ordered deadline that passed last month.
McDowell said during a property hearing Wednesday that he was making progress bringing his land up to county regulations with the help of a local church. He accused neighbors of ganging up on him. Furthermore, he has plans to sell the land to the Mead School District in hopes of avoiding fines and a lien on his property.
But an angry collection of neighbors remained in the crowd through the lengthy testimony of county officials, who detailed complaints about illegal activity at 12509 N. Freya St. dating to 1981, and the statements of Dean Pellisier, a Chattaroy resident and car maintenance customer of McDowell's who said he was helping in the cleanup efforts.
Jon Oglesby, a neighbor who said he's lodged complaints about McDowell's property for a decade, called him "nothing more than a slumlord."
"We are, quite frankly, fed up," Oglesby said.
As he stepped away from the lectern, McDowell called after Oglesby, "I kept your property taxes down, Sonny."
McDowell, clad in a camouflage jacket and punctuating much of the testimony with laughter and exasperated shrugs, declined a hearing aid when proceedings began but complained of being unable to hear throughout the day. At one point, he swiveled in his chair to directly address neighborhood members in the audience.
"I want to say to all these people back there, it's too bad that I'm getting out of it," he said, referring to a deal he says he will make with the school district to sell the property for $50,000 and move to Montana. That deal has not been approved by the district, county attorneys pointed out, and would not take effect for another month while trash continues to pile up.
Pellisier, who met McDowell three months ago, said the landowner has been victimized by squatters and described the living conditions there as being "like a Third World country." McDowell's son, Jerry McDowell Jr., was one of two people arrested following a pair of meth lab busts on the property in 2009. He is imprisoned at Airway Heights Correction Center on a five-year sentence.
A subsequent meth lab raid occurred there in 2011, and authorities discovered children among engine-starting fluid, Mason jars and other items used to cook the drug. Michael LaScuola, an environmental health specialist with the Spokane Regional Health District, also said several mobile homes were recently demolished without any asbestos tests.
Terry Ottosen, a neighborhood services specialist with the county's Building and Planning Department, testified that several children still live on the property, which is across the street from ballfields owned by the Boys & Girls Club where building insulation from the demolished mobile home continues to pile against a chain-link fence.
Pellisier called the sale "the best possible scenario" for the property. He said it wasn't easy to convince McDowell that parting with his property was the right thing to do.
Hearing Examiner Michael Dempsey shook his head, struck many of McDowell's statements from the record and admonished Pellisier for testifying on behalf of McDowell though he is not an attorney. On his way from the auditorium, Oglesby said he was "appalled" by the proceedings.
"But, hey, at least we're here," he said.
Todd Mielke, the Spokane County commissioner who represents the Mead area, said the delay in adjudicating the case illustrates the difference between code enforcement within city limits and in outlying areas of the county.
"We just don't have the same number of tools in our tool chest," Mielke said.
While the city is free through its charter system to adopt regulations and use its solid waste system to enter and clean a property, the county has no such mechanisms, Mielke said, and must go through the courts.
County attorney Rob Lehman initially said he would not ask that McDowell be fined, which is allowed under county law. However, he changed that request and asked Dempsey to consider a fine based on McDowell's "attitude" at the hearing. Dempsey is expected to issue a written ruling in the coming weeks.
Other neighbors testified that McDowell's property was hindering efforts to sell their homes; that people staying on his property were stealing neighborhood water; and that residents there were offering children drugs.
McDowell scoffed at suggestions he was involved in drug activity after the hearing and said he called the police "until he was blue in the face" to stop illegal activity on his property, to no avail.
Mielke said he's been approached by neighbors for years complaining about the property. He said McDowell should be held accountable for the criminal activity that occurs on his land.
"If not the property owner, then who?" Mielke said.
Wednesday's hearing on the county's abatement request was prompted by the designation of the land as a nuisance property by county officials in February. In January, McDowell was found guilty of a code violation and given a deferred sentenced of 90 days in jail and a fine of $1,000. He was ordered to clean the property by Sept. 30, which officials say hasn't occurred. He's scheduled to appear again in court on the criminal charge later this month.
Local journalism is essential.
Give directly to The Spokesman-Review's Northwest Passages community forums series -- which helps to offset the costs of several reporter and editor positions at the newspaper -- by using the easy options below. Gifts processed in this system are not tax deductible, but are predominately used to help meet the local financial requirements needed to receive national matching-grant funds.
Subscribe now to get breaking news alerts in your email inbox
Get breaking news delivered to your inbox as it happens.
---