Sports
In brief: Michigan athletic director Dave Brandon resigns
Sat., Nov. 1, 2014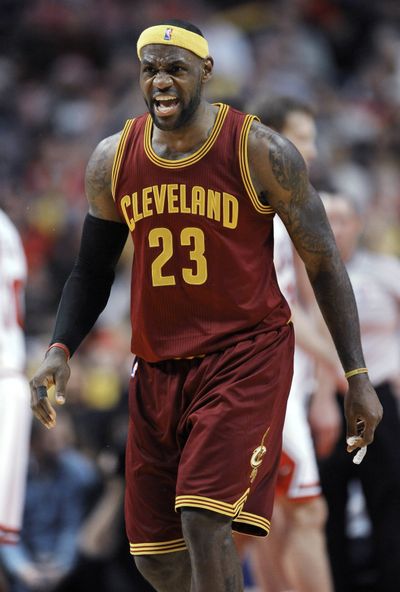 NCAA: Michigan athletic director Dave Brandon has resigned, setting the stage for new leadership at the top of one of the nation's most prominent athletic departments.
Brandon's resignation comes amid a dismal football season and concerns over the school's handling of everything from its concussions protocol to student seating at games. Football coach Brady Hoke's future has been in doubt for months thanks to his team's lack of progress, but Brandon also became a target of disgruntled fans and students.
• Wildcats top AP poll: Kentucky is No. 1 in The Associated Press preseason Top 25 for the second straight season.
Arizona was No. 2, receiving five first-place votes. No. 3 Wisconsin, with most of its team returning from last year's Final Four run, had eight first-place votes.
Cavs bounce back, outlast Bulls in OT
NBA: LeBron James scored 36 points and visiting Cleveland beat Chicago 114-108 in overtime.
James was at his best after struggling the previous night, scoring eight points in the extra period.
Derrick Rose scored 20 points for Chicago, but his first meaningful home game in about a year was spoiled by a sprained left ankle.
• Kings put away Blazers: Rudy Gay scored 40 points — one off his career high — including a pair of key 3-pointers, and Sacramento surprised Portland 103-94 in Sacramento, California.
Gay had two free throws and a 3-pointer to spark a Kings 13-0 run midway through the final period.
• Suns push past Spurs: Isaiah Thomas scored 10 of his 23 points in the fourth quarter, rallying host Phoenix with a relentless series of driving layups to beat San Antonio 94-89.
Thomas' layup fueled a 10-0 run that put the Suns up 92-87. San Antonio had a chance to tie at the finish, but Boris Diaw was called for a five-second violation with 6.5 seconds left.
• Clippers defeat Lakers: Blake Griffin scored 39 points and went 11 for 12 from the free throw line, powering the Los Angeles Clippers to a gritty 118-111 victory over the winless Lakers.
Red Wings jump out early, beat Kings
NHL: Pavel Datsyuk and Gustav Nyquist each scored twice to lead Detroit over visiting Los Angeles 5-2.
Nyquist had a pair of power-play goals, and Datsyuk and Tomas Tatar also scored in a four-goal first period.
• Thompson sends Ducks over Stars: Nate Thompson scored 2:30 into overtime and Anaheim beat the host Dallas Stars 2-1. Thompson tipped a shot by Corey Perry from the top of the left circle past Stars goalie Kari Lehtonen.
• Flames rally past Predators: Johnny Gaudreau sparked a third-period comeback with a goal an and assist as Calgary scored three times in just more than 4 minutes to beat Nashville 4-3 in Calgary, Alberta.
Untapable takes Breeders' Distaff
MISCELLANY: Untapable polished off an impressive year with a 1 1/4-length victory in the Breeders' Cup Distaff in Arcadia, California, making Rosie Napravnik the first female jockey to win the $2 million race in its 31-year history. Napravnik then stunned the crowd at Santa Anita and a national television audience by announcing she will retire Sunday.
On the eve of the Breeders' Cup, Washington champion Stryker Phd, bred in the Spokane area by Char Clark and Todd Havens, finished second in Thursday's $80,700 Big Bear Stakes at Santa Anita. This summer's Longacres Mile winner rallied from last place to finish one-half length behind heavily favored Regally Ready, which completed one mile in 1:35.65. Stryker Phd, owned by Mona Hour of Bellevue, was sent off at $6.70-1.
• Raonic upsets Federer: Milos Raonic secured his maiden win over Roger Federer to book his place in the semifinals of the Paris Masters.
The seventh-seeded Raonic, who had never beaten Federer in six previous meetings, hit 21 aces and lost only 15 points on his serve to complete a 7-6 (5), 7-5 win, keeping alive his chances of qualifying for the ATP Finals in London.
Local journalism is essential.
Give directly to The Spokesman-Review's Northwest Passages community forums series -- which helps to offset the costs of several reporter and editor positions at the newspaper -- by using the easy options below. Gifts processed in this system are not tax deductible, but are predominately used to help meet the local financial requirements needed to receive national matching-grant funds.
Subscribe to the sports newsletter
Get the day's top sports headlines and breaking news delivered to your inbox by subscribing here.
---