Sports
LC collects No. 2 seed
Tigers advance to 4A play-in at Chiawana
Sat., Nov. 1, 2014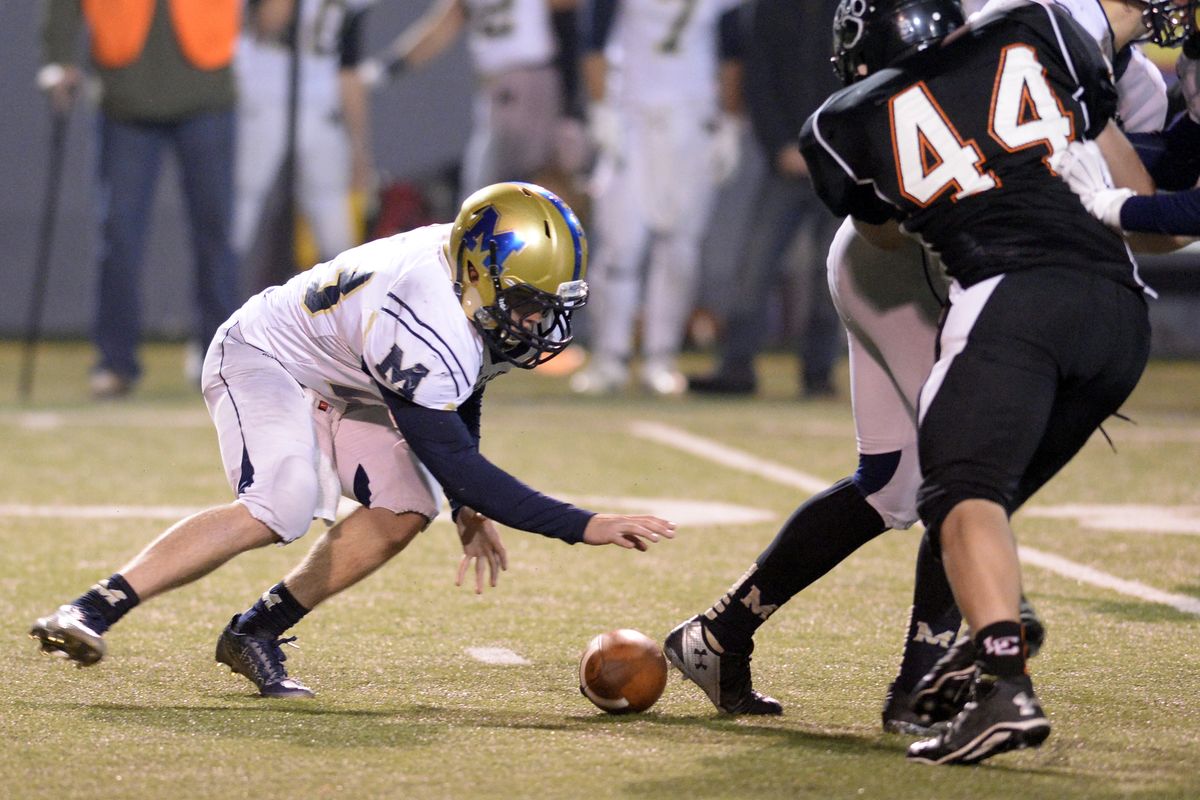 The snap gets away from Mead's Thomas Dammarell, left. (Jesse Tinsley)
Lewis and Clark advanced to the postseason with a 10-0 win over Mead in a Greater Spokane League regular-season football finale at Joe Albi Stadium on Friday night.
With University's 35-23 win over Central Valley later Friday, Lewis and Clark clinched the GSL's No. 2 4A seed. The Tigers will travel for a state play-in game against the Mid-Columbia Conference's No. 1 seed, defending state champion Chiawana.
With a host of starters – including quarterback Jordan Summers – sidelined with injuries, the Tigers (5-4, 3-2) got the defensive effort they needed to stay in the hunt.
"We knew that our defense was the strongest part of our team and we expected them to go out and play a hell of a game, and they did, so we're very excited about that," LC coach Dave Hughes said.
Taylor Duncan scored the game's only touchdown on a 5-yard run with 3:02 left in the first quarter. Duncan finished with 30 carries for 130 yards.
"We have to rely on Taylor Duncan, he is our captain, he is the guy who we'll put the ball in his hands anytime, anywhere and he always gets it done for us," Hughes said.
Duncan's brother, Cameron, got the start under center in place of Summers and earned his brother's praise.
"I'm so proud of him," Taylor said. "He just found out today he was going to get the start tonight and he did an amazing job. I could not be more proud of him."
The Panthers (3-6, 1-4) struggled to move the ball against LC, gaining only 146 yards against the Tigers.
Lewis and Clark completed the scoring by capping off a 64-yard drive with a 32-yard Alex Ratcliff field goal on the Tigers' first possession of the second half.
Mead pushed the ball near the red zone late in the fourth quarter only to have a Thomas Dammarell pass intercepted by Camden Bendickson.
Local journalism is essential.
Give directly to The Spokesman-Review's Northwest Passages community forums series -- which helps to offset the costs of several reporter and editor positions at the newspaper -- by using the easy options below. Gifts processed in this system are not tax deductible, but are predominately used to help meet the local financial requirements needed to receive national matching-grant funds.
Subscribe to the sports newsletter
Get the day's top sports headlines and breaking news delivered to your inbox by subscribing here.
---