News > Obituaries
Obituary: Henning, Vernon Dale
Age 80
Sat., Nov. 1, 2014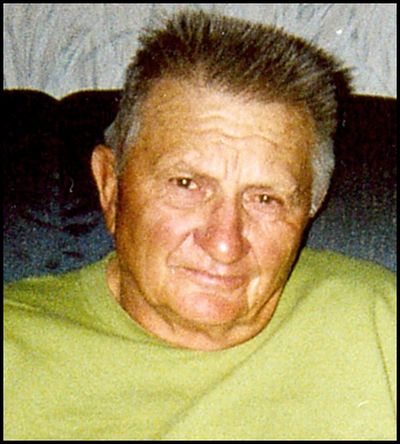 HENNING, Vernon Dale (Age 80) A longtime resident and Onecho area farmer passed away on Tuesday October 28, 2014 at Colonial Court Assisted Living in Spokane.
Viewing will be at Bruning Funeral Home on Sunday from 6-8pm and Monday from 9-Noon.
Graveside services will be at 1:00 pm Monday at the Colfax Cemetery followed by a Memorial Service at 2:00pm at the Whitman County Fairgrounds.
Vern was born on August 14, 1934 to George and Gladys (Hake) Henning in Charlo, Montana.
He spent the first six years of his life in Montana before his family moved to a ranch near Cheney.
They eventually moved to the Henning homeplace on Almota Road in Colfax and Vern has lived there ever since.
He was a graduate of Colfax High School and served in the United States Army and Army Reserves between WWII and the Korean conflict.
He married Carol Ann Ratliffe at the Onecho church on October 19, 1961.
Vern will best be known for his vintage tractor and truck collection.
He loved to buy, sell, trade and barter in trucks, tractors, and farm equipment.
He was an active participant in tractor-pull competitions and often competed with his children.
He loved to drive truck - long haul or short haul - and will be remembered by his children as a man who was a "hard workin' man" his whole life.
He was a man of faith and recently started attending the First Baptist Church in Colfax before his health required he move to Spokane for care.
Vern is survived by his wife Carol Henning of Spokane; son Russell Henning of Colfax; daughter Becky Henning of Walla Walla; grandson Russell Freier and great-grandson Brayson Freir; brother Gale Henning of Spokane as well as many extended family members.
He was preceded in death by his parents.
Memorial contributions in Vern's honor are suggested to the Whitman County Fair Foundation or the "Vern Henning's Oliver Tractor Tire Fund".
BRUNING FUNERAL HOME of Colfax has been entrusted with funeral arrangements.
Online condolences may be left at www.bruningfuneralhome.com
Local journalism is essential.
Give directly to The Spokesman-Review's Northwest Passages community forums series -- which helps to offset the costs of several reporter and editor positions at the newspaper -- by using the easy options below. Gifts processed in this system are not tax deductible, but are predominately used to help meet the local financial requirements needed to receive national matching-grant funds.
Subscribe now to get breaking news alerts in your email inbox
Get breaking news delivered to your inbox as it happens.
---