Sports
Pulliam leads Mt. Spokane to GSL 3A championship
Sat., Nov. 1, 2014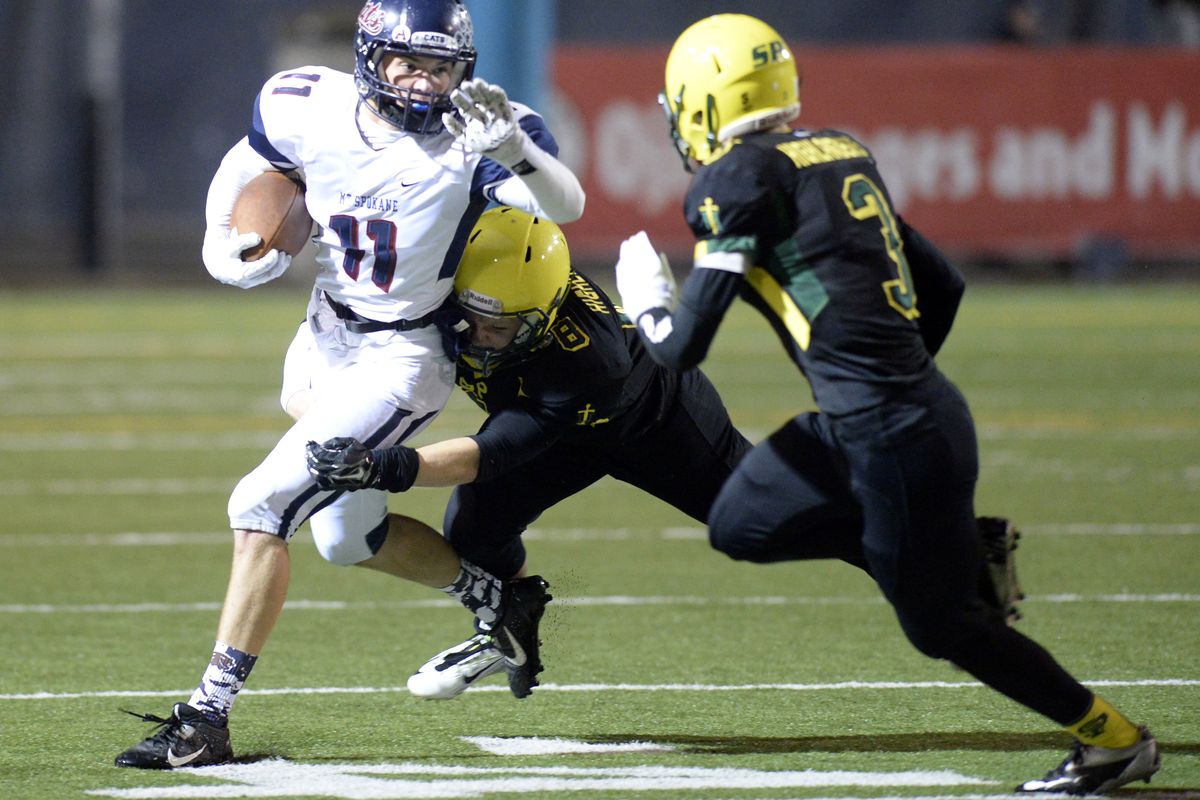 Mt. Spokane's Bryce Zimmerer takes a short pass and tries to elude Shadle Park defenders Jake Stevens and T.J. Trout, right. (Jesse Tinsley)
The Mt. Spokane football team didn't mind seeing a trend continue Friday – as long as another habit continued, too.
The Wildcats had a slow start, falling behind by two touchdowns, but they threw a second-half shutout to knock off the Shadle Park Highlanders 28-21 in the Greater Spokane League 3A championship game at Albi Stadium.
Mt. Spokane (7-2, 3-0) earned a host berth for a state play-in game next Friday, and will take on Mid-Columbia Conference second seed Kennewick (4-5), which handled Hanford 58-14.
Shadle Park (6-3, 2-1) travels to MCC top seed Kamiakin (7-2) Friday. Kamiakin scored a big road win over Walla Walla, the MCC 4A second seed, 35-13.
For whatever reason, the Wildcats have been slow starters this season.
When Shadle quarterback Brett Rypien hit George Pilimai on a 6-yard touchdown pass late in the first half the Highlanders had a 21-7 lead.
It was Rypien's 100th career TD pass in league play.
But Shadle's two-TD margin was short-lived when Mt. Spokane quarterback Matt Pulliam hit Bryce Zimmerer in stride for a 46-yard TD connection, pulling the Wildcats within 21-14 with 48 seconds to go before halftime.
The Wildcats owned the second half, shutting out the Highlanders. Rypien, who completed 19 of 22 attempts in the first half for 282 yards, was limited to 67 in the final two quarters.
"Once again we dug a little hole like we did early on in the season," first-year Mt. Spokane coach Terry Cloer said. "But these guys just never quit. Rypien is obviously a great player and they were moving the ball early on us. But we stayed with it. We felt we had a good plan."
Neither team could mount anything offensively early in the third quarter.
Mt. Spokane started to find some traction midway in the period. The Wildcats needed just two plays to draw even at 21-21 when Pulliam hit a wide-open Dakota Hipes for a 67-yard touchdown with 6:18 to go in the quarter. A Shadle safety bit on a play-action fake, leaving Hipes all alone.
On Mt. Spokane's next possession, the Wildcats moved to Shadle's 34-yard line. On third-and-9, Shadle was called for pass interference, setting the Wildcats up at the 19.
Two plays later, Pulliam darted 5 yards up the gut to for the go-ahead TD on the first play of the fourth quarter.
The Wildcats stuffed Shadle on its final two possessions.
In between, Mt. Spokane put together a 7-minute, 31-second possession that ended at Shadle's 17.
On Shadle's final series, Tyler Bailey deflected a Rypien pass on fourth down, allowing Mt. Spokane to take over at the Highlanders' 29 with 2:10 remaining.
Pulliam accounted for all four Mt. Spokane scores – two passing and two running. He completed 9 of 18 attempts for 174 yards and rushed for 71.
Shadle finished with 450 yards total offense to Mt. Spokane's 337.
Local journalism is essential.
Give directly to The Spokesman-Review's Northwest Passages community forums series -- which helps to offset the costs of several reporter and editor positions at the newspaper -- by using the easy options below. Gifts processed in this system are not tax deductible, but are predominately used to help meet the local financial requirements needed to receive national matching-grant funds.
Subscribe to the sports newsletter
Get the day's top sports headlines and breaking news delivered to your inbox by subscribing here.
---