Sports
Photo: Snapshot: Vikings power through Warriors
Sat., Nov. 1, 2014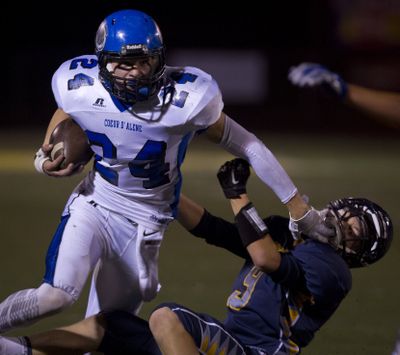 Vikings power through Warriors: Coeur d'Alene's Ryan Walde, left, leaves Meridian's Chase Labbe grasping at the air during the Vikings' 55-35 victory in a 5A State first-round football game on Friday night in Meridian. With the win, Coeur d'Alene advances to the quarterfinals and will again travel to Meridian to face Southern Idaho Conference No. 1-seed Rocky Mountain on Friday.
Local journalism is essential.
Give directly to The Spokesman-Review's Northwest Passages community forums series -- which helps to offset the costs of several reporter and editor positions at the newspaper -- by using the easy options below. Gifts processed in this system are not tax deductible, but are predominately used to help meet the local financial requirements needed to receive national matching-grant funds.
Subscribe to the sports newsletter
Get the day's top sports headlines and breaking news delivered to your inbox by subscribing here.
---