Sports
Kipsang, Keitany marathon victors
Kenyans endure windy conditions in New York
Mon., Nov. 3, 2014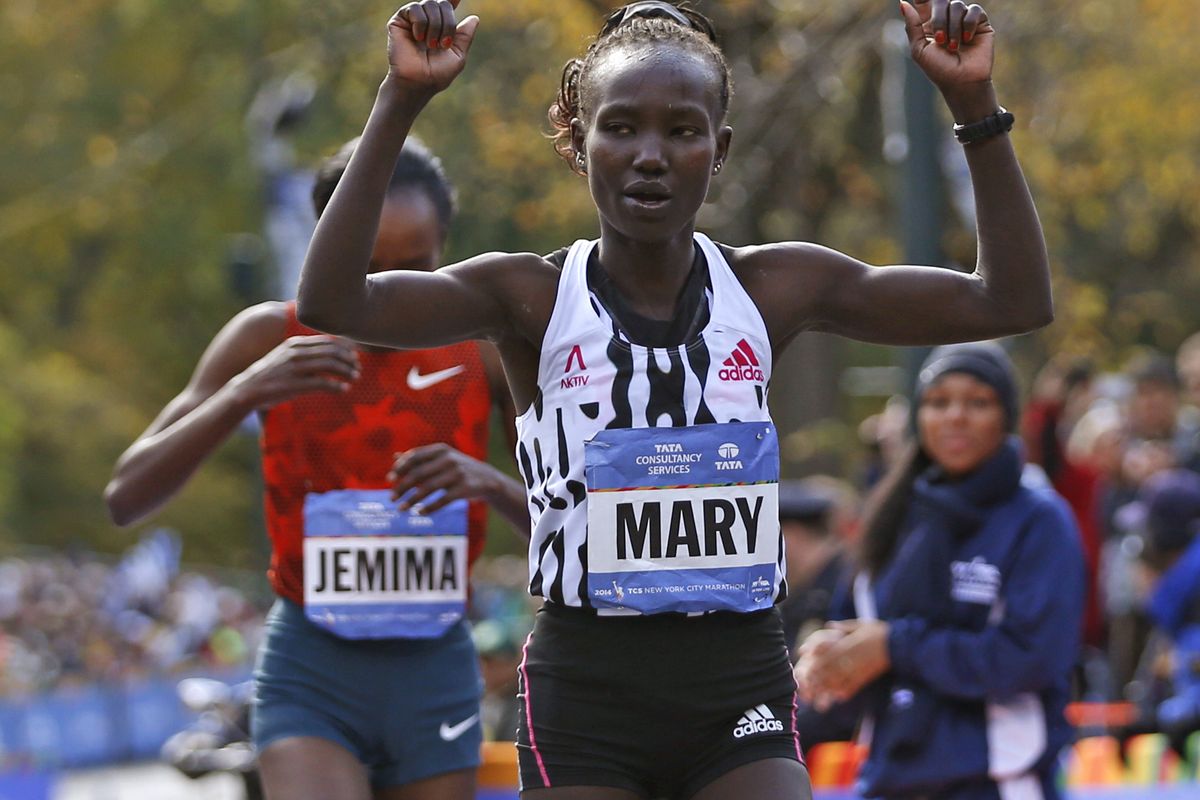 Keitany 2:25:07
NEW YORK – Wilson Kipsang, a former world-record holder, needed to force himself to slow down.
The Kenyan star had entered his first New York City Marathon to challenge himself on a hilly course with no pacesetter. A windy morning made for quite the test Sunday, and Kipsang proved he can win a strategic race.
"I had to really exercise a lot of patience," he said.
Kipsang pulled away in the final mile for his third major marathon title in just over 13 months. Mary Keitany also took the lead late in the women's race for a Kenyan sweep.
Kipsang's record-setting victories in Berlin and London were on flat courses with the aid of a pacesetter, different from Sunday, when winds were gusting at more than 30 mph at the start. The contenders adjusted by cautiously sticking to a slow pace.
"It was very tactical," Kipsang said. "So it was not easy."
He finished in 2 hours, 10 minutes, 59 seconds – the slowest winning time in New York since 1995, and more than 7 1/2 minutes off the world record he set last year in Berlin.
Keitany tried a very different tactic in her previous NYC Marathon, surging ahead to a huge early lead in 2011. She was caught that day and had to settle for her second straight third-place finish.
This time, Keitany held back. She and countrywoman Jemima Sumgong entered Central Park side by side, and Sumgong appeared to be pulling away with just over a mile left.
But Keitany had one last burst left and won by 3 seconds, matching the tightest finish in the history of the women's race. Keitany's time was 2:25:07. Keitany, a two-time London Marathon champ, hadn't run a 26.2-mile race since 2012 because of the birth of her second child.
A record 50,881 runners started the race. Because of the wind, the wheelchair race started at the 3-mile mark as it was too dangerous to roll across the Verrazano-Narrows Bridge.
Keitany and Kipsang each earned $100,000. Kipsang also clinched the $500,000 World Marathon Majors bonus with the victory.
Tennis star Caroline Wozniacki, running her first marathon, finished in an impressive 3:26.
Local journalism is essential.
Give directly to The Spokesman-Review's Northwest Passages community forums series -- which helps to offset the costs of several reporter and editor positions at the newspaper -- by using the easy options below. Gifts processed in this system are not tax deductible, but are predominately used to help meet the local financial requirements needed to receive national matching-grant funds.
Subscribe to the sports newsletter
Get the day's top sports headlines and breaking news delivered to your inbox by subscribing here.
---