News > Pacific NW
Washington would lose clout in GOP-led Senate
Mon., Nov. 3, 2014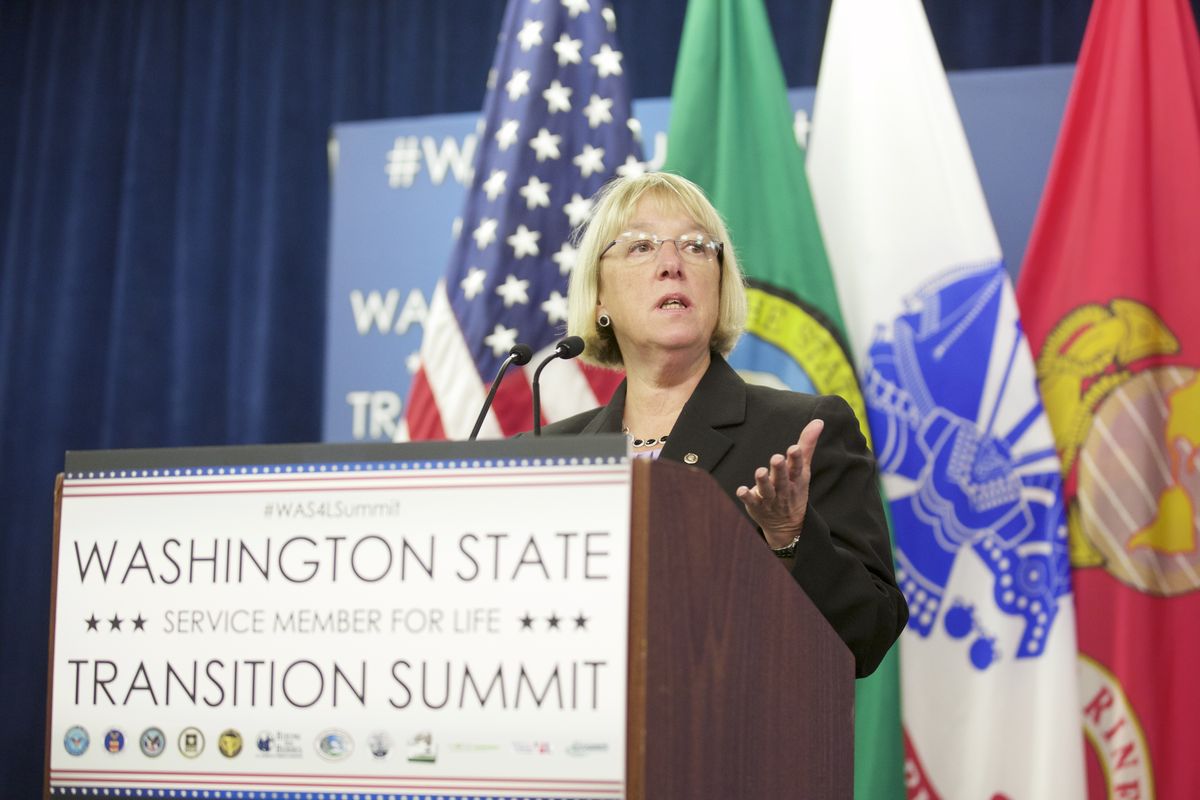 Murray
WASHINGTON – Washington state's clout took a big hit last year when Democratic Rep. Norm Dicks, the longtime appropriations king, decided to call it quits after 36 years in the House of Representatives.
Now Democrats fear the state could lose even more of its punch on Capitol Hill if Republicans win control of the Senate on Nov. 4, a prospect that many political analysts say is likely.
Both of the state's Democratic senators, Patty Murray and Maria Cantwell, would lose committee chairmanships if the GOP wins a majority of the 100 Senate seats.
Murray, the highest-ranking woman in Senate leadership, would no longer head the Senate Budget Committee, while Cantwell would forfeit her gavel on the Senate Committee on Small Business and Entrepreneurship.
"The simple reality is you're much more able to have significant influence when you're in the majority," said Brian Baird, the president of Antioch University Seattle and a former 12-year Democratic congressman from Washington. "And with the combination of majority and seniority, it's pretty high stakes for us."
Republicans say those fears about the state losing its clout are overblown.
Republican Rep. Dave Reichert of Washington said the public is frustrated with the inability of the two political parties to get things done. He said Congress would become more unified if Republicans win the Senate and that Murray and Cantwell could still deliver for the state.
"They would have to work with the other party, and I see them both being able to do that," Reichert said.
Murray, who was elected in 1992, will rank sixth among Democrats in seniority next year. Cantwell, who took office in 2001, will rank 15th among Democrats. Both are moving up due to the retirements of Democratic stalwarts such as Carl Levin of Michigan, Tom Harkin of Iowa and John Rockefeller of West Virginia.
Regardless of what the polls say, Murray said Democrats are likely to retain power.
"Obviously, it is very important for us, to set the agenda and the issues and the priorities that we're fighting for," Murray said in a recent interview.
A Republican takeover of Congress would hurt the state, she said, leading to more automatic spending cuts under the process known as sequestration. She said that would cost the state millions of dollars for research, education and transportation, among other things.
"That would have a huge impact for us here," Murray said.
Susan Hutchison, chairwoman of the Washington state Republican Party, predicted there would be little change for the state if the GOP wins the Senate.
Hutchison described Cantwell as a "lackluster senator" and said it would make no difference whether she's serving in the minority or majority. And Hutchison said Murray, who's part of the Democratic leadership team, would continue in her role as a "sidekick" to Senate Majority Leader Harry Reid of Nevada whether or not Republicans are in charge.
"From a Republican point of view, of course, I think any loss of clout is good for the nation if we take the Senate," Hutchison said.
Reichert said Republicans would have an easier time holding the line on federal spending if they control the Senate, which he said would boost the economy and create more jobs.
"It's more about talking about a balanced budget versus scaring people with talk of sequester and government shutdowns and those sorts of things," he said.
Washington state currently has the 11th-most-powerful congressional delegation, according to the "clout index" done by Roll Call, a Capitol Hill publication. California ranks first, followed by Florida, Texas, Louisiana, New York, Virginia, Michigan, New Jersey, Maryland and Pennsylvania, respectively.
But the state ranked eighth in the last session of Congress, before Dicks retired. He served as the top Democrat on the House Appropriations Committee, winning local praise from many for his ability to steer federally earmarked money to his state for decades.
Murray has developed a similar reputation as a "big player," said Todd Donovan, professor of political science at Western Washington University. And he said there's little doubt that a GOP takeover of the Senate will hurt the state with Murray serving as both a top-ranked appropriator and heading the Budget Committee.
"Any state that has long-serving members in the Senate who are in the majority are going to have something to lose," he said. "But for this state, Patty Murray can deliver. She's somebody people in Olympia can call to get things fixed in the budget. And that would be a big loss. There's a lot of nuance in the budget that those chairs have influence over."
If Democrats maintain control of the Senate, Murray's a good bet to take over as chair of the Senate Health, Education, Labor and Pensions Committee, replacing Harkin, who's leaving Congress after 40 years.
With Murray moving toward the top of Senate leadership, Baird is hoping she gets a shot at the No. 1 job, replacing Reid.
"Patty Murray is in an extraordinarily powerful position in the Senate and could potentially be in line to the next majority leader – and that's a high stake for our state," he said.
Local journalism is essential.
Give directly to The Spokesman-Review's Northwest Passages community forums series -- which helps to offset the costs of several reporter and editor positions at the newspaper -- by using the easy options below. Gifts processed in this system are not tax deductible, but are predominately used to help meet the local financial requirements needed to receive national matching-grant funds.
Subscribe now to get breaking news alerts in your email inbox
Get breaking news delivered to your inbox as it happens.
---