News > Features
Workshops help seniors navigate life, end-of-life planning
Mon., Nov. 3, 2014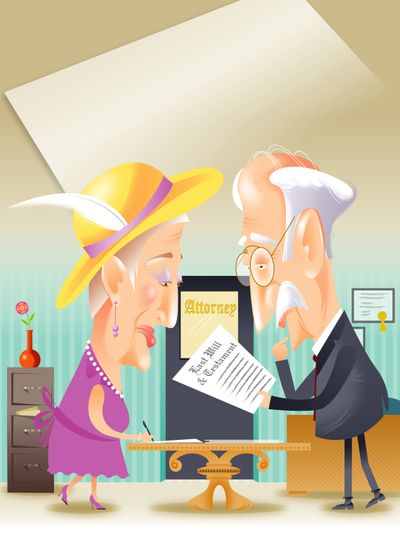 Stephanie Ekloff is excited to share her new knowledge about death with everyone she knows: her 92-year-old grandmother, her aging parents, her children and those seven – almost eight – grandbabies, her husband and the clients she cares for in the Snohomish area.
Ekloff is bursting to recommend the "Handbook for Washington Seniors: Legal Rights and Resources" to anyone who may benefit, especially its sections for how to prepare legally for death and ensuring your wishes are known and understood.
Ekloff learned of the 260-page handbook last month while attending a senior legal wellness workshop conducted by Legal Voice, the nonprofit that compiled the handbook in 2012 after starting the project in 2007.
The quick-reference handbook, which is the only one of its kind in the state, provides an "overview of legal issues facing seniors and the resources available to help them protect their health and economic security." It covers 45 different legal topics from death and raising grandchildren to identity theft and how to deal with landlords.
Eastern Washington residents get the same educational opportunity when Legal Voice brings its 90-minute Life and End-of-Life Planning workshop to Spokane as a way to educate seniors, their families and caregivers. There are two identical presentations scheduled. The first is Nov. 13 at the Corbin Senior Center and the second is Nov. 14 at the Hillyard Senior Center. Participants must RSVP. The nonprofit, which pursues justice for women, published the handbook as part of its desire to educate the public, especially the growing senior population in which the majority are women, often low-income women. The handbooks sell for $10 or searchable CDs for $5.
"It's something everyone should think about," said Ekloff, 52, of Granite Falls, Washington, adding that she and her husband need to have a better plan in place in case one or both of them dies unexpectedly or has a medical crisis.
The handbook is helping guide them on how to execute a will, living will and powers of attorney for both health care and finances. She said the workshop really showed her how important it is to make sure people know what you want, long before illness, sudden death or memory loss problems such as dementia or Alzheimer's.
Ekloff planned to attend the workshop with a woman she cares for, but then the client became ill. So Ekloff went alone and returned with information not only for her client but also her entire family.
She shared the handbook with her mom. Her mother, 70, thought it would help with planning for her 92-year-old mother. Now Ekloff realizes her own grown children need the same information on how to plan for the future. She especially thinks her son and daughter-in-law who have a 2-year-old daughter with spina bifida need to have a plan in place for if they died, leaving a child with special needs behind.
"Unfortunately, we all have to deal with this," she said.
Retired Seattle attorney Anne Counts, 72, is giving the workshop and said Legal Voice wants more people to know about the handbook, which is currently being revised by volunteers – attorneys, paralegals and social service providers – across the state, especially with changes in health care laws and the legalization of gay marriage. Counts hopes the new version will be available online so it reaches more people.
"It provides information in simple language but is also a resource for places people can go for more information and places to go for help," Counts said.
The dozen workshops across the state this year have all focused on the topic of death and what happens legally when you die. She said it's a difficult topic but one families must address before a death or crisis happens.
As a former English teacher and attorney in the banking industry, Counts wanted to do advocacy work when she retired. Always a supporter of women's rights, she found a good fit with Legal Voice. She enjoys making legal information accessible to people who aren't attorneys.
Counts admits she needs to take her own advice after traveling to Oregon, getting ill and landing in the hospital. She was remiss not to have her end-of-life instructions accessible. She said it never occurred to her that she is one of those seniors, even though now she "looks" like one because she uses a walker.
"That was dumb," she said with a laugh. "I am 72."
Local journalism is essential.
Give directly to The Spokesman-Review's Northwest Passages community forums series -- which helps to offset the costs of several reporter and editor positions at the newspaper -- by using the easy options below. Gifts processed in this system are not tax deductible, but are predominately used to help meet the local financial requirements needed to receive national matching-grant funds.
Subscribe now to get breaking news alerts in your email inbox
Get breaking news delivered to your inbox as it happens.
---