Sports
Eagles play guessing game with Griz
Adams or West? Baldwin says it's a game-time decision
Tue., Nov. 4, 2014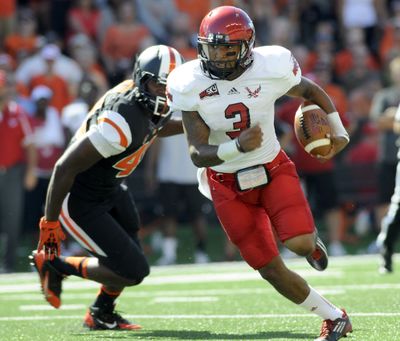 The question was on everyone's lips, but Eastern Washington football coach Beau Baldwin had the answer before anyone could ask it.
"They'll both practice and it will be a game-time decision," Baldwin told a crowd of Eagles fans at the weekly coaches' show Monday night at Northern Quest Resort & Casino.
The question, of course: Which Eastern quarterback will start Saturday's pivotal Big Sky Conference game against Montana – injured All-American Vernon Adams Jr. or Jordan West, his replacement during the past four weeks?
Baldwin's answer wasn't definitive, but it had the desired effect: appreciative laughter and applause from dozens of Eastern fans and some extra preparation this week for the Montana defense.
That's the whole point: to get every possible edge for the sixth-ranked Eagles, who at 8-2 overall and 5-1 in Big Sky play are still in position for a high seed in the upcoming FCS playoffs.
The stakes are high, even for an Eastern-Montana game: a share of the Big Sky lead for both teams, and for the Eagles, a chance to take three straight from their biggest rivals – on Senior Day, no less.
That the stakes are still this high is due partly to West, who was at Northern Quest on Monday night and getting credit for more than his 3-1 record as a starter.
"He's been growing every week," said Baldwin as he reviewed the Eagles' 54-3 demolition of North Dakota, which he saw as another step in the maturation of an Eastern quarterback coming off a rough game the week before.
In West's case, it was the 28-27 loss at Northern Arizona on Oct. 25, which Baldwin compared with former quarterback Bo Levi Mitchell's struggles in a 30-7 loss to Montana State in 2010 – before Mitchell led the Eagles to the national title.
Or Adams' own struggles in several games during the 2012 season.
West could relate.
"We knew we needed to come back from a tough loss," said West, who admitted to being "flustered" at NAU.
West, a redshirt sophomore, responded Saturday with a strong performance against an aggressive North Dakota defense that forced him to make some quick decisions. He finished 24 of 37 passing for 314 yards and consistently beat blitzes with short passes that turned into long gains. Indeed, eight of wide receiver Cooper Kupp's nine catches (for 111 yards) were made behind the line of scrimmage.
In four starts, West completed 79 of 131 passes (60.3 percent) for 1,010 yards, eight touchdowns and one interception.
"It's been the experience of a lifetime," West said. "I certainly didn't expect to start four games, and I don't think very many people did."
Will it be five?
"I'd certainly love to play in this game," West said. "Vernon could be coming back, but the preparation won't change, and I'll be preparing like I'm going to start."
Local journalism is essential.
Give directly to The Spokesman-Review's Northwest Passages community forums series -- which helps to offset the costs of several reporter and editor positions at the newspaper -- by using the easy options below. Gifts processed in this system are not tax deductible, but are predominately used to help meet the local financial requirements needed to receive national matching-grant funds.
Subscribe to the sports newsletter
Get the day's top sports headlines and breaking news delivered to your inbox by subscribing here.
---