Sports
Cougars earn fourth-straight women's NCAA soccer berth
Whitworth men also selected for postseason tournament
Mon., Nov. 10, 2014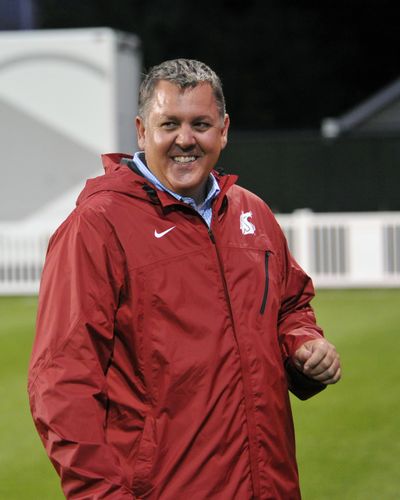 For the fourth straight year – a first for the program – Washington State is sending its women's soccer team to the NCAA Division I tournament. The Cougars received an at-large bid and will host Seattle University in a first-round match Friday. Kickoff will be at 5 p.m. at the Lower Soccer Field. The Whitworth men also qualified for the postseason; the Pirates will play Covenant College of Georgia on Friday in a first-round Division III match in Atlanta. WSU: "I'm excited for our kids," first-year coach Steve Nugent said Monday after the brackets were announced. "They put in the work and earned the opportunity to be home in front of our wonderful fans and community." The Cougars finished in a three-way tie for fifth in the powerful Pac-12 Conference, going 5-4-2 in conference play and 10-4-4 overall. For the second year in a row, they'll be rewarded with a first-round home match. The Cougars lost to Illinois last year in a shootout after a scoreless tie. WSU and Seattle have met 10 times, with the Cougars winning each time. Last year, the Cougars won 3-1 in Seattle. The Redhawks are 14-4-2 after winning the Western Athletic Conference postseason tournament.WSU is making its ninth appearance in the tournament. Meanwhile, Washington (5-4-2, 10-6-2) earned a national seed – fourth – and will play host to Rider on Friday night. Whitworth men: Two days after nailing down the Northwest Conference title with a 3-0 win over Whitman, the Pirates earned a trip to the playoffs. Whitworth (10-1-3 in the NWC and 15-1-3 overall), will fly to Atlanta on Thursday, then face Covenant College at 10:30 a.m. PST Friday in Atlanta. Whitworth, which won its fifth NWC title in the last eight years, last appeared in the NCAAs in 2012. Covenant College (15-4-2) earned an automatic bid to the tournament after winning the USA South Conference tournament. The Scots defeated Maryville College 2-0 in the finals of its conference tournament for the NCAA berth.
Local journalism is essential.
Give directly to The Spokesman-Review's Northwest Passages community forums series -- which helps to offset the costs of several reporter and editor positions at the newspaper -- by using the easy options below. Gifts processed in this system are not tax deductible, but are predominately used to help meet the local financial requirements needed to receive national matching-grant funds.
Subscribe to the sports newsletter
Get the day's top sports headlines and breaking news delivered to your inbox by subscribing here.
---