This column reflects the opinion of the writer. Learn about the differences between a news story and an opinion column.
Opinion > Column
Doug Clark: Veteran's last wish granted by anonymous donor
Tue., Nov. 11, 2014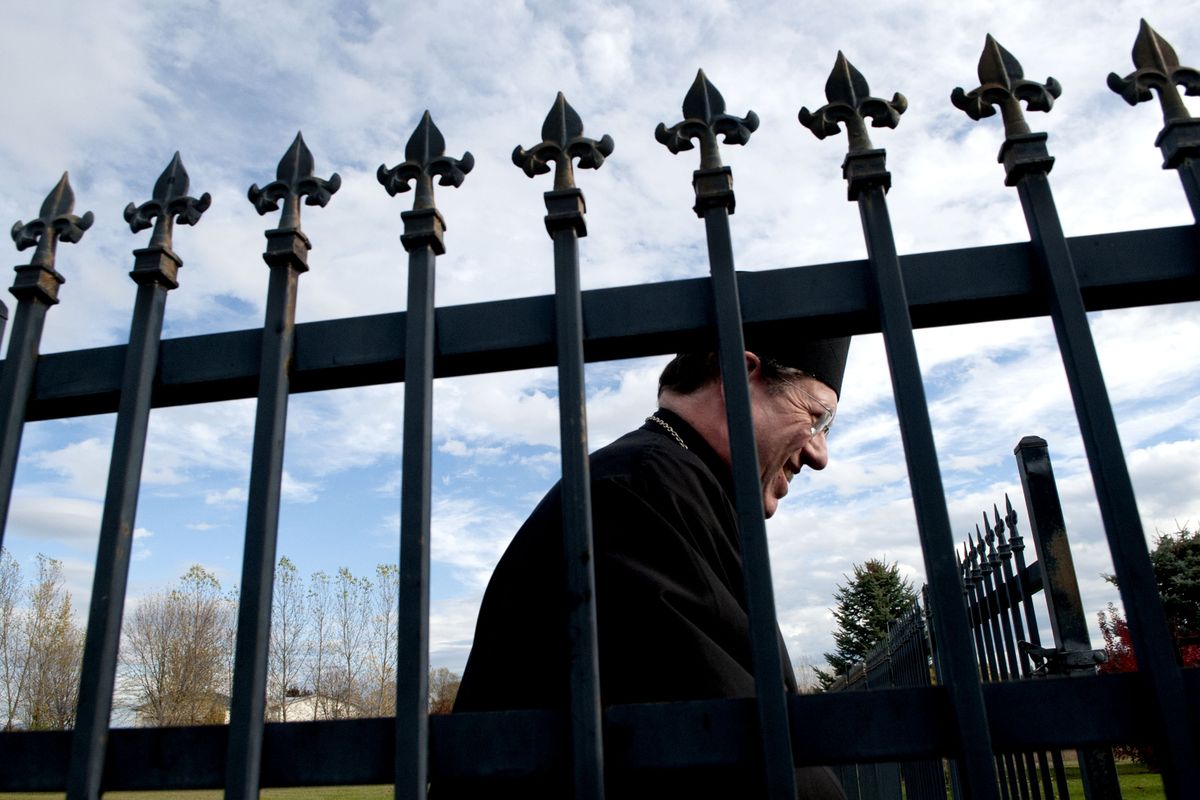 Father Basil, of St. John The Baptist Antiochian Orthodox Church, leads the way through the cemetery gates to the gravesite of war veteran Jim Ayers at the church in Post Falls on Thursday. (Kathy Plonka)
This old soldier didn't quite make it to Veterans Day.
Jim Ayers' failing heart gave its final beat Aug. 7.
He was 91.
Ayers left the world penniless and with no relatives around to pick up the tab for the cost of his sendoff.
Those who served can always receive free burial in a national VA cemetery, of course. But one of Ayers' last wishes was that he be laid to rest in the neatly groomed graveyard that is just a short walk from where he worshipped with those he called his family – St. John The Baptist Antiochian Orthodox Church in Post Falls.
Ayers' request was granted thanks to an anonymous donor who paid the $2,650 for mortuary and gravesite costs.
Since then, however, about half that figure has been raised to repay the generous donor. Though important, getting the rest of the bill settled was only part of the reason I was invited to St. John's last week.
Those who knew the retired insurance salesman best believe that his service to our country and the positive way he lived his later years should be remembered.
"Jim was a happy, good-natured guy," said Jenny Dancy, spokesperson for St. Johns.
"He was easy to make friends with and you could tell that he wanted to make the rest of his time on Earth as meaningful as he could."
Dancy met Ayers in 2007, just after she landed a job driving a bus for the independent living home where he lived.
She was also working on her University of Idaho undergraduate degree in psychology with a specialty in gerontology.
In simple English, Dancy has a real heart for the elderly.
It didn't take long for her to become fast pals with this aged guy who was addicted to Lifesavers and the raw oysters served at a nearby restaurant.
It also didn't take long for Dancy to become aware of Ayers' service during World War II.
One giveaway was the fairly large black-and-white photograph that Ayers hung outside his room.
It showed that Ayers was a proud member of the 604th field artillery battalion, which fought and bled in support of the elite 10th Mountain Division. (A section of that photograph is pictured at right. Ayers is pictured in the middle, smiling.)
It also didn't take long for Ayers to tell Dancy about the nickname they had for the mules that hauled shells and artillery pieces up and down the steep and primitive terrain that was impassable for motor vehicles.
"Jennys," they called them.
"He loved telling me that one," said Dancy, laughing heartily.
Ayers told her "the conditions were brutal. Brotherhood and camaraderie were necessary just for sheer survival," Dancy said. "Italy was a war-torn country and terrain made troop and supplies movement very difficult."
Ayers was drafted in 1943 and trained in the Rockies where conditions sometimes reached 30 below zero.
His medals, she said, included the European African Middle Eastern Service Medal, the Good Conduct Medal, the World War II Victory Medal, the American Service Medal and the Bronze Star.
The medals, by the way, were buried along with the old soldier.
"You could tell that in his younger days he had been quite a strong man," Dancy said of her friend. "But he also had a tender heart and really cared about his fellow man."
(Anyone wishing to help can call Dancy at (208) 640-8596.)
• How about this for a campaign slogan:
Clark the Crank = Cash!
The auction is over for the "Doug Clark for County Crank" campaign signs that Washington state Sen. Mike Baumgartner had made to lampoon my distaste for political signage.
And I'm happy to report that because of Baumgartner's practical joke, the Second Harvest food bank is $1,000 richer.
To recap: I took two signs with me on election night when I dropped in on the major political gatherings.
One sign went to the Lincoln Center, where the Democrats were meeting. The other sign accompanied me to the Republican festivities at the Davenport Hotel.
At each location, candidates happily autographed my signs, especially when I revealed my plan to auction them off with all proceeds going to help feed the hungry.
I'll admit I was somewhat antsy about what sort of dough the Democrat placard would fetch. Election night was a fat loser sandwich for the majority of candidates who put "D" after their names.
But I had nothing to worry about.
Walt Jakubowski won the Republican-signed poster with an offer of $500. Tim Riordon snagged the Democratic counterpart by bidding an equal amount.
Who says the parties can't work together for good?
Doug Clark is a columnist for The Spokesman-Review. He can be reached at (509) 459-5432 or by email at
dougc@spokesman.com
.
---
---