News > Features
Actress's culture adds depth to 'Silence' role
Gladstone strives to convey Nisei girl's American experience
Fri., Nov. 14, 2014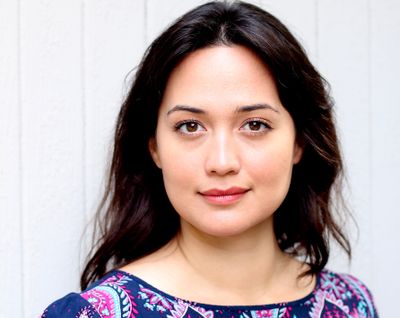 Emiko Yamada was a Nisei, or first-generation Japanese American. She dreamed of becoming a teacher.
"She has a very strong cultural identity, but she's very much an all-American girl of the 1940s," said Lily Gladstone, who portrays Emiko in the Living Voices production "Within the Silence." She'll perform the show tonight at the Northwest Museum of Arts and Culture.
In 1942, the Yamada family was forced to sell or give away their possessions and home, and they were sent to internment camps, eventually held at Minidoka in Idaho.
"It's based on a true story – a number of true stories," Gladstone said. "Like any historical fiction, the characters represent different viewpoints that were common at the time."
For instance, Emi's brothers represent two very different sides: Grant joins the Army and is killed in Germany while Tommy refuses to answer yes to the government's loyalty questions and is sent to a maximum-security prison camp.
And Gladstone says Emi's all-American girl story tells a side of the saga that the Nisei she's spoken with say is missing from most histories.
"They feel like that's very sorely underrepresented in a lot of things, how many people went through those camps that really had very little connection with Japan."
Gladstone, 28, has been working with Seattle-based Living Voices since 2009, and performing "Within the Silence" since 2011. The show combines Gladstone's performance with archival photos and video, as well as recorded dialogue for the other characters.
Gladstone said Emiko is one of her favorite roles.
"Having her character and her commitment to knowledge, to teaching, to passing this legacy forward – that's a lesson that I really value myself," she said.
But she was initially hesitant to take the role. Gladstone is Native American and grew up on the Blackfeet Reservation in Montana.
"It's so common that Native peoples are represented either on stage or in film by actors who are not of their community and don't have an understanding of their story or where they're coming from but look it enough that they can get away with it," she said.
"I wanted to be careful about that; I didn't want to do that to somebody else."
She found a shared history between Native Americans and Japanese-Americans of having to keep a cultural identity tucked away from the public in order to function.
She also was able to draw comparisons between the internment camps and what her grandparents' generation experienced with boarding schools. She saw roadblocks to understanding because both communities don't like to talk about the traumas of the past.
That said, she added, even telling a Native American boarding school story, it wouldn't be her own. But she felt like she had a responsibility to the stories.
"Where I grew up, it's a cultural ethic that I was raised with," Gladstone said. "When you have a gift, you share it; you don't hold on to it."
"I didn't grow up with the roadblocks my grandparents grew up with, but I'm a good actor, and I have have a really vivid imagination and I also have a strong ethic to understand the origin of things."
Gladstone took the role, but only with the understanding that if a Japanese-American actress were available, she would get it. ("Within the Silence" rotates through different Living Voices actresses, and Gladstone says she still only takes it when the others aren't available.)
After her first performance as Emiko, Gladstone talked about the history with audience members. When a Nisei woman asked about her connection to the story, she explained her heritage. Who better to understand than a Native American, the woman responded.
And the event organizer – wearing his grandfather's kimono and carrying his grandmother's scrapbook, filled with photos, documents and newspaper clippings from her internment – gave Gladstone the ultimate compliment.
He told her "he'd never seen a performance like mine that gave him an understanding of what it must have been like for his mother and grandmother," she said.
"That's why I do what I do: That's why I work with Living Voices."
Local journalism is essential.
Give directly to The Spokesman-Review's Northwest Passages community forums series -- which helps to offset the costs of several reporter and editor positions at the newspaper -- by using the easy options below. Gifts processed in this system are not tax deductible, but are predominately used to help meet the local financial requirements needed to receive national matching-grant funds.
Subscribe now to get breaking news alerts in your email inbox
Get breaking news delivered to your inbox as it happens.
---