News > Obituaries
Obituary: Nissen, Grace Morby (White)
Age 94
Sun., Nov. 16, 2014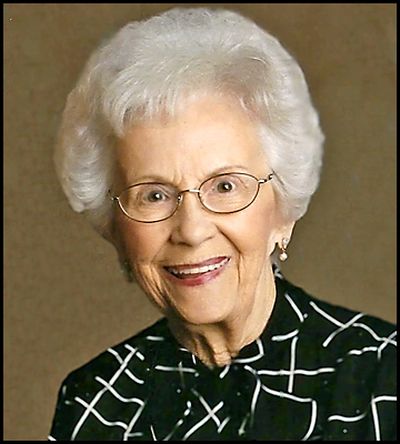 NISSEN, Grace Morby (White) Our beloved mother passed away on November 10th at the age of 94 after a courageous battle with illness.
Mom was born to Clarence and Esther Morby on June 30, 1920 in Evanston, Wyoming.
Mom graduated from Ogden Senior High and worked for Walgreens Drug Store.
Mom married James Howard White in 1940 and they had four children.
In 1948, Howard, who had worked for the Union Pacific Railroad, transferred to Spokane.
Mom worked at Allen's Cafe and Safeway.
Later mom was hired by the City of Spokane, working in Public Works, Engineering, Accounting and finally as Administrative Secretary for the Director of Finance.
She was an officer for the Spokane City Credit Union and for the City Employee's League.
She enjoyed hosting a Christmas Breakfast for city employees for 25 years until she retired in 1982.
After mom and dad divorced, she was single for 11 years.
Mom married Adolf Nissen in 1978.
They bought a Winnebago RV, joined the Winnebago Club and traveled extensively.
They also enjoyed trips and cruises.
Adolf passed away in 2002 after a long illness.
Later mom had a new beginning when she moved to a condo nearby.
She started coffee hours and made many new friends.
Mom was a member of the Mormon Church, the Woman's Club, and several lunch groups.
She especially enjoyed gardening, dancing, reading, crocheting, Bunco, tea parties, attending plays, and organizing fun events for family and friends.
She was an excellent cook and fantastic hostess.
She was an intelligent, loving, and forgiving woman.
She was a tenacious warrior when dealing with many health challenges.
We are thankful for mom's caregiver, Mary, who became a close friend.
We appreciate the staffs of Deaconess Wound Clinic and Touchmark for their kind and loving care!
Mom was preceded in death by her husband Adolf and son Bill.
She is survived by her children: James White, Grace (Mike) Zentz, and Bev Kraft; grandchildren: Rene, Kristi, Nathan, Scott, and James; brother, Glen Morby; and great-granddaughters Brittney, Brooklyn and Teanna; plus many nieces and nephews.
Her Celebration of Life will be held at Heritage Funeral Home on November 21 at 1 pm.
Grace will be missed by all who knew her!
Local journalism is essential.
Give directly to The Spokesman-Review's Northwest Passages community forums series -- which helps to offset the costs of several reporter and editor positions at the newspaper -- by using the easy options below. Gifts processed in this system are not tax deductible, but are predominately used to help meet the local financial requirements needed to receive national matching-grant funds.
Subscribe now to get breaking news alerts in your email inbox
Get breaking news delivered to your inbox as it happens.
---