News > Nation/World
Barrage of snow buckles roofs, not wills
Buffalo residents fight to save homes, businesses
Fri., Nov. 21, 2014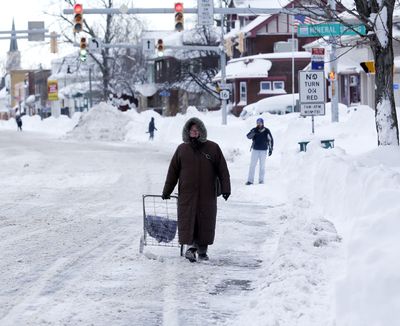 BUFFALO, N.Y. – Roofs began to creak and collapse, and homeowners struggled to clear waist-high drifts atop their houses Thursday as another storm brought the Buffalo area's three-day snowfall total to an epic 7 feet or more.
Gov. Andrew Cuomo begged drivers "pretty, pretty please" to stay off slippery, car-clogged roads in western New York while crews tried to dig out. Some areas got close to 3 feet of new snow by Thursday afternoon.
Things could quickly get worse: Rain and temperatures as high as 60 are forecast for the weekend, raising the specter of flooding and an even heavier load on roofs, where the snow could absorb the downpours like a blanket.
More than 50 people were evacuated from several mobile home parks in suburban Cheektowaga and West Seneca because roofs were buckling. Bellevue Fire Department Lt. Timothy Roma said more than a dozen buildings and carports collapsed, as did a metal warehouse operated by a Christmas decorations company, where damage was estimated in the millions.
Homeowners and store employees around the region climbed onto roofs to shovel off the snow and reduce the danger.
"It's getting heavier," said Cheektowaga resident Thomas Mudd Jr., who with his wife spent several hours shoveling 4 to 5 feet off his roof. "It's supposed to warm up and we're supposed to get rain on the weekend, which will make it even heavier. So I didn't want my roof collapsing."
The storms were blamed for at least 10 deaths in western New York, mostly from heart attacks and exposure.
With roads impassable, driving bans in effect and the Buffalo Bills' stadium buried in snow, the NFL decided to move the Bills' Sunday home game against the New York Jets to Monday night in Detroit.
Some Buffalo-area schools were closed for a third day, burning through snow days with winter still a month away.
A stretch of the New York State Thruway through western New York remained closed, with more than 300 truckers idled at truck stops and service areas, waiting for the highway to reopen.
Thirty-seven inches fell on the town of Wales southeast of Buffalo late Wednesday and Thursday, for a three-day total of more than 7 feet.
Even for the Buffalo area – one of the snowiest and hardiest places in America – this was one for the history books. The three-day total is close to the nearly 8 feet that the region typically gets over an entire year.
Local journalism is essential.
Give directly to The Spokesman-Review's Northwest Passages community forums series -- which helps to offset the costs of several reporter and editor positions at the newspaper -- by using the easy options below. Gifts processed in this system are not tax deductible, but are predominately used to help meet the local financial requirements needed to receive national matching-grant funds.
Subscribe now to get breaking news alerts in your email inbox
Get breaking news delivered to your inbox as it happens.
---