A&E > Entertainment
Early exposure, lifelong love
Traveling cellist Arron joins symphony for Haydn concerto
Fri., Nov. 21, 2014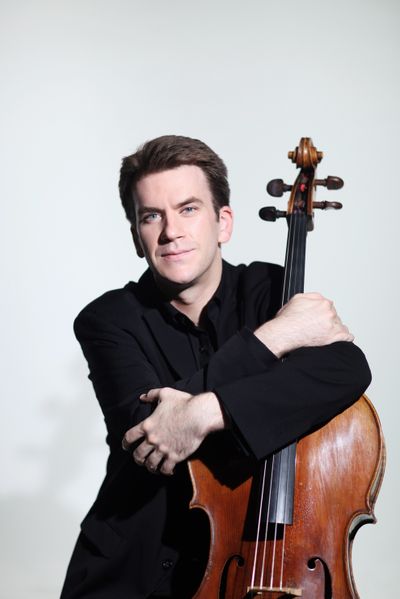 Cellist Edward Arron estimates that he plays about 120 concerts a year around the country, and this weekend he'll be adding Spokane to his ever-growing list of concert stops. Arron will be joining the Spokane Symphony, along with visiting conductor Michal Nesterowicz, to perform Franz Joseph Haydn's Cello Concerto in D Major, a piece he has a long personal history with. We spoke to Arron from his home in New York about his musical childhood, what he's learned as a traveling musician and why playing the Haydn concerto is a high-wire act.
SR: Tell me about your background in music.
Arron: I grew up in a musical family. My father is a violist and played at the Metropolitan Opera for 20 years; he retired a few years ago. Before that, he was in the Cincinnati Symphony. My mother was the executive director of Carnegie Hall, and she was there from about the time I was 10 until she died in 1998. Carnegie Hall was essentially my playground growing up, and I was exposed to the most incredible music going on in the world. So my education really took place there. I started playing cello when I was 7, I got really serious about it when my family moved to New York and I ended up going to Juilliard for college.
SR: Did your parents push you into being a career musician?
Arron: My parents were kind of reverse stage parents in a way. They obviously knew the difficulties of having a career in music, and I don't think they were at all eager to push that on me. But I think they were also happy that I was in love with music, and they were going to do whatever they could to encourage me. While my mother was around, she really made sure that I didn't take any opportunities too early in my life. I kind of resented that when I was a kid, but now I appreciate it so much. She cultivated the kind of musician that I am today by keeping an eye on me, in a way.
SR: Is there a reason you gravitated toward the cello?
Arron: As a baby, I watched chamber ensembles play, and I was just really drawn to the sound and the role of the cellist. In a lot of situations, the cello sort of drives the vehicle from the bass line, and yet it also has the opportunity to be very soloistic and vocal. So that really appealed to me, and as I've grown up, those roles have become a real part of me.
SR: Speaking of your role as a cellist, is it difficult to foster a musical relationship with an orchestra when you're a touring musician?
Arron: The rehearsal time is always too brief. You want to be able to get to know your colleagues and to plumb the depths of a piece with them, but the way this thing is set up, you just don't have the opportunity to do it that way. But I'm a passionate chamber musician, and even when I'm soloing with an orchestra, I really feel like I'm collaborating with people. I do feel like a bond is formed, and we do really create something together. … When I play a solo concerto with an orchestra, I do find that I tend to really feed off of what I'm hearing around me. It really informs the way I play in any given situation.
SR: What's the significance of the Haydn composition you'll be playing?
Arron: It's a marvelous concerto for cello and orchestra. It's incredibly virtuosic and very exposed. It comes from the classical era, and there's nothing that you can hide behind in that piece. … It's really like walking a tightrope for a half-hour. But the music is so elegant, incredibly beautiful and incredibly tonal.
SR: Have you played the piece before?
Arron: You know, before I ever studied the piece, I fell in love with it listening to recordings. I always wanted to get my hands on that piece, even before a teacher let me study it. … I did study it for a long time as a student, and I've played it a number of times as a professional, and I always remind myself how desperately I wanted to be out there playing the piece in performance as a kid. When I think about that, I feel very lucky in the moment to be playing that particular piece. It's got moments that send chills down your spine from the sheer beauty of it.
Local journalism is essential.
Give directly to The Spokesman-Review's Northwest Passages community forums series -- which helps to offset the costs of several reporter and editor positions at the newspaper -- by using the easy options below. Gifts processed in this system are not tax deductible, but are predominately used to help meet the local financial requirements needed to receive national matching-grant funds.
Subscribe to the Spokane7 email newsletter
Get the day's top entertainment headlines delivered to your inbox every morning.
---