Sports
EWU claims records deceive when playing Portland State
Fri., Nov. 21, 2014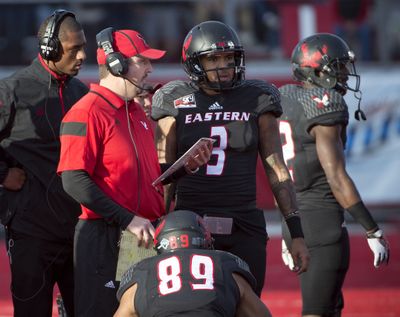 PORTLAND – The way Portland State football coach Nigel Burton sees it, motivation tonight won't come from the chance to hurt Eastern Washington.
"No, this is about us," Burton said. "It's about us playing well for each other and for the senior class … they need to leave the field with a smile on their faces."
That in turn would leave the fifth-ranked Eagles deflated, but still buoyed by the reality that their season won't end here.
For the third year in a row, that's the difference between these programs, regardless of the outcome of tonight's game at Providence Park. Eastern (9-2 overall, 6-1 Big Sky Conference) is guaranteed a spot in the FCS playoffs; Portland State (3-8 and 2-5) is guaranteed to lament another lost season.
But as Eastern coach Beau Baldwin is quick to point out, the records are deceiving. The last two meetings have been decided in the final minute, and in their last three games against the Vikings, Eastern has more rushing attempts (71) than rushing yards (70).
"Their coaching staff has done a very good job schematically every time we've played them, and what they've done against us offensively and defensively has been challenging," Baldwin said.
"You can't predict any kind of score based on records – it just doesn't work that way," Baldwin said. "And it definitely doesn't work that way in this conference and against Portland State."
Nevertheless, Eastern will be a solid favorite as it attempts to make history by winning the conference title for the third year in a row. The Eagles are as healthy as they've been all year, and that includes All-American quarterback Vernon Adams Jr. Despite missing four games with a foot injury, Adams has 2,567 yards passing and 28 touchdowns in seven games played, having completed 68 percent of his 268 passes with four interceptions.
"He's still playing with reckless abandon," said Burton, whose defense ranks 110th in the nation in pass-efficiency defense and 114th in total defense at 438.5 yards a game.
The Vikings are third in total defense (378.9 yards) in the Big Sky.
Baldwin said that Adams' right foot was kept in a protective boot last week. The result was a "night-and-day difference" in agility, Baldwin said.
On the other side of the ball, the Vikings' run-oriented offense pounds out 207.9 yards a game, but the passing game has struggled after an injury to starter Paris Penn and the ineffectiveness of backup Kieran McDonough.
The new starter, redshirt freshman Josh Kraght, started losses at Montana State and Sacramento State, going a combined 41 for 78 for 583 yards. He also ran for 139 yards on 29 carries.
Running back Shaquille Richard, a 5-foot-8, 180-pound senior, leads the team in rushing this season with 624 yards.
"They're dynamic, and their offensive line is probably the best we've seen in a while," Eastern linebacker Cody McCarthy said.
Notes
Eastern is 26-3 in its last 29 Big Sky games since a 0-2 start in 2011. … Eastern has won its final regular-season game in 14 of the past 15 seasons, with the lone loss coming to Montana by a 41-10 score in 2003. Eastern has also assured itself of its 17th winning season in the last 19 years (1996-2014).
Local journalism is essential.
Give directly to The Spokesman-Review's Northwest Passages community forums series -- which helps to offset the costs of several reporter and editor positions at the newspaper -- by using the easy options below. Gifts processed in this system are not tax deductible, but are predominately used to help meet the local financial requirements needed to receive national matching-grant funds.
Subscribe to the sports newsletter
Get the day's top sports headlines and breaking news delivered to your inbox by subscribing here.
---