News > Nation/World
Mike Nichols, master of stage and screen, dies at 83
Fri., Nov. 21, 2014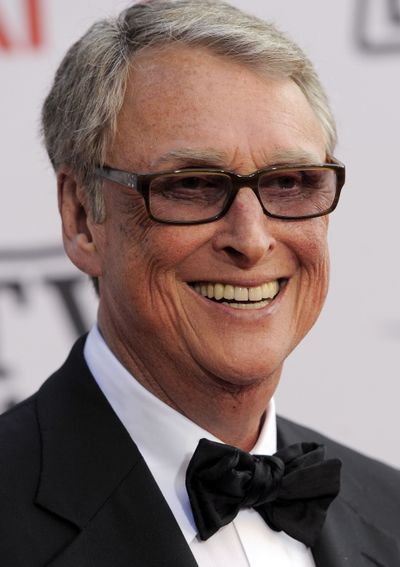 NEW YORK – A legend of film, theater and comedy in nearly equal measure, Mike Nichols was an unquestioned fixture of smart, urbane American culture across a relentlessly versatile, six-decade career that, on stage or screen, reliably coursed with crackling intelligence.
Nichols won nine Tonys, an Oscar, several Emmys and a Grammy. He made up the lanky half of his groundbreaking comic duo with Elaine May. As a director, he made countless performers – from Dustin Hoffman to Melanie Griffith – into stars. To acclaim, he adapted Edward Albee, Neil Simon, Tony Kushner and Arthur Miller.
Nichols, who died Wednesday night in New York at 83, was a supreme orchestrator of material, talent and taste. In films like "The Graduate," "Who's Afraid of Virginia Woolf?" and "Carnal Knowledge," he left not only a firm stamp of authorship, but with a dry wit and a classical eye, he choreographed caustic social commentaries of couples drunk with bitterness, bored with regret and apprehensive in flight.
Born Michael Igor Peschkowsky in Berlin, Nichols' Jewish family emigrated to the U.S. in 1939. He began as a stand-up and comedy would remain the bedrock to his sensibility and sense of timing. He and May developed their great improvisational rapport into a saucy, sophisticated stage show that took on sex, marriage, family and other subjects in a frank manner that titillated and startled audiences of the late 1950s and early '60s.
He was a wealthy, educated man who often mocked those just like him, never more memorably than in "The Graduate," which shot Hoffman to fame in the 1967 story of an earnest young man rebelling against his elders' expectations. Mixing farce and Oedipal drama, Nichols managed to capture a generation's discontent without ever mentioning Vietnam, civil rights or any other issues of the time. But young people laughed hard when a family friend advised Benjamin that the road to success was paved with "plastics."
Steven Spielberg called Nichols' passing a "seismic loss."
"For me, 'The Graduate' was life altering – both as an experience at the movies as well as a master class about how to stage a scene," said Spielberg. "Mike had a brilliant cinematic eye and uncanny hearing for keeping scenes ironic and real."
Local journalism is essential.
Give directly to The Spokesman-Review's Northwest Passages community forums series -- which helps to offset the costs of several reporter and editor positions at the newspaper -- by using the easy options below. Gifts processed in this system are not tax deductible, but are predominately used to help meet the local financial requirements needed to receive national matching-grant funds.
Subscribe now to get breaking news alerts in your email inbox
Get breaking news delivered to your inbox as it happens.
---