A&E > Entertainment
Locals, pros unite for magic of 'Nutcracker'
Fri., Nov. 28, 2014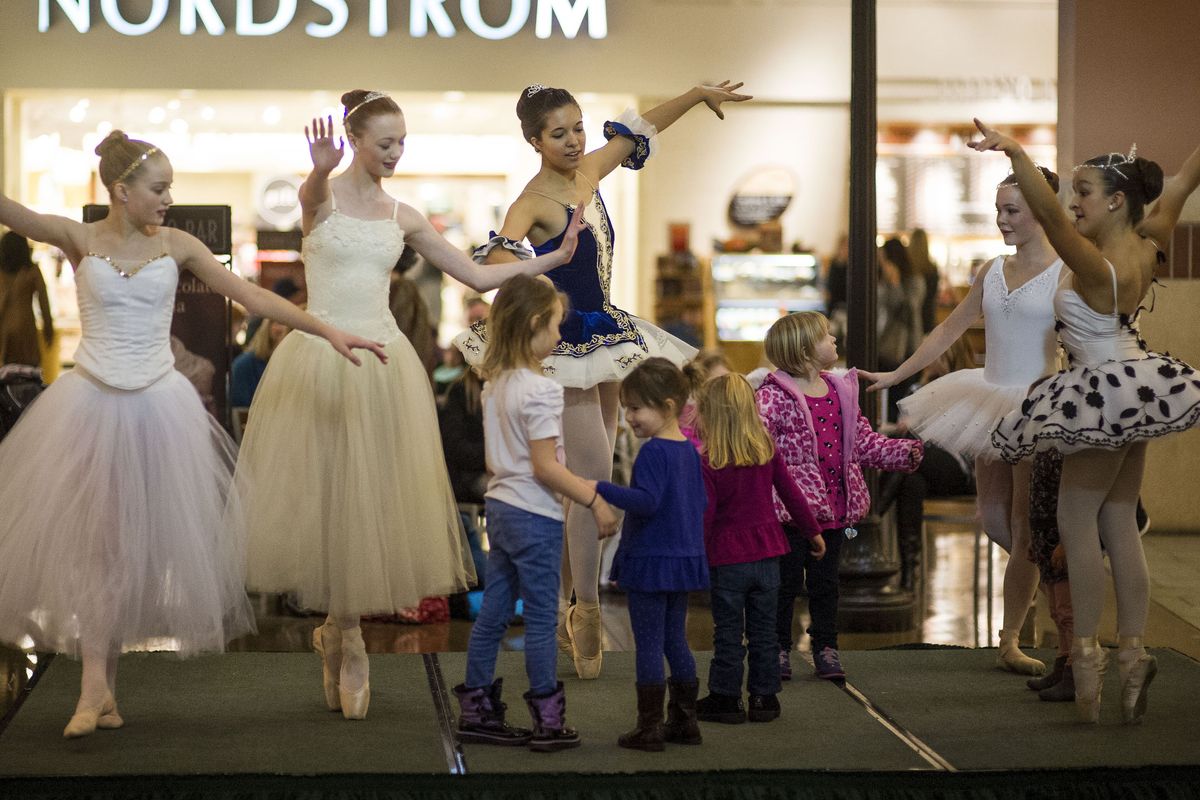 To promote the upcoming production of "The Nutcracker," which lands at The Fox starting next Thursday, dancers from local ballet studios performed with children from the crowd at River Park Square last Saturday. (Colin Mulvany)
For some Spokane children, visions of the Sugar Plum Fairy have been dancing in their heads since September.
That's when 81 children, ages 6 to 19, started rehearsing for this year's production of "The Nutcracker" with the Spokane Symphony and the State Street Ballet, of Santa Barbara, California. Performances begin Thursday.
"Having the local children involved is such a key element to the success of 'The Nutcracker,' " said Audrey Overstreet, marketing director for Martin Woldson Theater at The Fox and the Spokane Symphony.
Peggy Goodner Tan is the rehearsal mistress for the local dancers. They've been working with her once a week.
"It's fun to watch how the children grow in their parts and their techniques," she said, "and wrap their heads around being the best they can be."
The local dancers get wonderful exposure to the arts, dancing with a full orchestra on the beautiful Fox stage and "rubbing shoulders with professional dancers," Goodner Tan said.
"For the younger students, they will go away and have great, exciting memories of that," she said. "It will become even more meaningful as they get older."
And for the children in the audience, "there must be an element of envy," Goodner Tan said. "To perform on stage is a very fun thing, and I think all children like to perform."
Both Goodner Tan and Overstreet said the snow scene is their favorite part of the production.
During that scene, Ferris High School's Canterbury Belles are backstage to perform the vocal parts, directed by the symphony's resident conductor Morihiko Nakahara via video.
Last year, Overstreet watched the show from backstage, and she said that being able to see the singers, the snow and the audience reaction was magical.
"It's one of those moments of magic that you're looking for to remind you of why you love the holidays so much," she said.
Kimberly Lusk
When: 7:30 p.m. Thursday and Dec. 5-6, 2 p.m. Dec. 6-7
Where: Martin Woldson Theater at the Fox, 1001 W. Sprague Ave.
Tickets: $25-$75 for adults, $12.50-$30 for children
Info: (509) 624-1200, (800) 325-SEAT or www.spokanesymphony.org
Local journalism is essential.
Give directly to The Spokesman-Review's Northwest Passages community forums series -- which helps to offset the costs of several reporter and editor positions at the newspaper -- by using the easy options below. Gifts processed in this system are not tax deductible, but are predominately used to help meet the local financial requirements needed to receive national matching-grant funds.
Subscribe to the Spokane7 email newsletter
Get the day's top entertainment headlines delivered to your inbox every morning.
---