News > Obituaries
Obituary: Martinez, Mary Fierro
Age 96
Fri., Nov. 28, 2014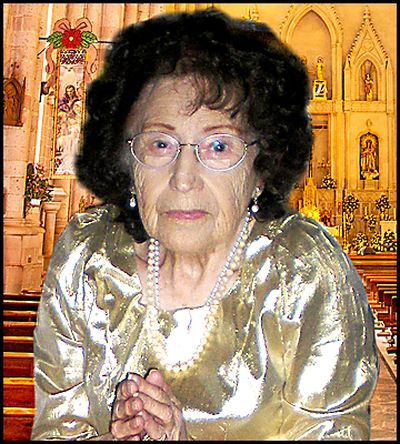 MARTINEZ, Mary Fierro (Age 96) Mary Fierro Martinez, of Fillmore, CA went to join Our Lord on November 19, 2014.
Mary was born August 31, 1918 in San Antonio, Texas.
She was one of nine siblings, five sisters and four brothers.
World War I was in progress when she was born, and her family lived through the Great Depression by working the fields and farms.
Mary went to work to help support the family after she finished 6th grade.
Eventually, the family settled in Southern California.
Mary's first marriage gave her two daughters, Olivia Susan and Carol Lydia.
When the girls were young, Mary found herself a single mother and worked as a waitress to support herself and her girls.
Shortly after the end of World War II, while at church, she met a dashing Navy man, the love of her life, Joe E. Martinez.
They were married on April 1, 1950.
Joe, was soon called back into service, and went off to sea during the Korean conflict.
After that, he was a machinist for the U.S. Government and the new family settled in Riverside CA, while Joe worked at Norton AFB.
Together they raised Olivia and Carol.
After the girls married and left home, Joe and Mary traveled around the country while Joe worked for the Defense Department building missile silos.
When that assignment ended, Joe took a job at Edwards AFB, so they built a home the Antelope Valley where they lived until 2005.
During their travels, they had fallen in love with the Spokane, Washington area.
In 1964 they bought property outside Spokane.
Every summer they worked on building their dream home, at first camping on the property and eventually living in their charming cabin.
Joe retired in 1982 which allowed them to spend long, happy summers in Washington, and winter at their home in the Antelope Valley.
Mary and Joe also loved to ballroom dance several nights a week.
They enjoyed travel and went on cruises to Europe and the Caribbean.
In the meantime, five grandchildren, Ronald, Beverly, Terra, Laura and Genevieve; then six great-grandchildren, Charlotte, David, Mason, Stevie, Cliff and Carl; then five great-great-grand- children, Thomas, Joseph, Lorelai, Joey, and Jackson were born.
In 2006, they moved to their "Ranch", full time.
Mary and Joe enjoyed ballroom dancing and Mary made all her own gowns to wear to the dances.
In addition, she enjoyed gardening, reading and Western movies and TV series.
Mary was a dedicated homemaker who never went to bed without making sure her stove was clean and her house in order.
In September 2013, Mary and Joe moved to Modesto, California to stay with their daughter Carol.
Mary's 63 year marriage to Joe ended with Joe's death in November 2013.
Mary came to live her oldest grandson Ronald in Fillmore CA in December of that year.
During the past year she has enjoyed dancing with the Ventura Poinsettia Dance Club, going to monthly meetings of the Ventura HOG chapter, attending church at the Ventura Vineyard and Our Lady of the Assumption, visiting the Panaro Brothers Winery and visiting our local museums and antique shops.
She loved little children and would often stop to admire toddlers and babies in strollers.
Her lively spirit, curiosity, and sense of humor made an impression on everyone who met her.
Mary was the last surviving Fierro sibling, and was predeceased by her daughter Olivia Susan Chavira and her husband Joe E. Martinez.
Please contact the family or Robert Rey Garcia Jr. Funeral Services, Santa Paula, for information regarding her memorial.
We suggest donations in Mary's honor to: Ventura Poinsettia Dance Club, Ventura CA, Crystal Chandeliers Ballroom Dance Club, Spokane WA, or any organization that fights cancer or helps children.
Funeral Arrangements are under the direction of the Family Owned and Operated Robert Rey Garcia Jr. Funeral Services, Santa Paula, CA 93060, 805.229.7054
Local journalism is essential.
Give directly to The Spokesman-Review's Northwest Passages community forums series -- which helps to offset the costs of several reporter and editor positions at the newspaper -- by using the easy options below. Gifts processed in this system are not tax deductible, but are predominately used to help meet the local financial requirements needed to receive national matching-grant funds.
Subscribe now to get breaking news alerts in your email inbox
Get breaking news delivered to your inbox as it happens.
---