Sports
Richard Sherman calls out 49ers fans, says glass bottle was thrown at Seahawks
Fri., Nov. 28, 2014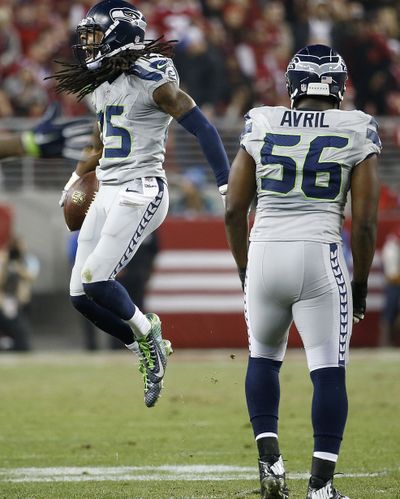 SANTA CLARA, Calif. – Richard Sherman wasn't thinking about Michael Crabtree this time when he was asked if anything about this Seahawks domination of San Francisco was "mediocre."
"Yeah, their fans," Seattle's All-Pro cornerback said of the 49ers' new Levi's Stadium that emptied throughout the second half of the Seahawks' 19-3 rout of the home team on Thursday night.
"Their fans. Their fans were," Sherman said after the fourth two-interception game of his career. "Their fans, you know, threw a few jabs. And then someone of them threw a glass bottle at the end, as we were jogging in.
"You know you never have to resort to name-calling and some of the things they said. It really just helps you appreciate your own fans. It helps you appreciate the 12th Man and how classy an organization we have and how classy our fans are – and how they stay through the whole game regardless of the outcome."
Sherman widened and raised his eyes high with that comment. Yes, he noticed most of the 70,000 or so who had been in the building were long gone by the middle of the fourth quarter.
"Yeah," Sherman said, "I waved them goodbye."
Sherman's first interception set up Seattle's only touchdown, in the first quarter. Colin Kaepernick rolled to his right and tried to throw a deep hitch route to Brandon Lloyd at the sideline against Seattle's three-deep zone coverage. It's a route that Sherman admits has given him problems this season.
This time, Kaepernick threw 4 yards behind Lloyd's break – directly to Sherman at the San Francisco 45 for what might have been his easiest interception since Pop Warner.
In the fourth quarter with Seattle leading 19-3 and 8 minutes remaining, Sherman was yapping at the 49ers' sideline that "if you throw it my way I'm going to end the game." Kaepernick did, on a pass in the short flat for Stevie Johnson that Sherman intercepted.
He could have had his first three-interception game, but he allowed an errant Kaepernick pass to drop threw his hands as he fell to the turf in the second quarter.
Sherman settled for the two picks – and some crowing.
Local journalism is essential.
Give directly to The Spokesman-Review's Northwest Passages community forums series -- which helps to offset the costs of several reporter and editor positions at the newspaper -- by using the easy options below. Gifts processed in this system are not tax deductible, but are predominately used to help meet the local financial requirements needed to receive national matching-grant funds.
Subscribe to the sports newsletter
Get the day's top sports headlines and breaking news delivered to your inbox by subscribing here.
---