Sports
Seahawks plow through Bay Area
New home, new result as Seattle ends five-game skid at 49ers
Fri., Nov. 28, 2014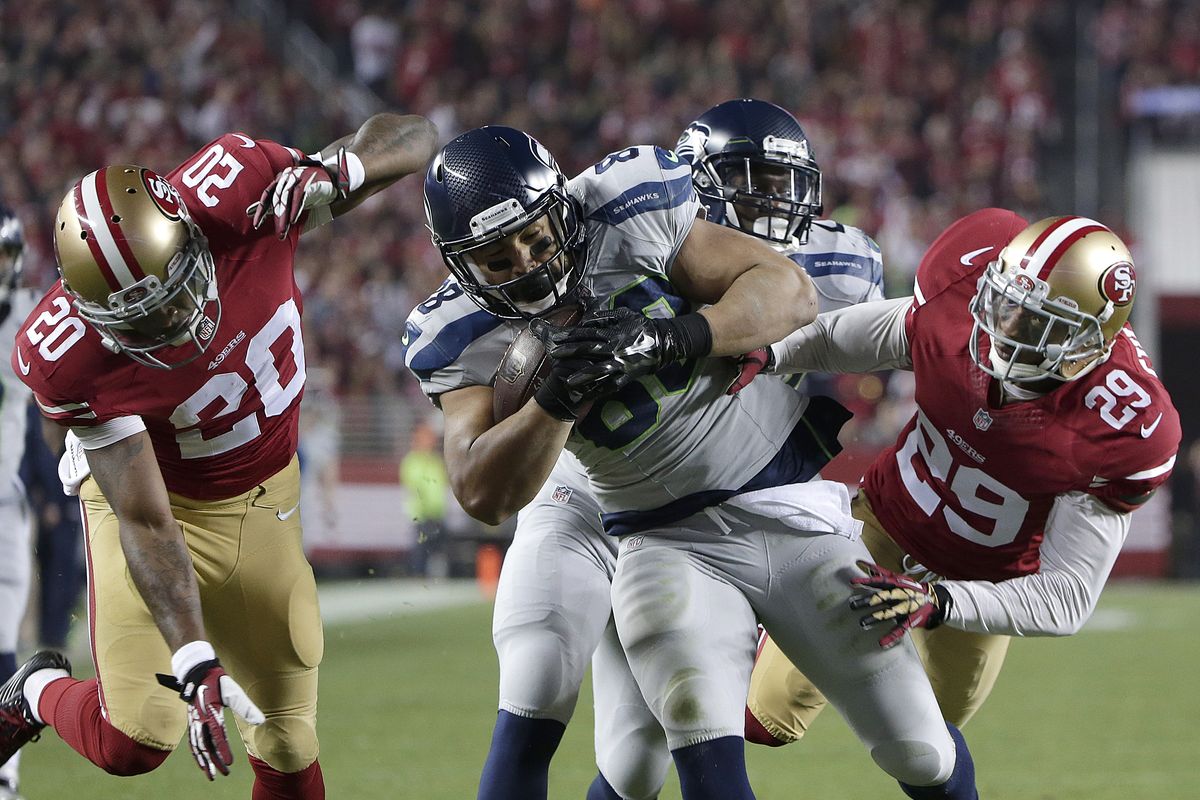 Seahawks tight end Tony Moeaki is tackled by 49ers' Perrish Cox, left, and Chris Culliver at the end of a 63-yard catch-and-run. (Associated Press)
SANTA CLARA, Calif. – Richard Sherman offered one final challenge to San Francisco: "I told their sideline if they threw it my way I'd end the game."
He did exactly that – just like last time.
Sherman provided the moment of the game against the 49ers once again, a mere 10 months after his touchdown-saving deflection in the NFC championship that sent the Seattle Seahawks to the Super Bowl.
Sherman set up the only touchdown with another key defensive play in this heated rivalry, then made a second interception with the 49ers driving in the fourth quarter, and the Seahawks ended a five-game losing streak on San Francisco's home field with a 19-3 win Thursday night.
"The second one was pretty entertaining. I was laughing the whole time," Sherman said. "They threw it. I said, 'Way to be, way to be.' "
The brash cornerback offered plenty without opening his mouth, too: Blowing kisses to the crowd, then putting a finger to his lips to make the hush sign before waving goodbye.
Steven Hauschka kicked four field goals and the Seahawks' stout defense held Colin Kaepernick and Michael Crabtree in check as Seattle (8-4) overcame 14 penalties for 105 yards, including an offensive pass interference that negated a touchdown.
Russell Wilson passed for 236 yards and thoroughly outplayed Kaepernick, who had one of his worst performances for the 49ers (7-5) in a game with high stakes for the teams' playoff hopes.
"My team's all together, we are buddies. It's a hard thing to do, winning on their turf," Wilson said. "The NFC is not easy to win against. We are excited about that opportunity."
After his second pick, Sherman looked at those fans still remaining in half-empty stadium on a Thanksgiving night and waved. The Seahawks won by the identical score they beat first-place Arizona four days earlier.
Kaepernick was 16 for 29 for 121 yards and the 49ers were outgained 379-164.
Sherman and Crabtree were at the center of the decisive play in January's NFC title game, when Sherman deflected a pass headed his way in the end zone and Malcolm Smith intercepted it with less than a minute remaining to seal the Seahawks' 23-17 victory. Sherman later called Crabtree "mediocre."
San Francisco's offense might have earned that distinction after its latest dud snapped the Niners' three-game winning streak.
When the word mediocre came up, Sherman said that distinction went to "their fans" for vulgar name-calling throughout the game.
"You never have to resort to name-calling," said Sherman, who said a bottle was thrown as the Seahawks exited.
Asked about Crabtree on Thursday, Sherman smiled and quipped: "History? What history?"
"He said he was throwing to the open man. He didn't care who was out there," Sherman said about Kaepernick. "I was the open man."
In the waning moments with thousands of red seats already empty, 49ers CEO Jed York posted on Twitter: "Thank you (hashtag)49ersfaithful for coming out strong tonight. This performance wasn't acceptable. I apologize for that."
The 49ers were held to three points or fewer for the first time since a 29-3 Week 2 loss at Seattle last year.
"We only had three points. We have to start early and we have to play," Crabtree said. "That's all we have to talk about."
Seattle sure looked comfortable in its first trip to new $1.3 billion Levi's Stadium. It helped that the Seahawks quieted a relatively subdued home crowd.
Sherman got things started when he intercepted Kaepernick's deep third-down pass on the right sideline in the first quarter to help set up Wilson's 13-yard touchdown pass to Robert Turbin. A wide-open Turbin easily took the ball down the left sideline on a pretty catch-and-run before beating cornerback Chris Culliver into the end zone.
Hauschka kicked field goals of 21, 36, 35 and 46 yards.
Phil Dawson provided San Francisco's lone points on a 40-yard field goal late in the third.
Sherman had the fourth two-interception game of his career with his 22nd and 23rd picks since 2011, most in the NFL. It was 49ers coach Jim Harbaugh who turned him into a defensive back at Stanford.
Sherman nearly had another late in the first half, when Seattle outgained San Francisco 202-71. The 49ers were held to 23 yards rushing and shut out in the first half for the first time this season.
"We've got to reboot, come back and win them all," Harbaugh said.
In a lighthearted moment before kickoff, Harbaugh's black hat blew off during the national anthem and landed on the lowest white stripe of a flag that covered the entire field. A San Francisco staffer quickly retrieved the cap just in time as the flag was being rolled up.
Local journalism is essential.
Give directly to The Spokesman-Review's Northwest Passages community forums series -- which helps to offset the costs of several reporter and editor positions at the newspaper -- by using the easy options below. Gifts processed in this system are not tax deductible, but are predominately used to help meet the local financial requirements needed to receive national matching-grant funds.
Subscribe to the sports newsletter
Get the day's top sports headlines and breaking news delivered to your inbox by subscribing here.
---