Sports
Grip on Sports: EWU's win over Indiana one for the ages
Sun., Nov. 30, 2014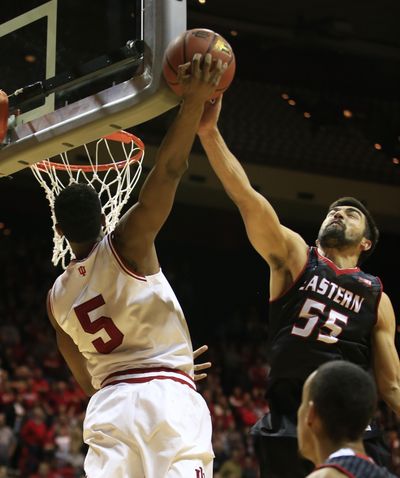 Tuesday: There's a fun game to play in the local sports bar with your buddies. You know the one I'm talking about, where you pick a subject and argue for hours. The most dominant Seattle Mariners pitcher? The Seahawk who meant the most to the franchise? Most entertaining Apple Cup? Well today we have a subject that, while interesting, wouldn't lead to a long discussion. Best nonconference win in Eastern Washington basketball history? 
OK, I admit I'm not the greatest historian when it comes to the Eagles' basketball legacy.
I know who Ron Cox is, though, so that might put me a leg up on some. (And I also am familiar with Joe Folda, so there's that.) But I find it hard to believe Eastern has posted a more impressive nonconference victory than last night's 88-86 comeback win at Indiana.
Why? There's the venue, of course, Indiana's Assembly Hall, home of five national championship banners and the place where Bobby Knight made history by throwing a chair. And, by the way, where more than 11,636 folks gathered yesterday, expecting to cheer their beloved Hoosiers as they moved to 5-0 on the season.
Indiana had won 43 consecutive non-conference games in the place, the third-longest streak in the nation. The flip side of that is the Eagles had never won a game against a Big Ten school in 13 tries and had never won a game in front of a crowd of more than 10,000. They had 20 attempts at that last one.
But the past didn't matter to this group. History is just that, history. To quote that great philosopher, Sarah Connor, there is no fate but what you make. And it was the Eagles' fate to make a whole bunch of shots in the second half. Almost two-thirds of their attempts, actually, hitting 19 of 31 from the field, which powered a series of comebacks. In fact, EWU trailed from the beginning and had to show resilience all night.
The Eagles fell behind 14-2 at the start and rallied for a 25-23 lead; fell behind 39-28 and rallied to within six at halftime; fell behind 54-42 and rallied to lead 64-63; and fell behind 78-75 with 2 minutes, 12 seconds left before scoring seven consecutive points, five by Parker Kelly, and then holding on for the final 26 seconds.
If there were a player of the game award, it would have to go to senior point guard Drew Brandon, who not only scored a career-high 27 points, also grabbed eight rebounds – EWU outrebounded the Hoosiers by five – and handed out four assists. Wait, there's more.
Brandon was 7 of 8 from the line, had five steals and turned the ball over just three times in his 30 foul-limited minutes. Not a bad night. Tyler Harvey (25 points) and Venky Jois (20 points, 14 rebounds) also played well as the Eagles stunned the Indiana crowd – and the nation.
The win was as nice as it was unexpected and the Eastern entourage did some celebrating afterward, tweeting out pictures of themselves at center court and under the scoreboard, which still displayed the final score.
Friday: I noticed one thing from yesterday's broadcast of the Seahawks-49ers game. NBC made a lot of statistical comparisons between Colin Kaepernick and Russell Wilson. And the two seemed pretty even.
But the network never mentioned one hard-to-overlook fact. When it comes to passing statistics, Wilson has to compile his numbers with a sizable handicap. Look, which group of guys would you rather have as targets?
Anquan Boldin, Michael Crabtree and Vernon Davis or Doug Baldwin, Jermaine Kearse and Luke Willson?
I know, right?
The Hawks have the better team, and have had for the last two seasons, but their passing targets aren't nearly as good as what San Francisco can put on the field. And I would venture to say the 49ers have a better offensive line as well, though both teams have dealt with numerous injuries in those groups.
Any way you look at it, Wilson's passing numbers are more impressive than Kaepernick's, and certainly were last night.
How about 15 of 22 for 236 yards and one touchdown as opposed to 16 of 29 for 121 yards, no touchdowns and two interceptions? And there were a lot of  Kaepernick's throws that were so off target as to be incomprehensible. Wilson missed some guys as well, but usually by inches, not yards, and often times while on the run.
One guy may stand 6-foot-4 or whatever and look like Hercules in his prime, but  the other guy is the better quarterback.
Thursday: Before we go anywhere else, I watched Josh Perkins' jaw get blasted over and over last night and I can say one thing for sure: The Georgia player, Kenny Gaines, threw his leg out on purpose.
Whether he meant to hit Perkins in the face is between Gaines and his maker, but the action in which he thrust his leg out wasn't accidental. And should have resulted in a flagrant-two foul call. But like many of the decisions made last night, this one was missed.
Local journalism is essential.
Give directly to The Spokesman-Review's Northwest Passages community forums series -- which helps to offset the costs of several reporter and editor positions at the newspaper -- by using the easy options below. Gifts processed in this system are not tax deductible, but are predominately used to help meet the local financial requirements needed to receive national matching-grant funds.
Subscribe to the sports newsletter
Get the day's top sports headlines and breaking news delivered to your inbox by subscribing here.
---