News > Spokane
Imprisoned rapist a 'slumlord,' but tenants have few options
Sun., Nov. 30, 2014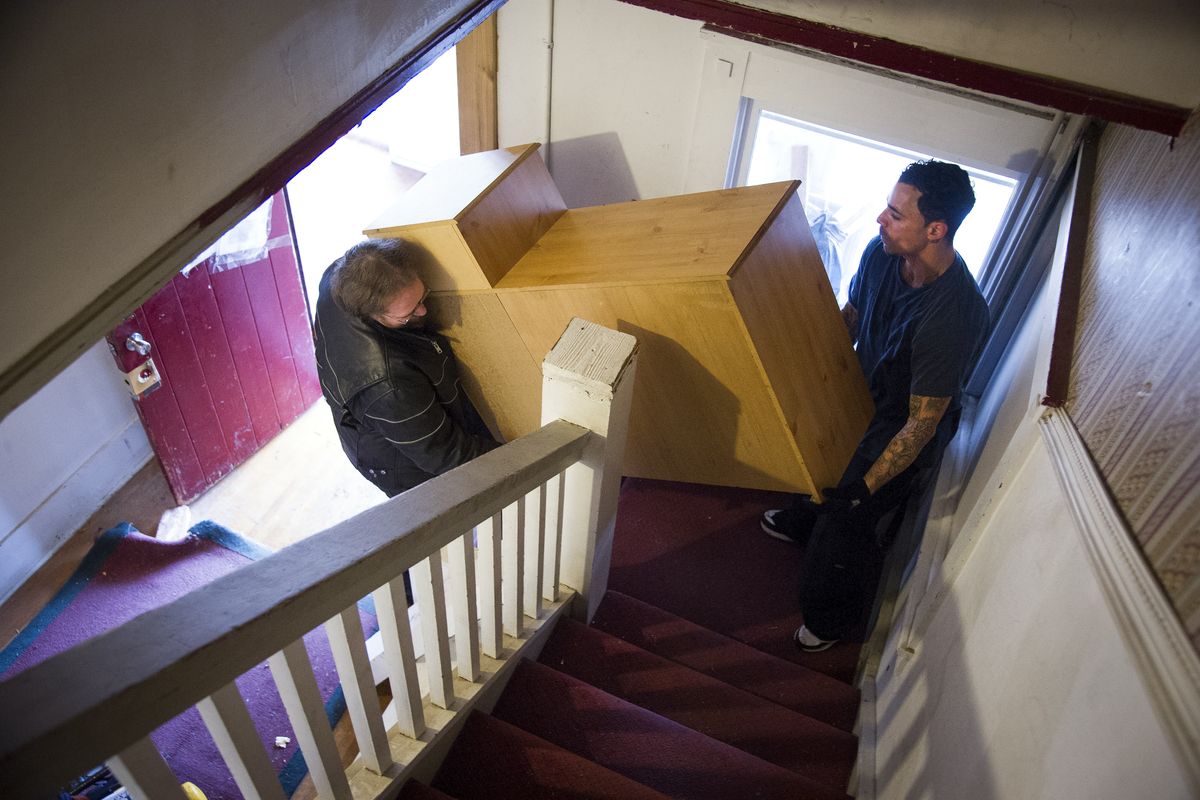 Aaron Gance, left, helps David Natal move out of his Arlin Jordin-owned apartment house on Tuesday. The rental property at 1311 W. Ninth Ave. in Spokane was shut down by the fire department because of unsafe living conditions, leaving many tenants homeless. (Colin Mulvany)
The stove in their apartment hasn't worked since they moved in a couple of months ago, so Dusty Kayser and Scott Simpson eat their meals from a can.
They don't have hot water either.
And yet the two pay $535 a month to rent the one-bedroom unit and owe more than $1,000 in move-in fees and deposits to their landlord, a convicted rapist who runs a network of some 35 Spokane rentals from his prison cell at Coyote Ridge Corrections Center in Connell.
Arlin Jordin's crimes stunned the community 10 years ago. He drugged and raped a prospective tenant. During his trial four other women came forward with similar stories – that he invited them alone to his apartment, then laced their drinks with drugs and raped or attempted to rape them while they were unconscious.
Many of them were searching for an apartment. By the time police and prosecutors were finished with Jordin, about 30 women had told police of their encounters with him.
Jordin is able to run his business from behind bars because there's no law or policy saying he can't. While a court can order a criminal not to contact victims, business dealings are generally beyond the scope of a criminal judgment.
"I've never seen a court get involved with telling someone they can't operate a certain kind of business," said John Love, who prosecuted Jordin's rape case in 2004.
From prison, Jordin makes calls to property managers and maintenance workers he employs, as well as an attorney, who handles eviction suits –including several dozen in the past year.
Jordin's five Spokane apartment houses are worth a combined $1.1 million, according to the county assessor's office.
More than a dozen tenants, former property managers and neighbors at the properties said many of the units are poorly maintained and have hazardous conditions that Jordin refuses to spend money to fix.
"He needs to be exposed for the slumlord he is," said Kayser, who lives at 1310 W. Boone Ave.
After multiple requests, the building manager paid out of pocket to fix a pipe under the sink that was dripping black water into a plastic container. But other requests for repairs have gone ignored by Jordin.
"We've been through hell here," Kayser said.
The Spokane fire marshal declared Jordin's house at 1311 W. Ninth Ave. substandard in early November, citing an inoperable fire alarm system, exposed electrical wiring, water leaks, inadequate weatherproofing and defective heating systems. Tenants were given 24 hours to vacate the premises Nov. 14, leaving several of them homeless.
Neighbors and tenants say the property had a string of short-term managers – about 10 so far this year. Aaron Gance, who has lived in the house since May 2012, said some managers ran off with tenants' money, while others were fired by Jordin for trying to make repairs or spend money on the buildings.
The Spokesman-Review attempted to interview Jordin but did not receive a response.
Jordin's attorney, Neil Humphries, said maintenance staff were working to get the apartment back up to standards as quickly as possible. He contends that much of the damage to apartments on West Ninth was caused by tenants and says other issues with the properties Jordin owns are the result of managers who have stolen rent money or lied about making repairs.
"People pay deposits and pay rent, and it never gets turned in to the bookkeeper," he said, adding that it's difficult for Jordin to hire and manage reliable employees from prison.
Nowhere else to go
Colleen Pruit and David Natal moved into an upstairs studio in Jordin's West Ninth house in July. The couple had been homeless and living in motels in Colorado, so getting an apartment together felt like a step in the right direction, Pruit said.
Jordin's properties don't require credit or background checks, making them one of few options for people getting back on their feet after homelessness or a criminal conviction.
Pruit's church paid their $495 monthly rent while she worked on applying to get into school and filing for federal disability benefits.
From the beginning, the couple said, their apartment had some problems – wires on the heater were exposed and there were no working smoke alarms – but the excitement of having a place of their own overshadowed their concerns.
"We believed the landlord was going to fix the issues, so we weren't too worried about it," Pruit said.
As fall progressed, the problems weren't getting fixed. Pipes from their apartment were leaking into the unit below. Another tenant kicked in their door, leaving them without a working lock. The heater didn't work, so when the cold hit they resorted to heating the apartment with their oven.
Barry Pfundt, an attorney at the Center for Justice who works on housing issues, said the legal system is poorly equipped to help low-income tenants who end up in substandard apartments. In Washington, any problems in an apartment that deprive tenants of hot or cold water, heat or electricity must be repaired within 24 hours of a written notice. But even if tenants are aware of the law, hiring a lawyer to force compliance is costly and time-consuming – not ideal for someone facing a Spokane winter in an unheated apartment.
"The civil legal process is not designed to provide quick remedies in these cases," Pfundt said.
Instead of bringing legal action, tenants have the option of simply moving out. But few properties are willing to rent to someone who can't pass a credit check or has served time in prison, even if a third party is helping to pay rent.
"Your remedy is not really a remedy. You have nowhere else to go," said Pfundt.
Kayser said she and Simpson considered moving out of her Jordin-owned apartment, but they are doubtful they'd end up in a better place. They were evicted from their last apartment after Simpson spent 21 days in jail on a misdemeanor malicious mischief charge in February. After he got out, the couple were homeless for seven months. They moved into Jordin's property in early October.
"We don't know where to go, and we're kind of scared because if it gets closed down, we don't have anything," Kayser said.
At Jordin's property on West Ninth, a Spokane police officer reported the unsafe conditions to the fire marshal, who ordered Pruit and Natal's apartment vacated Nov. 1. About two weeks later, they extended the order to the entire building, pushing multiple tenants back into homelessness.
On Nov. 12, Jordin served Pruit and Natal with eviction papers, contending they had damaged the pipes and owed $950 for damage and late fees, including a $260 charge for "possible drug trafficking." Both say Jordin's accusation is unfounded. Other tenants said they highly doubted Jordin's claims about the couple and added that the pipes were broken before Pruit and Natal moved in.
In the past year, Jordin has filed suit to evict more than 30 tenants from his various properties. Spokane County Superior Court records show more than 200 eviction suits filed by Jordin since the early 1990s.
Jordin's lawyer accuses Natal of damaging the pipes in the apartment while trying to make repairs.
Natal and Pruit denied damaging the building and wanted Jordin to refund their deposit and pay for relocation expenses. Under Washington law, a landlord whose building is declared substandard must pay the greater of $2,000 or three months rent to any displaced tenants so they can relocate.
They recently agreed to settle with Jordin for about $1,500, leaving them with no permanent housing. Pruit's church paid for them to stay in a motel for about a week, but they couldn't afford to foot the bill themselves. The night before Thanksgiving, Pruit and Natal were back on the streets.
History of problems
Neighbors of Jordin's house on West Ninth say the house has been a neighborhood blight for a decade or more. In the past two years, police have been called to the home 108 times, according to police records.
Eight neighbors have filed lawsuits in small claims court, seeking $40,000 in damages from Jordin. Cameron Putney, who owns a neighboring rental property, seeks $5,000 in lost income "due to our inability to retain and obtain tenants because of the constant disturbances at Arlin Jordin's property."
The problems seem to have worsened over the past few years, but neighbors contend poor property management and criminal activity were problems even before Jordin went to prison. Jordin's earliest likely release date is in 2017.
Tenants who lived in the West Ninth house before it was shut down also described chronic problems. Former residents and their associates had keys to the house, so it was common to find strangers in the basement. People who didn't live in the house would conduct drug deals on the porch. A new, enthusiastic manager would come in and try to clean things up, only to be fired or quit.
"Arlin Jordin is very unknowledgeable about what it takes to manage the properties properly," said Cal O'Donnell, who managed the property for about five months in early 2014.
Mark Matthews, another ex-manager, said Jordin still owes him about $5,000 in back pay and materials. He said it was difficult to convince him the house needed repairs, or to work with him at all.
"The guy's super-duper arrogant. It's crazy talking to him every day. He's just so controlling, it's unbelievable," he said.
Neighbor Amanda Hargreaves, who has filed one of the civil claims against Jordin, said poor management was an ongoing problem.
"You'd meet a manager and he'd be gone three or four weeks later. Some of the managers were more frightening than the tenants."
Humphries said problem managers were responsible for many of the property's issues and also blamed tenants for causing many of the problems that have angered neighbors.
"They're lower-end apartments and he lets people in there he probably shouldn't," he said.
The eight neighbors of Jordin's house on West Ninth and Jordin have settled their suit out of court. Humphries said Jordin agreed to fix up the property and sell it. In the meantime, he will turn management of the property over to a licensed property management company.
Kayser and Simpson said they plan to retain a lawyer to help them get other repairs made to their apartment. Humphries said he wasn't familiar with the conditions at that property.
They said the property's new manager has been working hard to fix their problems, even spending his own money to repair their water heater so they could finally shower at home. But Jordin, they said, continued to resist investing in repairs.
"He's just sitting behind bars collecting money," Kayser said.
Local journalism is essential.
Give directly to The Spokesman-Review's Northwest Passages community forums series -- which helps to offset the costs of several reporter and editor positions at the newspaper -- by using the easy options below. Gifts processed in this system are not tax deductible, but are predominately used to help meet the local financial requirements needed to receive national matching-grant funds.
Subscribe now to get breaking news alerts in your email inbox
Get breaking news delivered to your inbox as it happens.
---