News > Obituaries
Obituary: Browne, Greta A. (May)
Age 89
Sun., Nov. 30, 2014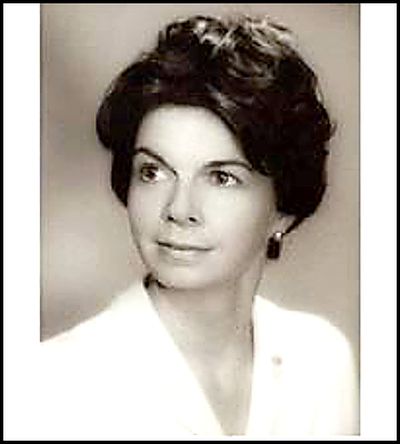 BROWNE, Greta A.
(May) August 26, 1925 - November 22, 2014 Greta Browne died with her family gathered around her in Portland on Saturday, November 22, 2014.
Her parents were Dr. Karl and Adeline May.
Her father received his medical training at Creighton University in Omaha, Nebraska and practiced first in Harrison, Idaho, then in Republic, Washington and finally in Chewelah, WA.
He retired in 1967 and they moved to Mexico.
Adeline, called Addy, was a nurse, who stopped practicing to raise her children.
Greta was their first child, born in Spokane and raised in Republic where she loved to swim in the lakes, especially at the family cabin at Swan Lake.
She worked as a lifeguard, and graduated early from high school.
She graduated from Holy Names College in Spokane, where she met Robert Browne, who, while charming, turned out not to be the best husband possible.
While raising her five children alone she worked as a medical tech.
Then she returned to school to become a first grade teacher at Venture Park Grade School for 20 years.
She loved her house, her roses, irises, playing cards, and was a devout Catholic.
She retained her love of swimming, doing the Hood River Cross Channel Swim numerous times with her kids.
Other than Spirit Lake, where we had family reunions until the mountain blew, Thanksgiving was the best family gathering, with the table sparkling with crystal and laughter; too much food, and lots of groaning and laying about on the floor afterwards.
She was preceded in death by her parents, Dr. Karl and Adeline May; her younger sister, Ruth; two of her brothers, Dr. Karl Jr. (Bud) and Robert (Rob); three of her children, Rachael and Daniel, who died at birth, and Zachary, who died of complications of diabetes at 52.
She is survived by one brother, John May of Chewelah, WA and sons, Peter, Mark, Chris, and daughter, Mercedes; nine grand and five great-grandkids.
Funeral Mass will be held at Holy Rosary Church, 375 NE Clackamas St., Portland, OR 97232, at 10 am on Thursday, December 4, 2014.
Local journalism is essential.
Give directly to The Spokesman-Review's Northwest Passages community forums series -- which helps to offset the costs of several reporter and editor positions at the newspaper -- by using the easy options below. Gifts processed in this system are not tax deductible, but are predominately used to help meet the local financial requirements needed to receive national matching-grant funds.
Subscribe now to get breaking news alerts in your email inbox
Get breaking news delivered to your inbox as it happens.
---