News > Obituaries
Obituary: Dahlen, Harold Eivind
Age 96
Sun., Nov. 30, 2014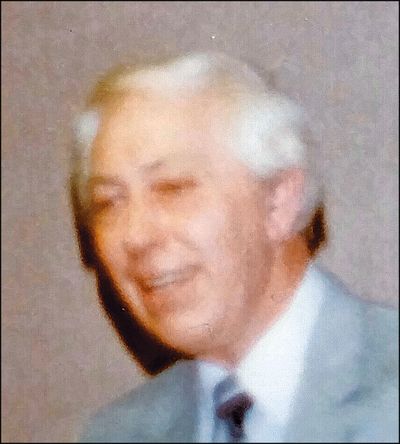 DAHLEN, Harold Eivind (Age 96) Passed away peacefully on Monday, November 24, 2014, in Spokane WA.
Harold was born February 3, 1918 in Bonners Ferry, ID, to Hartvig and Ingrid Dahlen.
His mother passed away when he was six years old and the family moved back to Norway where they stayed for approximately eight months.
Hartvig decided that Norway was not where they should be and he packed up four of his five children and brought them back to American, first to Bonners Ferry, ID and then to Newport, WA where the family home still stands.
Harold graduated from Newport High School and worked at the local butcher shop.
It was in Newport that Harold met the love is his life Helen.
Their wedding was planned for December of 1941, however, the attack on Pearl Harbor put their wedding plans on hold.
Harold was drafted into the Army and served throughout the Pacific Theater for the duration of the war.
When he returned from the war he was decorated as a Tec 4 with the Good Conduct Medal, American Defense Service Award, Asiatic Pacific with three Bronze Stars, Philippine Lib Rib with one Bronze Star and five Overseas Service Bars.
They were married on October 14, 1946 and enjoyed 67 wonderful years.
Harold and Helen settled in Spokane, WA and had two children.
Harold was employed at Ralston Purina for 30 years retiring in 1983.
Harold loved cats and would have Mom pack extra treats for the stray cats that ended up at the plant.
A backyard carpenter in 1966 he took on the task of building the family home.
Being very thrifty he scavenged the brick for his home from buildings being torn down to clear way for the Spokane freeway.
They moved into the home in 1967 were he resided until his passing.
After his retirement, he took up jogging at age 67 and ran until he was 89 participating in 21 Bloomsdays and other fun runs, always finding money whether it was a penny or a five dollar bill at every race.
He prided himself in being very fit and would show you how he could do the splits even at 89 years old.
Harold and Helen enjoyed traveling after retirement with trips to Disney World, Canada, Hawaii, Sweden and Norway where he visited the family farm.
A year ago he was able to participate in Honor Flight with his daughter at his side.
His last big trip was this past September with daughter Susan and niece Kristine to Poulsbo for a family reunion.
Christmas included Lefse and that nasty lutefish which was a must for every Christmas Eve dinner.
An active member of Central Lutheran Church where he spent many hours peeling potatoes for Lefse to be sold at the church bazaar, ushered until he was 92 as well as volunteered many hours delivering "Meals on Wheels".
His wife Helen, brothers Helge, Ivar and sister Marie preceded him in death.
He is survived by his daughter Susan (Rusty) Collins of Spokane, WA; son Mark (Nancy) of Olympia; grandchildren, Kathleen Dahlen of San Francisco, Stacie (Andrew) Wrenn of Spokane, Andrew Dahlen of Seattle, Mirinda (Doug) Fennema of Nine Mile Falls, Julie Dahlen of Bellingham, brother Arnie (Charlotte) Dahlen of Polsbo, WA.
He held a special place in his heart for his many nieces and nephews and his special kitty Mandy.
A visitation will be held on Thursday, December 4, 2014 from 10:00 A.M. to 6:00 P.M. at the Hazen & Jaeger Funeral Home, 1306 N. Monroe St., Spokane followed by a funeral service at 11:00 A.M. in the funeral home's Alwin Chapel with Pastor David Wold officiating.
Burial will be at Riverside Memorial Park, Spokane with Military Honors.
In lieu of flowers please make donations to Honor Flight or Scraps.
Local journalism is essential.
Give directly to The Spokesman-Review's Northwest Passages community forums series -- which helps to offset the costs of several reporter and editor positions at the newspaper -- by using the easy options below. Gifts processed in this system are not tax deductible, but are predominately used to help meet the local financial requirements needed to receive national matching-grant funds.
Subscribe now to get breaking news alerts in your email inbox
Get breaking news delivered to your inbox as it happens.
---