News > Obituaries
Obituary: Morrow, Shirley Elaine
Age 82
Sun., Nov. 30, 2014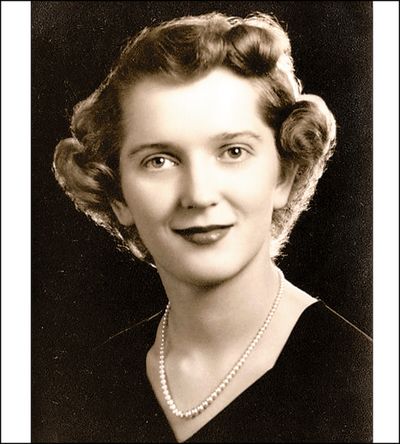 MORROW, Shirley Elaine (Age 82) Shirley Elaine Bauer Morrow, of Spokane Valley passed away at her home on November 8, 2014.
Shirley was born in Whitepine, Montana, on September 27, 1932 to Margaret Swanson Bauer and Granville Frank Bauer.
She graduated from Libby High School (Libby, MT) and later from Eastern Washington College of Education (now Eastern Washington University).
Shirley worked as a teacher, counselor and librarian for her entire professional career; the vast majority of her career was in the West Valley School District in the Spokane Valley.
Shirley met Dick Morrow while both were students at Eastern.
They were married in Libby on July 10, 1954, and made their home in the Spokane area for the next 60 years.
Their daughter, Susan, was born in 1955 and their son, Rick, followed in 1958.
Shirley acted with compassion and inspired it in others; had a strong commitment to family; and was a lifelong learner, following news from all corners of the world.
She was a loyal patron of public libraries throughout her life and certainly relished a ramble through a well-run bookstore.
Shirley and Dick commenced their world travels when celebrating their 25th anniversary and ended up visiting all seven continents (including Antarctica!)
and for over 15 years escaped the Spokane winters by spending those months in the Mexican beach town of Guayabitos.
They returned from their adventures with souvenirs and stories but, most importantly, traveling companions became friends and those relationships sometimes spanned decades.
Shirley is survived by her husband of 60 years, Dick Morrow; her son, Rick Morrow, and his wife, Janet, of Troy, MT; her daughter, Susan Morrow, and her husband, Ron Rosano, of San Rafael, CA; and her three grandchildren: Rachel Morrow Theler (Ryan) of Fairbanks, AK; Nick Rosano and Margaret Rosano, both of whom live in San Francisco, CA.
Shirley is also survived by her twin brothers George Bauer (Betty) and Neil Bauer (Cathy) of Libby, MT; her sister-in-law, Anne Morrow McKinley, of Seattle; numerous nephews and nieces; a wonderfully supportive network of cousins; and numerous devoted and cherished friends.
Shirley was predeceased by her parents Margaret and Granville Bauer.
The Morrow and Rosano families offer thanks to the Hospice of Spokane team that helped Shirley conclude her life with grace and the comfort of the familiar.
Additional thanks are offered to the staff at Park Place Assisted Living for their caring, competence and good cheer through hard times.
A very special expression of gratitude goes to Jo Crosby whose caring, companionship and love has enriched not only Shirley and Dick's lives but also those of our entire family.
In lieu of flowers, please send donations to Hospice of Spokane, Transitions (www.help4women.org), Friends of the Spokane County Library District (www.scldfriends.org) or the charity of your choice.
A Memorial Service will be held on Friday, December 5 at 2 PM at the Thornhill Valley Chapel, 1400 S. Pines, Spokane Valley, WA.
Local journalism is essential.
Give directly to The Spokesman-Review's Northwest Passages community forums series -- which helps to offset the costs of several reporter and editor positions at the newspaper -- by using the easy options below. Gifts processed in this system are not tax deductible, but are predominately used to help meet the local financial requirements needed to receive national matching-grant funds.
Subscribe now to get breaking news alerts in your email inbox
Get breaking news delivered to your inbox as it happens.
---