Sports
Washington State women upset No. 10 Maryland in Puerto Rico
Sun., Nov. 30, 2014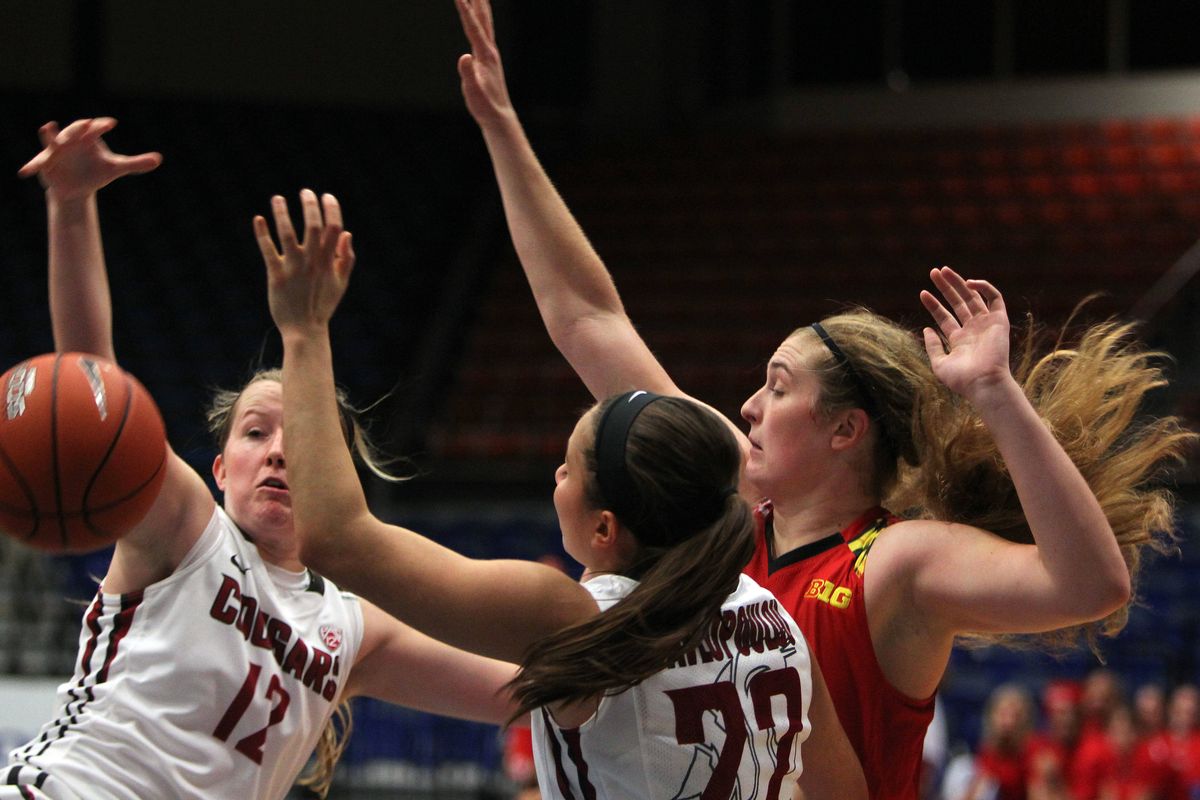 WSU's Taylor Edmonson, left, and Pinelopi Pavlopoulou, center, battle for a rebound with Maryland's Tierney Pfirman on Saturday. (Associated Press)
GUAYNABO, Puerto Rico – Washington State coach June Daugherty was thrilled how her team bounced back from a tough loss by beating a top-10 team.
Lia Galdeira scored 33 points to match her career high and help Washington State upset No. 10 Maryland 70-64 on Saturday at the San Juan Shootout. The Cougars had lost to Michigan in the opener of the tournament.
"Really proud of our team today," Daugherty said. "We didn't play our best basketball against Michigan … but we really showed some toughness and how talented our team is with how well we played defensively against one of the best teams in the country."
Leading 33-31 early in the second half, the Cougars (5-2) went on a 10-2 run to take command. Galdeira had six points during the burst that made it 43-33 with 14:52 left.
"It was a great team win over a really good team," Galdeira said. "We had great ball movement. Our defense effort was probably the best we've played since I've been here and that was huge for us."
Lauren Mincy's layup with 2:27 left brought the Terrapins (6-1) to 59-55, but the Cougars hit seven of their next eight free throws to seal the win.
"They played a near perfect game," said Brionna Jones, who led Maryland with a career-high 23 points. "They came out ready to play and they had an answer for everything we threw at them and they wanted it a little bit more than we did."
The Terrapins jumped out to a 14-6 lead before the Cougars got going and led 31-27 at the half.
"I thought Washington State played a flawless game and they competed hard for 40 minutes," Maryland coach Brenda Frese said. "They had an answer for everything we threw at them and they wanted it a little bit more than we did."
Mincy added 13 points for Maryland, which had 24 turnovers.
Notes
The Cougars beat then-No. 10 Nebraska last season. … The men's and women's programs were playing nearly 5,000 miles apart this weekend. The men were competing in Alaska while the women played in Puerto Rico. There was also a 45 degree difference in temperature.
Local journalism is essential.
Give directly to The Spokesman-Review's Northwest Passages community forums series -- which helps to offset the costs of several reporter and editor positions at the newspaper -- by using the easy options below. Gifts processed in this system are not tax deductible, but are predominately used to help meet the local financial requirements needed to receive national matching-grant funds.
Subscribe to the sports newsletter
Get the day's top sports headlines and breaking news delivered to your inbox by subscribing here.
---