Sports
Edinson Volquez looks to continue revival against Giants
Wed., Oct. 1, 2014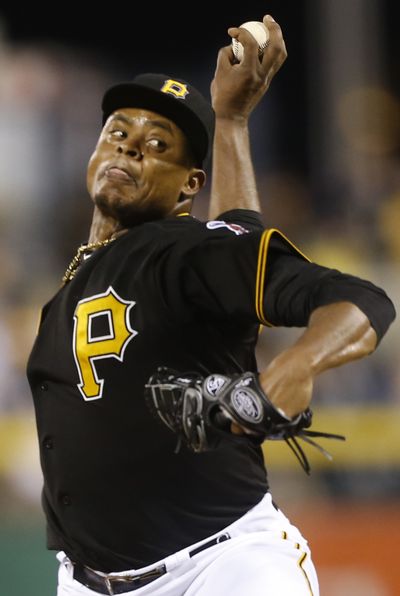 PITTSBURGH – Edinson Volquez's renaissance began with a simple game of catch.
During his brief session with Pittsburgh Pirates pitching coach Ray Searage on that January day at the team's training facility, the talented but erratic right-hander listened as Searage outlined a plan to help the him regain his All-Star form.
"He felt wanted," Searage said.
Ten months later, Volquez will try to repay that trust by sending the Pirates into the N.L. Division Series for the second straight year when he starts tonight's game against San Francisco.
The raucous scene that awaits Volquez (13-7) at PNC Park is in stark contrast to his ignominious exit from San Diego last summer, when the floundering Padres released him after a stretch in which his ERA ballooned to 6.01.
"It's kind of sad," said Volquez. "You feel like your career is over."
He ended 2013 with the Dodgers, where he showed minor improvement before hitting the free-agent market. But most teams hardly seemed interested in signing a pitcher who spent a half-decade struggling with his command and composure.
Yet he found a home in Pittsburgh, where the clubhouse has become an Ellis Island of sorts for players looking to regain something they've lost.
A year ago it was left-hander Francisco Liriano, who signed with the Pirates and put together a 16-8 season that included a win over the Reds in the wild-card game. Although the $5 million flier Pittsburgh took on Volquez raised eyebrows, he remained confident.
"People (who) know about baseball, they knew I was really close to getting ready to go," Volquez said.
Local journalism is essential.
Give directly to The Spokesman-Review's Northwest Passages community forums series -- which helps to offset the costs of several reporter and editor positions at the newspaper -- by using the easy options below. Gifts processed in this system are not tax deductible, but are predominately used to help meet the local financial requirements needed to receive national matching-grant funds.
Subscribe to the sports newsletter
Get the day's top sports headlines and breaking news delivered to your inbox by subscribing here.
---