Sports
NFL has laundry list of verboten celebrations
Wed., Oct. 1, 2014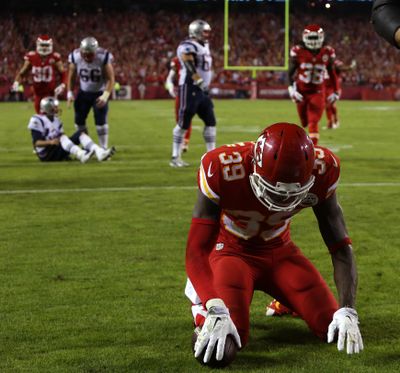 Dancing Billy "White Shoes" Johnson, shuffling Ickey Woods and the group high-fiving Fun Bunch? Their entertaining touchdown celebrations would be illegal in today's NFL.
Though the league rulebook has some very specific examples of what constitutes a penalty, the gray area is as wide as ever.
Take, for example, Husain Abdullah's drop to his knees after returning an interception for a touchdown Monday night. It threw the referees for a loop – and caused them to throw a flag. In their eyes, the Chiefs defensive back violated the language in Rule 12, Section 3(d) that states "Players are prohibited from engaging in any celebrations while on the ground."
But Abdullah, a former Washington State standout, is a devout Muslim, who had always vowed he'd fall to his knees if he ever reached the end zone. Critics pointed out that many players have knelt in Christian prayer and weren't penalized, most notably Tim Tebow, who's one-knee genuflection became a meme. After further review, the NFL said since it was part of a religious expression, and Abdullah, should not have been flagged.
Highlights from the NFL's forbidden list, who may have caused it and who might get nailed today.
• Prolonged, Choreographed, Excessive Celebration : It could be said that the "Fun Bunch" – aka Art Monk, Alvin Garrett and the rest of the Washington Redskins receivers in the early 1980s – took the fun out of the NFL. After touchdowns, they would form a circle and time a group high-five. In a 1983 game, Cowboys defenders tried to break up a Fun Bunch celebration by standing in the middle of it. A year later, the league passed a rule banning "excessive celebration."
• Use Of Foreign Objects That Are Not Part Of The Uniform: Would the white shoes Johnson wore when returning kicks for the Oilers back in the day have qualified as "foreign objects?" Who knows? But give these guys an 'A' for creativity and advance planning: Terrell Owens pulling a Sharpie pen out of his sock and signing a ball after scoring. And Saints receiver Joe Horn reaching the end zone, then pulling a cellphone out of the padding on the goalpost and pretending to make a call.
• Sack Dances, Home-Run Swing, Incredible Hulk: All are verboten if "committed directly at an opponent." Mark Gastineau of the Jets had one of the first (and possibly the worst) sack dance. Also forbidden under this category are home-run swings (Neil Smith), incredible hulk gestures (Clay Matthews used to do it) and military salutes (could've potentially put Terrell Davis and the Broncos famous Mile High Salute of the late 1990s in jeopardy).
• Throat Slash, Stomping On Team Logos: Fred Taylor of the Jaguars got tagged a few times for a throat-slash gesture that was popular about 10 years ago. Owens put team logos in the rulebook when, while playing for the 49ers, he ran to the star at the 50-yard line at Texas Stadium after a touchdown against the Cowboys and stomped on it.
• Spiking The Ball Over The Goalpost: It had been one of the last bastions of good, clean celebration – that is, until Saints tight end Jimmy Graham knocked the post off-kilter on a slam last season in Atlanta, causing a lengthy delay. This preseason, Graham was penalized twice and fined $30,000 for breaking the new rule.
His reaction: "You can't really have fun anymore."
Local journalism is essential.
Give directly to The Spokesman-Review's Northwest Passages community forums series -- which helps to offset the costs of several reporter and editor positions at the newspaper -- by using the easy options below. Gifts processed in this system are not tax deductible, but are predominately used to help meet the local financial requirements needed to receive national matching-grant funds.
Subscribe to the sports newsletter
Get the day's top sports headlines and breaking news delivered to your inbox by subscribing here.
---