Sports
A capsule look at Royals-Angels playoff series
Thu., Oct. 2, 2014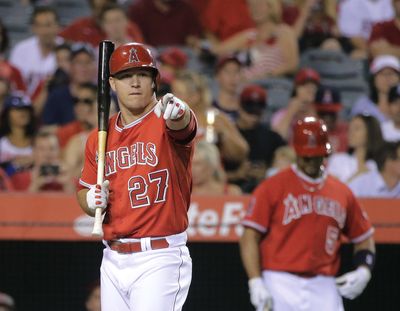 Season series: Tied 3-3, each won 2-1 at home.
Kansas City Royals (90-73): After ending a 29-year postseason drought, the Royals continued their winning ways in the playoffs. They won the last three games of the 1985 World Series against St. Louis. So after their thrilling 9-8, 12-inning win over Oakland in Tuesday night's A.L. wild-card game, Kansas City has won four straight playoff games. … The Royals win with strong starting pitching, a stingy bullpen and daring on the basepaths. They stole seven bases against the A's, including one that helped set up the tying run in the 12th inning. … The Royals burned through all of their shut-down relievers against Oakland – Brandon Finnegan, Kelvin Herrera, Wade Davis and closer Greg Holland. But with a day off they should be rested and ready against Los Angeles.
Los Angeles Angels (98-64): Los Angeles streaked through the final months of the regular season and finished with the majors' best record at 98-64, earning home-field advantage throughout the postseason. … The Angels are back in the postseason for the first time since 2009 with their sixth A.L. West title under manager Mike Scioscia. … Los Angeles had the majors' most productive offense in the lowest-scoring big league season since 1981, plating 773 runs with a deep, balanced offense led by likely A.L. MVP Mike Trout, who will make his first postseason appearance. … Trout led the majors with 115 runs scored, 84 extra-base hits and 111 RBIs, becoming the Angels' second RBI champion after current hitting coach Don Baylor, who did it in 1979.
Watch For: Scioscia plans to use just three starting pitchers in the division series, gambling on short rest to shore up his injury-depleted rotation. Jered Weaver pitches the opener, and rookie 16-game winner Matt Shoemaker will take the mound in Game 2 after recovering from a strained oblique muscle. Inconsistent C.J. Wilson will start Game 3 in Kansas City, and Scioscia is confident Weaver can pitch well on three days' rest in Game 4.
Local journalism is essential.
Give directly to The Spokesman-Review's Northwest Passages community forums series -- which helps to offset the costs of several reporter and editor positions at the newspaper -- by using the easy options below. Gifts processed in this system are not tax deductible, but are predominately used to help meet the local financial requirements needed to receive national matching-grant funds.
Subscribe to the sports newsletter
Get the day's top sports headlines and breaking news delivered to your inbox by subscribing here.
---