News > Washington Voices
Four area teachers win STCU grants
Thu., Oct. 2, 2014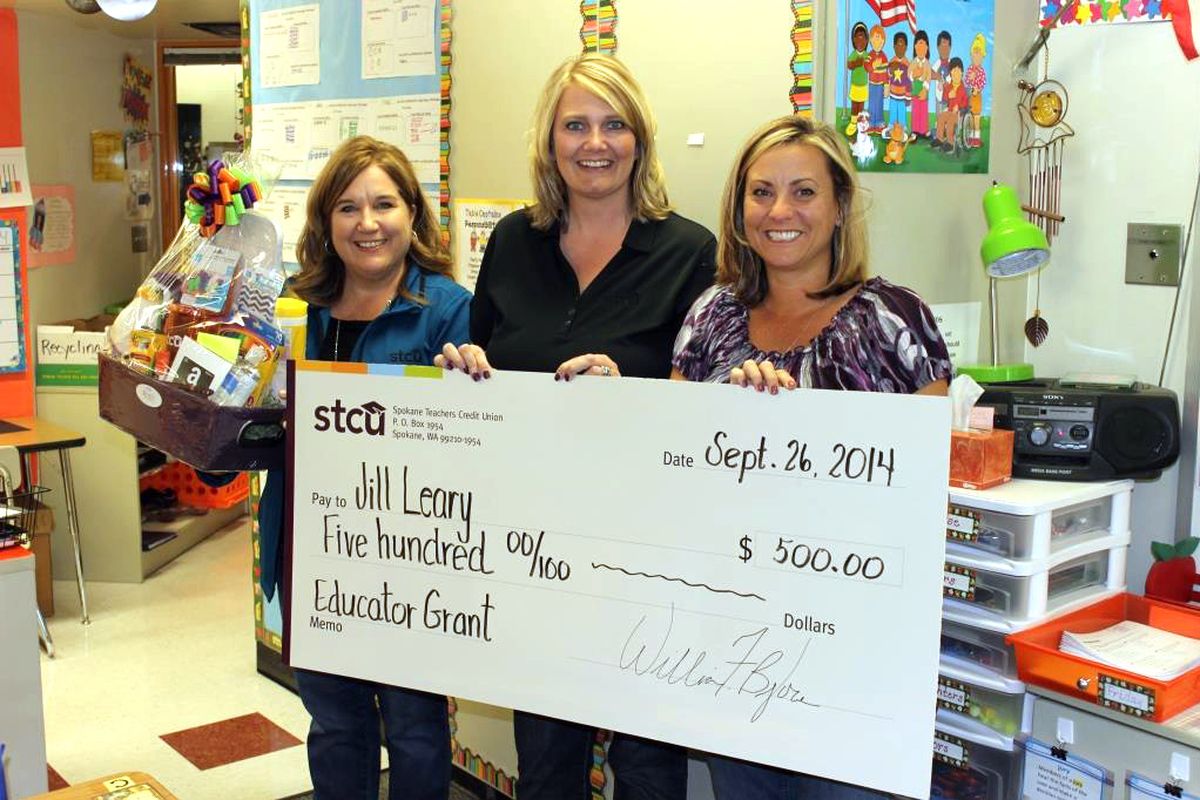 Jill Leary, a third-grade teacher at Garfield Elementary School, right, received a $500 classroom grant from STCU. Also pictured, from left: Laura Lesser, STCU main branch manager; and Laura Enquist, STCU director of branches.
Spokane Teachers Credit Union recently surprised four area teachers with $500 classroom grants, providing them with a little extra funding to purchase new classroom equipment, books, and supplies.
The four winners are Garfield Elementary School third-grade teacher Jill Leary; Coeur d'Alene High School English teacher Bryan Smidt; Sandpoint High School math teacher Nanette Brothers; and Kelli Aiken, a counselor at Lakes Middle School in Coeur d'Alene.
This is the fourth year that STCU has held the grant drawings. The teachers' names were chosen at random from approximately 2,000 entries.
ESD 101 awarded mental health funds
The NorthEast Washington Educational Service District 101 has been awarded a $3.9 million Project Prevent grant. The funds are part of a five-year award and will allow 19 schools in the Cheney, Medical Lake, Riverside and West Valley school districts to employ mental health counselors.
As part of the U.S. Department of Education's Project Prevent program, the local schools will be able to provide counseling services for students subject to violence, trauma or anxiety. It will also support conflict resolution and violence prevention strategies.
Special Needs PTA meeting tonight
Local educators, administrators, family and community members are invited to attend an organizational meeting of the Spokane County Special Needs Parent Teacher Association from 5 to 7 p.m. today, at the Arc of Spokane, 320 E. Second Ave.
The groups' mission is to advocate for the advancement of the academic and social-emotional education of students with special needs, ensuring every student is able to reach their full potential. They intend to connect parents, educators and administrators to build bridges and increase understanding and awareness of special needs issues, along with educating parents and others in the community, so that they have the support and resources they need to advocate for students with special needs.
To become a founding member annual dues of $25 are requested at the meeting. For information, call Darci Ladwig at (509) 789-8327.
To submit news about your school, students and staff to Education Notebook, send the details to raineyc@spokesman.com or call (509) 459-5434.
Local journalism is essential.
Give directly to The Spokesman-Review's Northwest Passages community forums series -- which helps to offset the costs of several reporter and editor positions at the newspaper -- by using the easy options below. Gifts processed in this system are not tax deductible, but are predominately used to help meet the local financial requirements needed to receive national matching-grant funds.
Subscribe now to get breaking news alerts in your email inbox
Get breaking news delivered to your inbox as it happens.
---