Sports
In brief: Basel upsets Liverpool while Madrid holds on
Thu., Oct. 2, 2014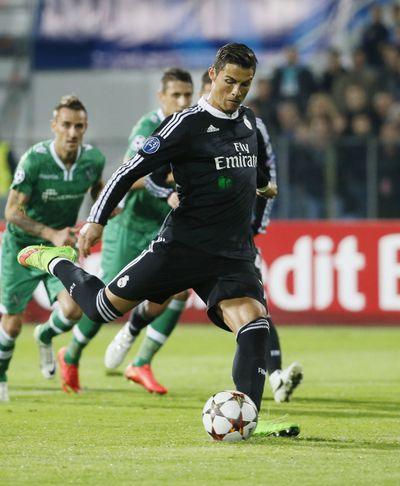 SOCCER: Real Madrid and Liverpool found their combined 15 European titles were no protection on the road in the Champions League on Wednesday in Geneva.
Ten-time champion Real Madrid trailed early against Bulgarian newcomer Ludogorets Razgrad, which was only formed as a club 13 years ago.
After Ludogorets' sixth-minute opener, Cristiano Ronaldo had a penalty saved and then scored with a second spot-kick in the 24th, before Madrid got substitute Karim Benzema's 77th-minute goal to secure a 2-1 win.
"We played as equal to Real and I am delighted with our performance," Ludogorets coach Georgi Dermendzhiev said.
Five-time winner Liverpool lost 1-0 at Basel, which specializes in beating English opponents, and trails Group B leader Madrid by three points before hosting the title holder next.
"I thought we were too soft all over the pitch," Liverpool captain Steven Gerrard said, adding his team "didn't deserve anything" against Switzerland's champion.
Borussia Dortmund won 3-0 at Anderlecht, and leads Group D by three points from Arsenal, which beat Galatasaray 4-1 despite goalkeeper Wojciech Szczesny being sent off with 30 minutes left.
Atletico Madrid, runner-up last season, beat Juventus 1-0 through Arda Turan's 75th-minute goal, and Malmo's 2-0 victory against Olympiakos left Group A with all four teams totaling three points.
Zenit St. Petersburg and Monaco drew 0-0 to share the Group C lead with four points, while Bayer Leverkusen beat Benfica 3-1.
• Lawsuit filed over turf: A group of elite players has filed a lawsuit in Canada challenging plans to play the 2015 Women's World Cup on artificial turf.
The players, led by U.S. women's national team forward Abby Wambach, filed in the human rights tribunal of Ontario, attorney Hampton Dellinger told the AP.
The women claim that playing the sport's premier tournament on fake grass amounts to gender discrimination under Canadian law. Their male counterparts have always played the World Cup on natural grass surfaces, and will for the foreseeable future.
The players say they believe there is a greater risk of injury on turf and that an artificial surface impacts both how the game is played and how the ball behaves.
Among the players joining Wambach are U.S. teammate Alex Morgan, Germany's Nadine Angerer, Brazil's Fabiana Da Silva Simoes and Spain's Veronica Boquete.
Canadians advance; France to face U.S.
BASKETBALL: Canada advanced to the quarterfinals of the women's world championship for the first time in 20 years after knocking off the Czech Republic 91-71.
Kim Gaucher scored 17 points to lead Canada, which will play Australia on Friday. The Canadians last made the quarterfinals in 1994 when they finished seventh.In other quarterfinals qualifying games, China topped Belarus 72-67, Serbia edged Cuba 86-79 and France beat Brazil 61-48.
France's win set up a rematch against the U.S. The French team handed the Americans a rare loss on Sept. 21 when the teams played an exhibition game in Paris.
It was the first loss by the U.S. in an international game since falling to a team from the Czech Republic in 2011 when the U.S. was on a European tour.
"We know France, we just played them recently," U.S. coach Geno Auriemma said. "When you get to this point, into the quarterfinals, you get to the medal rounds, it's not like you can afford to lose a game."
Djokovic's streak at China Open hits 21
TENNIS: Novak Djokovic extended his winning streak at the China Open to 21 straight matches, beating Canada's Vasek Pospisil 6-3, 7-5.
The top-ranked Djokovic came back from a break down in the second set and fought off a set point at 4-5 to close out the match in straight sets. He has lost only three sets en route to winning four China Open titles in four years.
Djokovic faces a tough road to pick up a fifth straight title, with a potential quarterfinal against No. 5-seeded Grigor Dimitrov and a possible semifinal against U.S. Open champion Marin Cilic or Andy Murray. He could meet No. 2 Rafael Nadal in the final.
• Kvitova to face Williams: Petra Kvitova defeated China's Peng Shuai 6-4, 6-2 to set up a third-round China Open match with Venus Williams in a reprise of their three-set encounter at Wimbledon.
Williams advanced with a win over France's Caroline Garcia.
In June, Kvitova was two points from defeat in a third-round Wimbledon match against Williams, but came back to prevail 5-7, 7-6 (2), 7-5.
Hernandez wants phone evidence out
MISCELLANY: A judge is hearing testimony for a second day on a bid by attorneys for ex-New England Patriot Aaron Hernandez to have evidence from his cellphone thrown out.
The defense's motion says the phone was unlawfully seized and searched. Prosecutors say they had a warrant for it and it was turned over by Hernandez's attorneys without objection.
Hernandez has pleaded not guilty in the 2013 shooting death of Odin Lloyd, a semi-pro football player from Boston.
Local journalism is essential.
Give directly to The Spokesman-Review's Northwest Passages community forums series -- which helps to offset the costs of several reporter and editor positions at the newspaper -- by using the easy options below. Gifts processed in this system are not tax deductible, but are predominately used to help meet the local financial requirements needed to receive national matching-grant funds.
Subscribe to the sports newsletter
Get the day's top sports headlines and breaking news delivered to your inbox by subscribing here.
---