News > Washington Voices
It's critical: Trees, plants need deep soakings
Thu., Oct. 2, 2014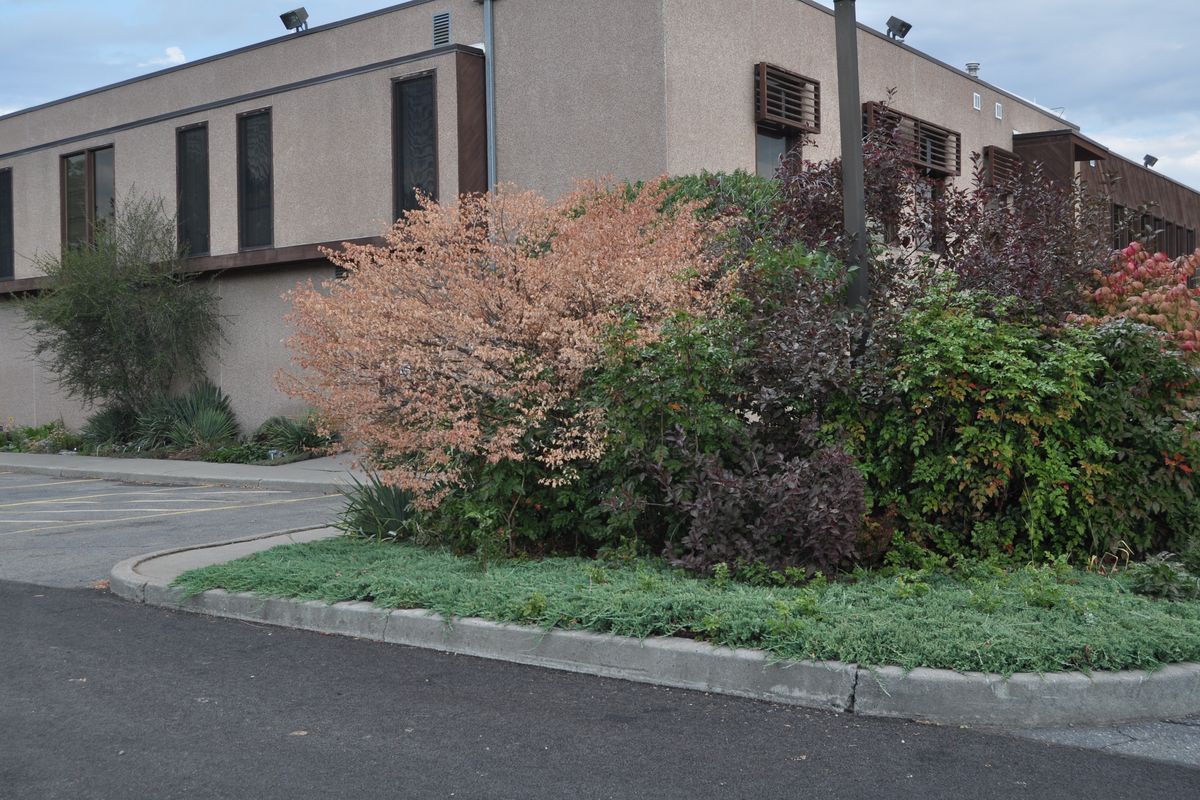 This large burning bush has grown at the WSU Extension Office for decades. An unknown disease or condition killed it earlier this summer. WSU Master Gardeners are trying to determine the cause. (Pat Munts)
It's the beginning of October and we've yet to see a good soaking rain. It's been a long, hot, dry summer and the plants are showing the effects of it. Throughout the region many of our native shrubs have already ditched their leaves early because of a lack of water. Fortunately for them it is a defense mechanism and they should recover in the spring.
Our garden plants and trees are taking a beating too but they aren't so flexible. Leaves are getting tattered and crispy on the edges or trees are dropping leaves early. We will see the effects of this dry year for several years to come. Plants and trees stressed by dryness often limp along for several years before giving up the ghost.
When a plant is severely stressed, stems, branches and roots are damaged and are unable to move food and water around the plant efficiently. This impediment affects the tree over time with limbs dying back slowly, a few each year until the tree just gives up and dies altogether.
It is critical that all our landscape plants get several deep soakings before we shut down the water systems for the winter. The temperatures have cooled and transpiration rates have dropped, so it is easier to get water deep into the soil. Set up your sprinklers to run for longer periods (45 minutes sounds good) for the next 10 days to two weeks. Lay out soaker hoses around large shrubs and trees and let them run overnight to get water deep in the soil. You want the water to get at least 8 to 10 inches into the soil. If you aren't sure how far your watering efforts are getting, dig a hole until you hit dry soil. Follow the weather forecast though, just in case a sudden cold snap pops up and you need to shut off your system to keep it from freezing.
There have been several cases this year of large burning bushes dying unexpectedly. Tim Kohlhauff of the WSU Master Gardeners isn't sure exactly why but it may be an unidentified disease that seems to randomly attack the bushes and kill them quickly. In several cases one bush in a hedge dies and none of the others seem to be affected. Kohlhauff thinks the dry weather may have stressed the plants and set them up for succumbing to the disease.
Honeybees are also being affected by the dry weather. The lack of rain reduced the amount of flowers the bees depend on for pollen and nectar to feed their brood and make honey stores for winter. Several beekeepers have noticed that the bees aren't able to find what they need and are actually eating into their stores of honey now instead of saving them for winter. All the more reason to keep your garden well watered in October.
Pat Munts has gardened in Spokane Valley for more than 35 years. She can be reached at pat@inlandnwgardening.com.
Local journalism is essential.
Give directly to The Spokesman-Review's Northwest Passages community forums series -- which helps to offset the costs of several reporter and editor positions at the newspaper -- by using the easy options below. Gifts processed in this system are not tax deductible, but are predominately used to help meet the local financial requirements needed to receive national matching-grant funds.
Subscribe now to get breaking news alerts in your email inbox
Get breaking news delivered to your inbox as it happens.
---