Sports
Madison Bumgarner, Giants silence Pirates 8-0 to advance
Thu., Oct. 2, 2014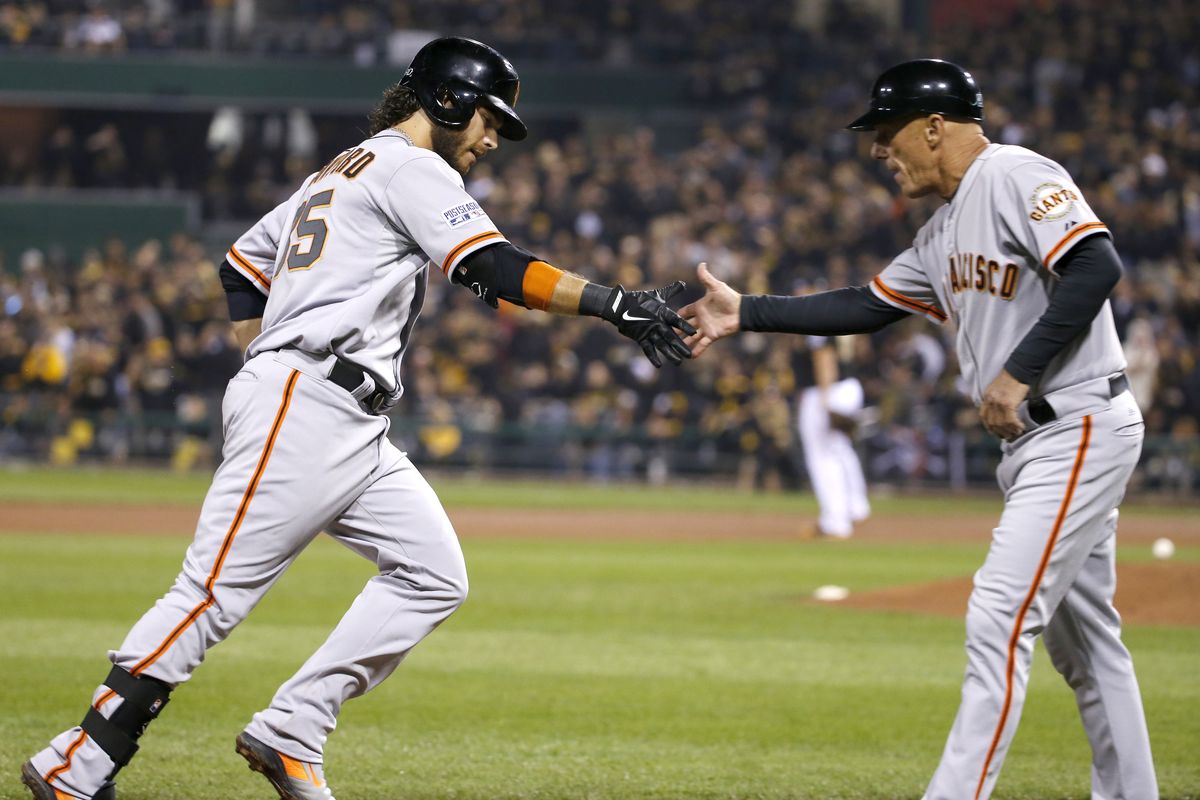 Brandon Crawford, left, is congratulated after becoming first shortstop to hit grand slam in postseason. (Associated Press)
PITTSBURGH – The San Francisco Giants know what it takes to win this time of year. The Pittsburgh Pirates are still learning.
Madison Bumgarner and Brandon Crawford provided a powerful lesson on the difference during the National League wild-card game.
Bumgarner pitched a four-hitter with 10 strikeouts, Crawford hit the first grand slam by a shortstop in postseason history and the Giants beat the Pirates 8-0 on Wednesday.
"That's crazy," Crawford said. "With all the great shortstops that have played before, that's pretty special. I'm happy to be able to do it."
After silencing a black-clad crowd hoping for another Pittsburgh playoff run, San Francisco will face N.L. East champion Washington in the best-of-five division series beginning Friday.
This one fizzled by the middle innings – one night after Kansas City edged Oakland in a thrilling start to baseball's postseason.
Crawford's shot over the right-field wall in the fourth inning off Edinson Volquez put the Giants ahead. Bumgarner did the rest as San Francisco won its eighth consecutive postseason game and seventh in a row when facing elimination.
Overpowering one of the N.L.'s best lineups, Bumgarner walked one and threw 79 of 109 pitches for strikes in his latest stellar October performance. The big left-hander, who allowed only four singles, has thrown 15 scoreless innings in two World Series starts.
"It's fun," Bumgarner said. "If you're not playing, you can be excited and nervous and all that. But if you're pitching in the game, you've got to try to push that all aside and try to make pitches like we did tonight."
Brandon Belt drove in three runs.
Volquez was trying to cap his remarkable comeback season by sending Pittsburgh to the NLDS for the second straight year, but he couldn't match Bumgarner.
The right-hander cruised until the fourth, when a pair of singles and a walk loaded the bases with none out. Crawford followed with a drive that kept carrying all the way to the seats above the 21-foot high Roberto Clemente wall to quiet the largest crowd in the 13-year history of PNC Park.
That was more than enough for Bumgarner, who mixed his fastball with a slider the Pirates couldn't seem to figure out. Pittsburgh, fourth in the majors in extra-base hits this season, rarely hit the ball hard.
"We got outplayed tonight," second baseman Neil Walker said. "Bumgarner went out there (and) he did what he wanted to do."
Local journalism is essential.
Give directly to The Spokesman-Review's Northwest Passages community forums series -- which helps to offset the costs of several reporter and editor positions at the newspaper -- by using the easy options below. Gifts processed in this system are not tax deductible, but are predominately used to help meet the local financial requirements needed to receive national matching-grant funds.
Subscribe to the sports newsletter
Get the day's top sports headlines and breaking news delivered to your inbox by subscribing here.
---